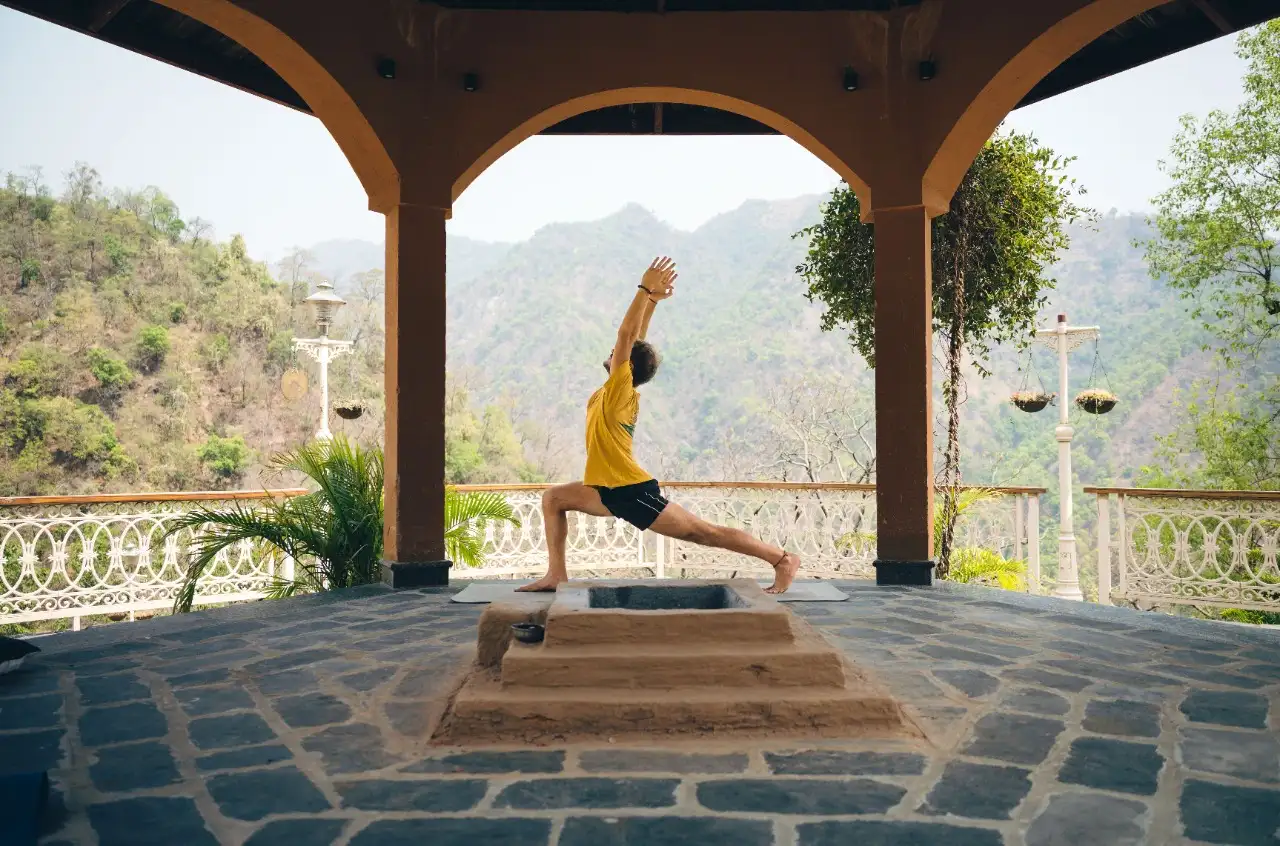 Yoga Courses for Beginners in Rishikesh, India
Rishikesh Yogpeeth offers one, two and three weeks intensive yoga courses for those who want to learn yoga for self practice. The course is designed for beginners to intermediate self-taught practitioners. These Yoga Classes for beginners are ideal for those who are practicing yoga daily but feel like hitting the class ceiling and have self-doubt on certain asana being not aligned correctly. Or particularly for those who want to start yoga practice for self development but learning online, through media or just by referencing books is not convincing enough.
We have carefully put together a short term to mid term course that focuses on asana alignment and adjustments along with gradual progression of introducing asanas from basic level to advanced level depending on practitioner's perseverance, dedication and discipline.
The Yoga Course for beginners is not just limited to asana practice, it also encompasses daily classes of mantra chanting, pranayama, meditation and shatkarma.
Yoga for Beginners - Course Overview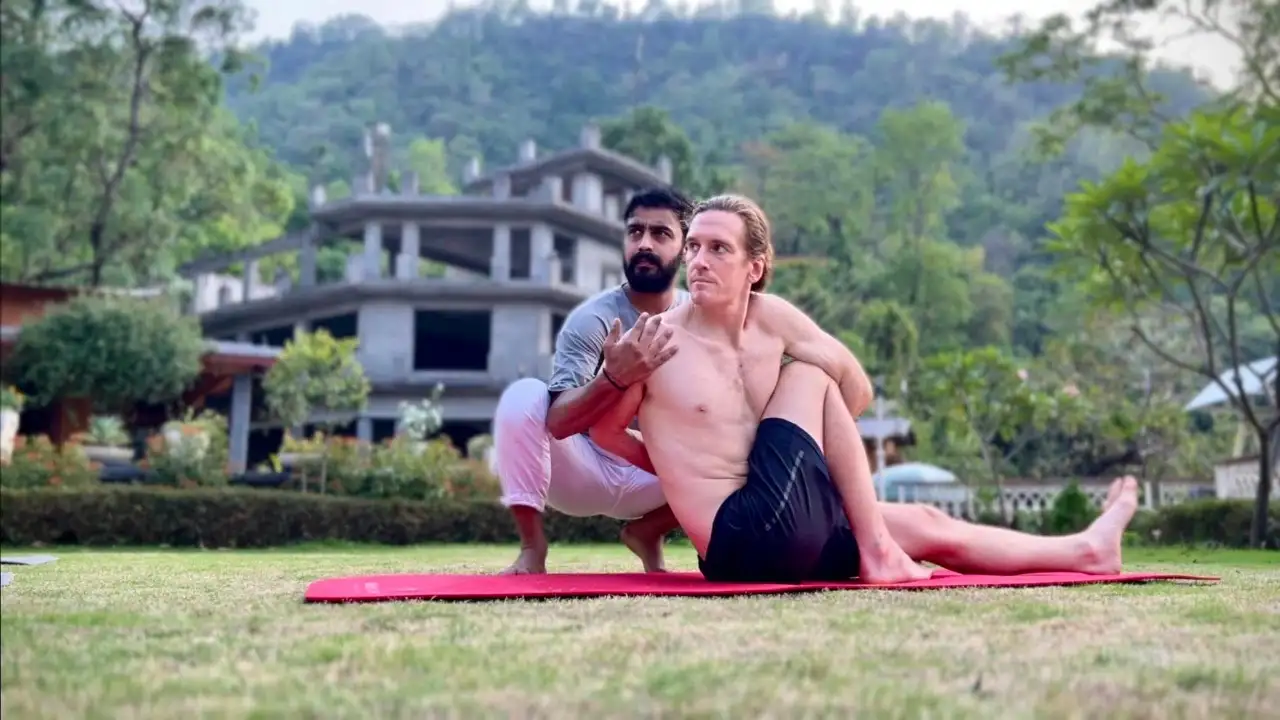 (No slacking muscle in yoga alignment classes)
Yoga for beginners is a great option for people who want to begin a regular yoga practice but don't know where to start. While yoga is an ancient practice, you don't need any advanced training or special equipment to begin. All you'll need is the desire to take care of your body and your mind and time to practice under the guidance of a trained Yoga Teacher or instructor.
This will enable you to practice yoga which is technically right, correctly aligned and if needed, appropriately adjusted. These are the crucial skils for any yoga practitioner who wants to practice asanas for their self care and development.
| Course Name | Short Term Yoga For Beginners |
| --- | --- |
| Level | Beginner |
| Duration | 1 Week & 2 Weeks |
| Accommodation | Private & Twin-Shared Room |
| Food | 3 Vegetarian meals |
| Language | English & Hindi |
| Venue | Abhayaranya Yoga Ashram |
| Location | Rishikesh |
| Nearest Airport | Jolly Grant, Dehradun |
The basic poses of yoga and how to align yourself correctly
Conscious breathing: how to practice it
Practicing simple meditation techniques
An introduction to yoga philosophy
Explanation and chanting of mantras
Ayurveda in everyday life: an overview
Exploring Indian traditions and cultures
Our mission is to make your yoga journey as meaningful as possible, and we welcome questions that can help you grow your practice.
Dedicated and experienced yoga teachers are always on hand to answer questions and guide you on this journey.
1 & 2 Weeks Yoga Courses in Rishikesh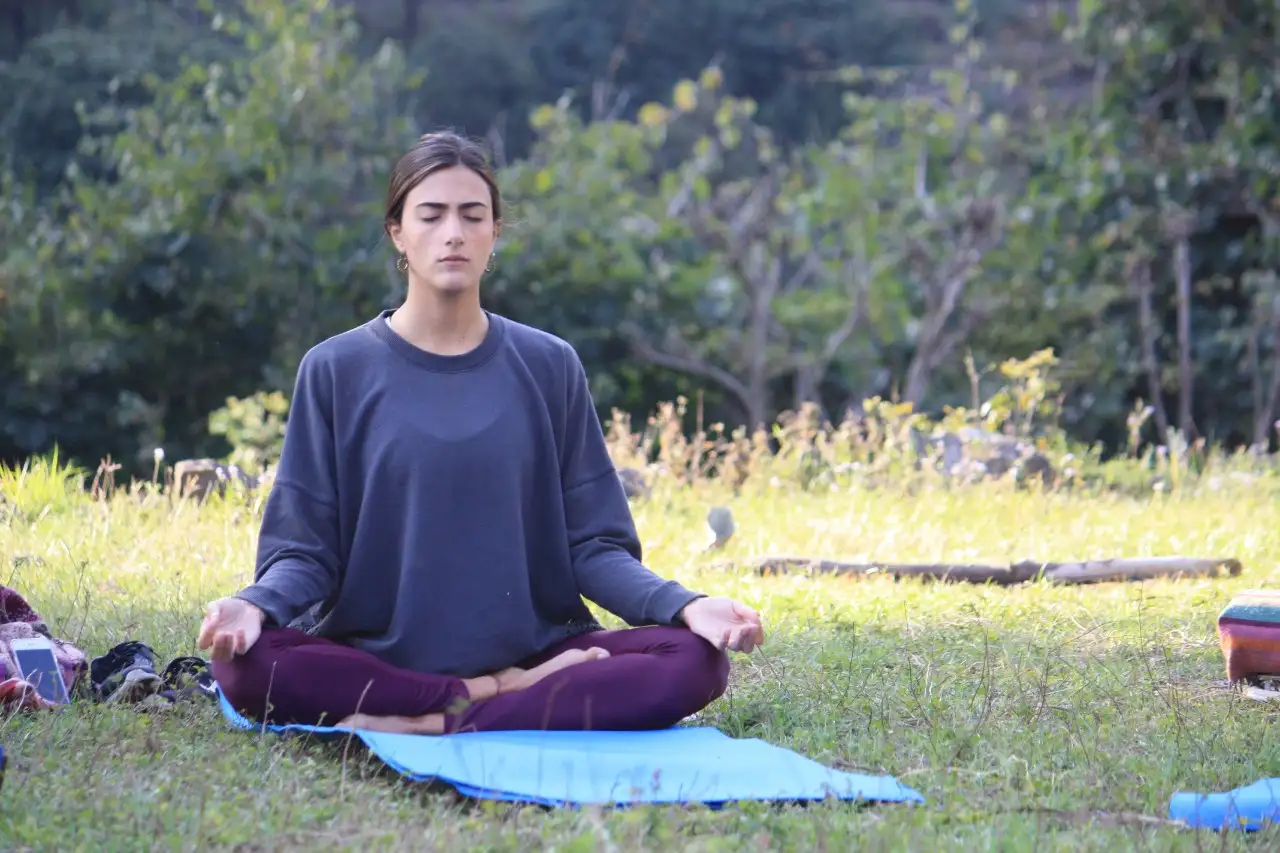 One Week Yoga Courses in India - 2023
| | |
| --- | --- |
| 01 - 07 Feb 2023 | 15 - 22 Feb 2023 |
| 01 - 07 Mar 2023 | 16 - 23 Mar 2023 |
| 01 - 07 Apr 2023 | 16 - 23 Apr 2023 |
| 01 - 07 May 2023 | 16 - 23 May 2023 |
| 01 - 07 Jun 2023 | 16 - 23 Jun 2023 |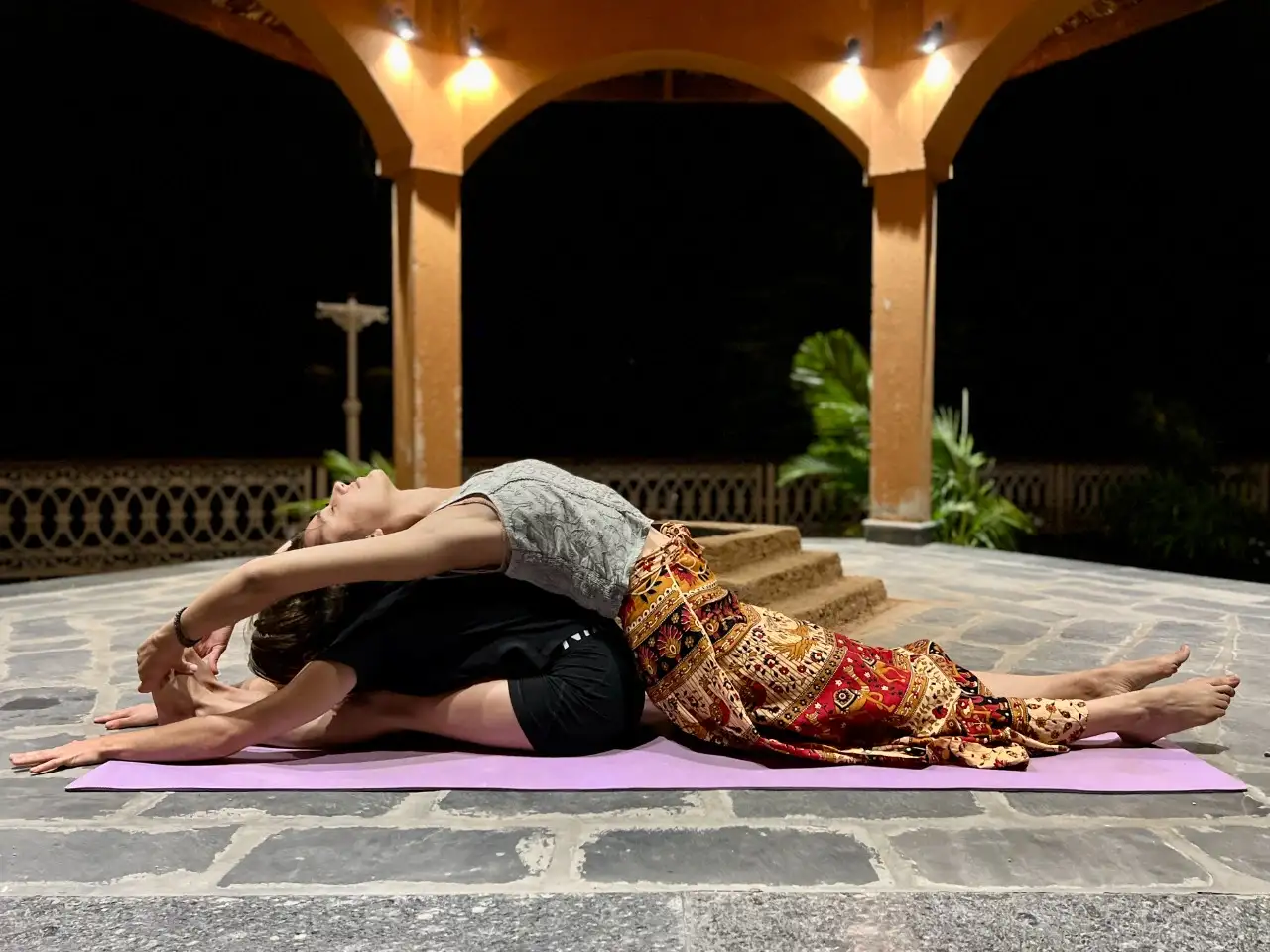 Two Weeks Yoga Courses in India - 2023
| | |
| --- | --- |
| 01 - 14 Feb 2023 | 15 - 28 Feb 2023 |
| 01 - 14 Mar 2023 | 16 - 30 Mar 2023 |
| 01 - 14 Apr 2023 | 16 - 30 Apr 2023 |
| 01 - 14 May 2023 | 16 - 30 May 2023 |
| 01 - 14 Jun 2023 | 16 - 30 Jun 2023 |
Course Fee & Details
| Accommodation Type | One Week | Two Weeks |
| --- | --- | --- |
| Twin Shared Room | US$ 500 | US$ 900 |
| Private Room | US$ 600 | US$ 1050 |
Inclusions:
Yoga classes (Mon - Sat).
Air Conditioned (usage as per policy) private or twin shared room with ensuite bath.
Free Wi Fi connectivity.
Three vegetarian meals per day and tea/coffee available on common meeting areas.
1 session of ayurveda massage per week.
Information, guidance and escort services for local sight seeing.
Outdoor activities on Sunday like river rafting (depending on availability), short trek around the ashram, explore local market area etc.
Yoga & Meditation Classes in Rishikesh
Yoga classes for beginners offers a holistic approach of learning yogic cleansing, mantra chanting, twice a day asana practice, alignment and adjustment focussed session with daily Pranayama and Meditation classes. Along with this you will also get a sneak peak into Ayurveda, food nutrition, yoga philosophy and learning about some basis day-to-day ailments and how to cure them with yoga.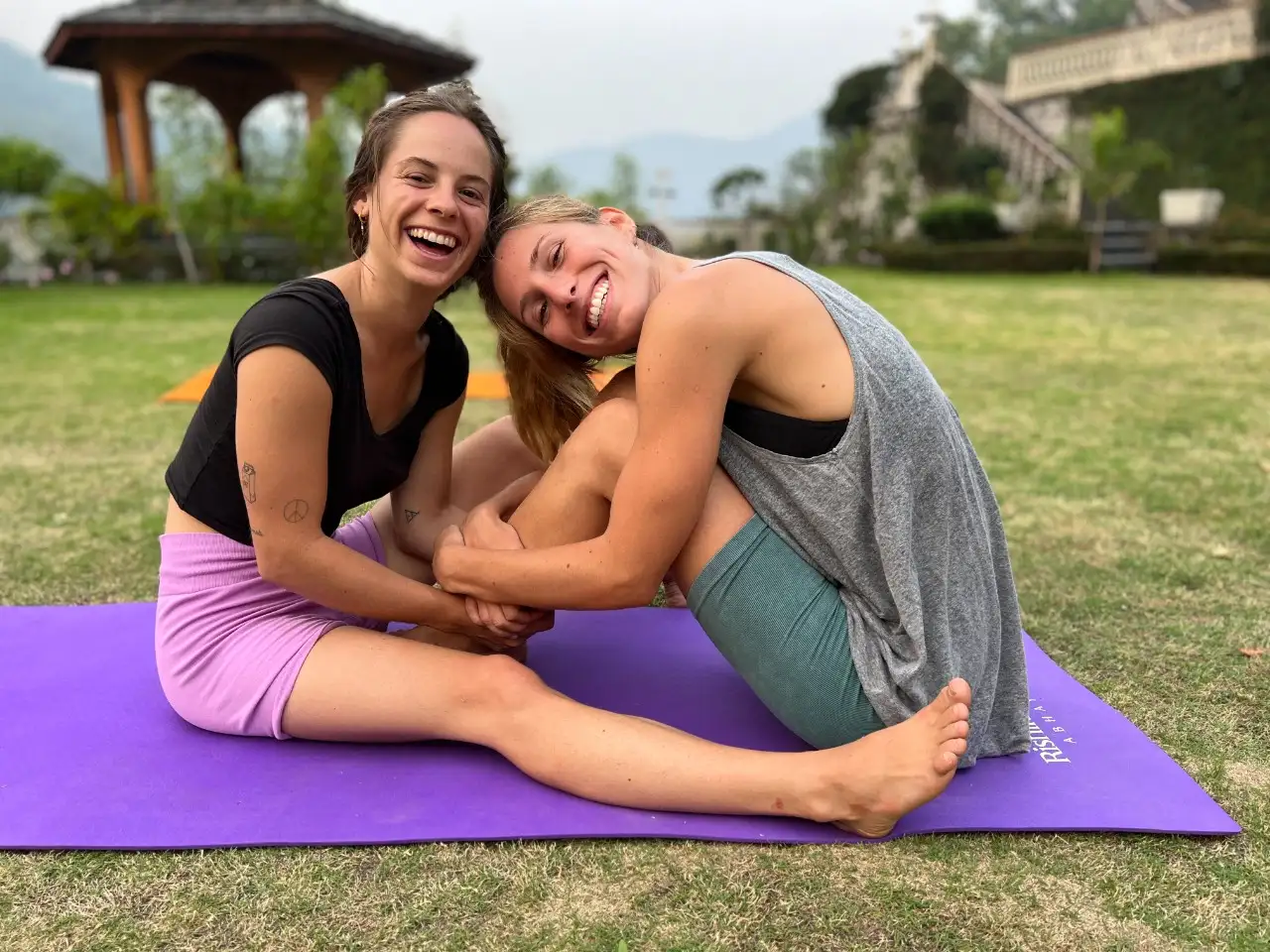 (This is what a Yoga class does to you...)
Daily Schedule
| Time | Activity |
| --- | --- |
| 06:00 am | Wake up |
| 06:30 am to 06:45 am | Yogic Cleansing (Jalneti) |
| 06:45 am to 07:00 am | Mantra Chanting |
| 07:00 am to 08:30 am | Asana, Pranayama and Meditation |
| 09:30 am | Breakfast |
| 11:00 am to 12:00 pm | Asana Alignment classes |
| 12:00 pm to 01:00 pm | Miscellaneous topics of discussion related to the course |
| 01:30 pm | Lunch |
| 05:00 pm to 06:30 pm | Asana and Meditation |
| 07:30 pm | Dinner |
| 10:00 pm | Lights Off |
Abhayaranya Yoga Ashram - Rishikesh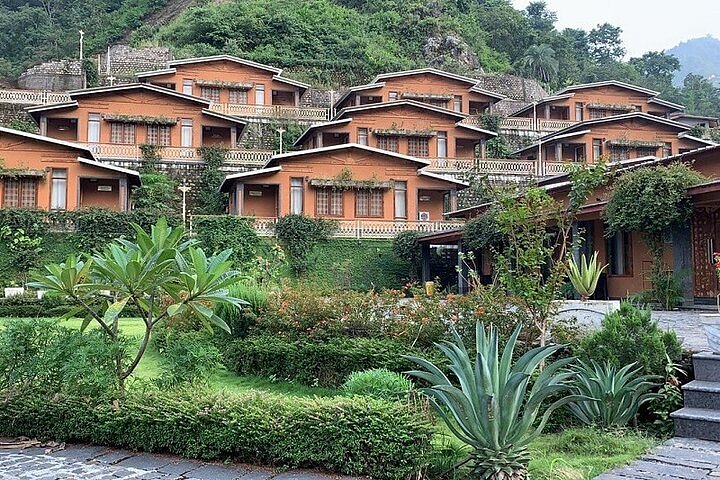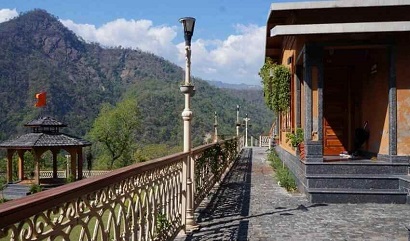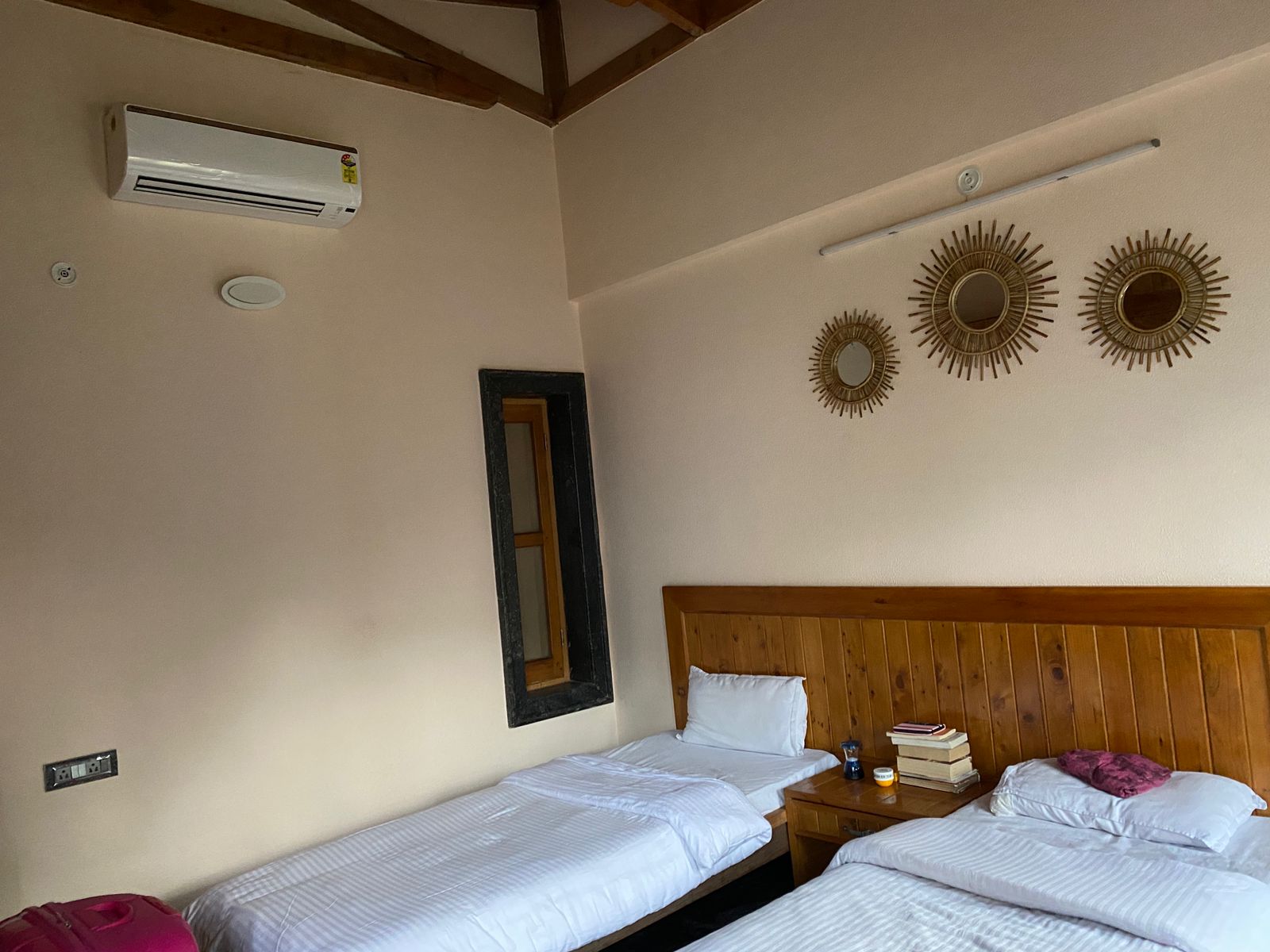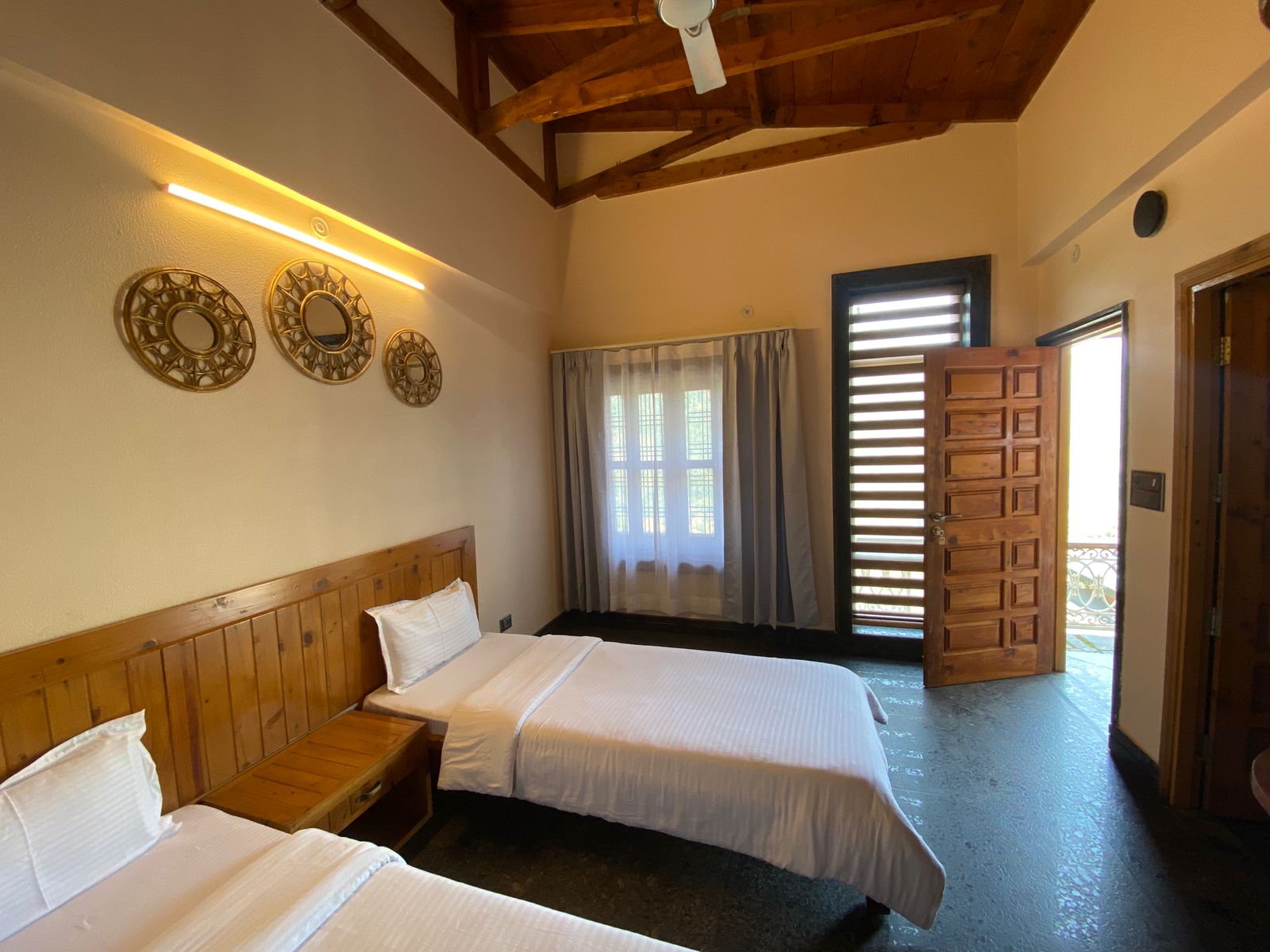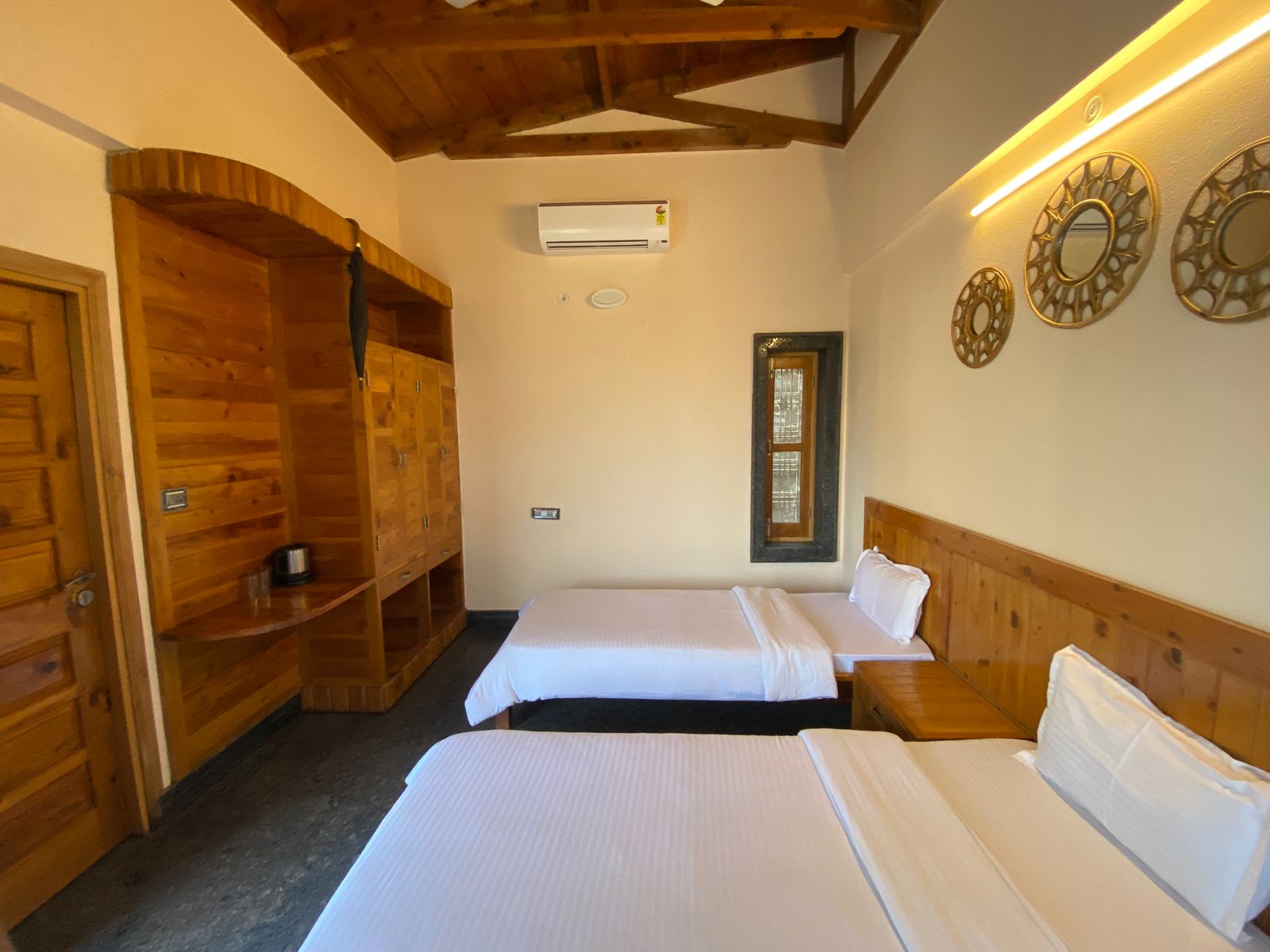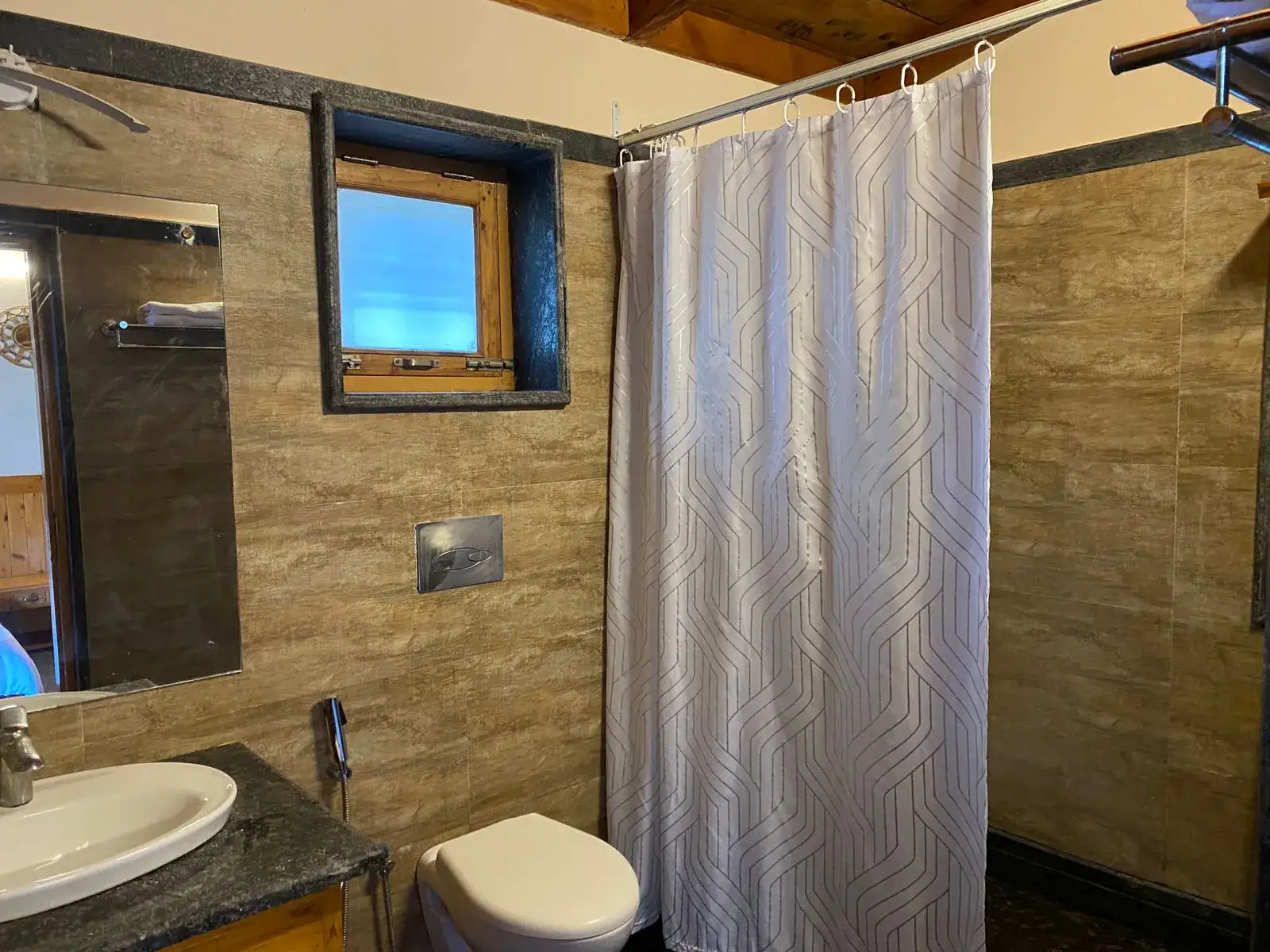 Course Outline
The Yoga course for beginners is recommended for those who take their yoga practice seriously and aim to perform the asana in its true form. The Yoga Course for beginners has following classes:
Yogic Cleansing:
We teach you how to perform the most basic yogic cleansing known as jalneti (nasal cleansing). This is part of the daily morning ritual. As the day progresses and depending on the keenness of the group, we sometimes teach other yogic cleansings as well, but it is optional.
Mantra Chanting:
Daily mantra chanting classes are a way to kick start the first class of the day. You will learn various mantras, the correct pronunciation and how to chant. Teacher will also explain you the meaning of the mantras. The patterned chanting
Pranayama:
As we understand, Pranayama is an ancient yogic practice of focusing on breathing. The word Pranayama is understood as Prana - the vital life force and Yama - to gain control. In our Hindu scriptures / texts like the Bhagavad Gita and the Patanjali Yogasutras, Pranayama is explained and discussed in detail. Later in Hatha Yoga Pradipika, it is described as the complete suspension of breathing. In our course along with the daily Pranayama classes, we emphasise a lot on it while doing our asana practice twice a day. How to understand, use, hold, release, go with the breathing while performing yoga asana/posture practice.
Meditation
Meditation classes is the part of our daily practice. During the course we understand what meditation is and how to prepare our body and mind to enter into the meditation. We will also learn the different kinds of meditation as well as will be introduced to Yoga Nidra.
Asana (yoga postures):
Yoga asanas classes are designed to teach asanas in a progressive manner. Starting from basic sitting, standing, walking postures to seated asana, standing asana, strengthening, holding postures, aiding flexibility and moving on to intermediate level asanas. We reach the advanced level asanas stage by the 3rd week depending on the initial physical stage of the practitioner. Note that not all students reach to the advance level in 3 weeks, the progress at the end of the course (1 , 2 or 3 weeks) varies from person to person)
Adjustment and Alignment Classes:
The yoga asana alignment classes which are the most crucial classes and immensely informative classes in Yoga course for beginners. If you are a self-taught yoga practitioner or want to learn yoga in the right way, in adjustment and alignment classes you will learn how to analyse your posture and correct yourself to the right alignment. You will be holding postures to feel the correct positioning of your body, integrating breathing with asanas to be able to hold it for long. For those who have certain physical limitations or inflexible body or tight muscles or knee, back, shoulder tightness etc will be guided by the teacher to start with certain adjustments and make their way forward into deeper practice.
Introduction to Ayurveda, food nutrition and cure to basic ailments:
We believe in sharing any information that will help you grow as a yoga practitioner to live a healthy and ethical life, Hence, the course cannot be completed with some more information like what is Ayurveda, how to understand our body based on Ayurvedic principles. What is the right kind of nutrition to follow a yogic lifestyle, Why in Hindu culture food is considered as medicine and why we say that we are what we eat. Also, a couple of classes on Yoga Philosophy (topic may vary depending on the what teacher and students want to talk about. And a few hours discussion and practical classes on some basic ailments that we experience in day to day life and how to fix them using yoga. For example - back pain, knee problem, sciatica or spondylosis, or even some digestion and bloating related issues, to name a few.
What makes this course different than other Yoga Course for Beginners
Learning asanas in traditional, authentic way which is unlike watching-and-copying style of online yoga.
Correct alignment of the postures is key to the course.
Adjustments and variations of asanas will be taught and practices whenever and wherever required.
Adjustments and variations of asanas will be taught and practices whenever and wherever required.
Conscious breathing practice through entering into the asana with synchronise breathing and hold for greater strength.
Significance of Mantras and its impact on our system and practicing simple meditation techniques.
Application of Ayurveda in daily life - Ayurveda-cally speaking, learn about your body type and right kind of nutrition for a fully functional yogic body.
Sneak Peek into Yoga Philosophy.
Outdoor activity - excursion to nearby places, explore Rishikesh market and some impromptu activities as and when the time and space allows.
Booking and Refund Policy
Once your application has been received, you will be requested to pay a non-refundable deposit through PayPal. A booking confirmation will be emailed once your payment has been processed.
Upon arrival, you will need to pay the remaining amount. The fee is non-refundable once it has been paid.
The booking can be held for you for a period of 12 months in case you are unable to attend the course as per initial booking.
Conclusion - Yoga for Beginners Course
We decided to design a focussed Yoga course for beginners because we wanted to make your yoga journey as meaningful as possible, and we welcome questions that can help you grow your practice.
We truly appreciate and value the effort of those who want to learn yoga for improving their health and mindset and eventually the quality of life. Yoga is a great way to relieve stress and build strength, flexibility, and mental clarity. It can also help you calm your mind, focus and process your feelings, so you can accept stress as part of your life and live a functional life. Begin your journey towards a healthier, happier life with yoga.
Dedicated and experienced yoga teachers are always on hand to answer questions and guide you on this journey during this course and afterward support.
If you'd like to learn more about yoga, consider signing up for our yoga for beginners course in Rishikesh.
Yoga Courses For Beginners - FAQs
Q: Which type of yoga is best for beginners?
The beginner should always start practising yoga under the guidance of a training yoga teacher/instructor. The beginner should learn Hatha Yoga to form a strong foundation. They must practise for a minimum of 6 to 8 months before moving on to a more physically rigorous style of yoga like Ashtanaga, if at all they wish to.
Q: How much does it cost to learn yoga in Rishikesh?
Depending on which yoga course you choose to learn and the duration of the course dictates the price. Also,the list of inclusions in the course contributes to the price, for example residential course, meals included, stationary and course books provided etc. The fee may range from $300 to $600 for a week's long course.
Q: Where can I practice yoga in Rishikesh?
Since Rishikesh is known to be the Yoga capital of the world, you will find a number of yoga schools to decide from. Based on your requirement you may search online about the school and their offering. If you are keen to learn yoga in an authentic and traditional way, Rishikesh Yogpeeth is your go to place for a fully inclusive residential yoga course in one of the best location in Rishikesh
Q: How much does yoga for beginners cost?
The cost for a Yoga course focussed on beginners is subject to the length of the course and the kind of facility provided. A residential yoga course for beginners for 2 weeks usually costs around US $800 to $1000 depending on the type of accommodation, whether sharing or private. There are beginner courses in Rishikesh which are offered at substantially low cost, which you need to be very careful before committing. The cost should not be the only criteria as you may be compromising significantly on the quality as well as your safety
Q: How often should I do yoga as a beginner?
Whether you are a beginner yoga practitioner or a seasoned one - ideally yoga practice must be done daily, just like the other routines we follow. If for any reason daily practice is not possible, in that case you must find out the best possible way of fitting your schedule for a regular practice, be it a couple of times a week or on alternate days.
Q: Which month is best for Rishikesh?
The most popular season in Rishikesh is usually August to November and February to April as the weather is quite pleasant during these months. Having said that, the other seasons are also popular among the tourists of a few countries who prefer hot weather. So it is basically a very personal preference which weather you want to travel.
Rishikesh Yogpeeth - Reviews
Any beginner who wishes to develop their yoga practice further can continue their learning here as Rishikesh Yogpeeth also offers international yoga certification courses recognized by Yoga Alliance.