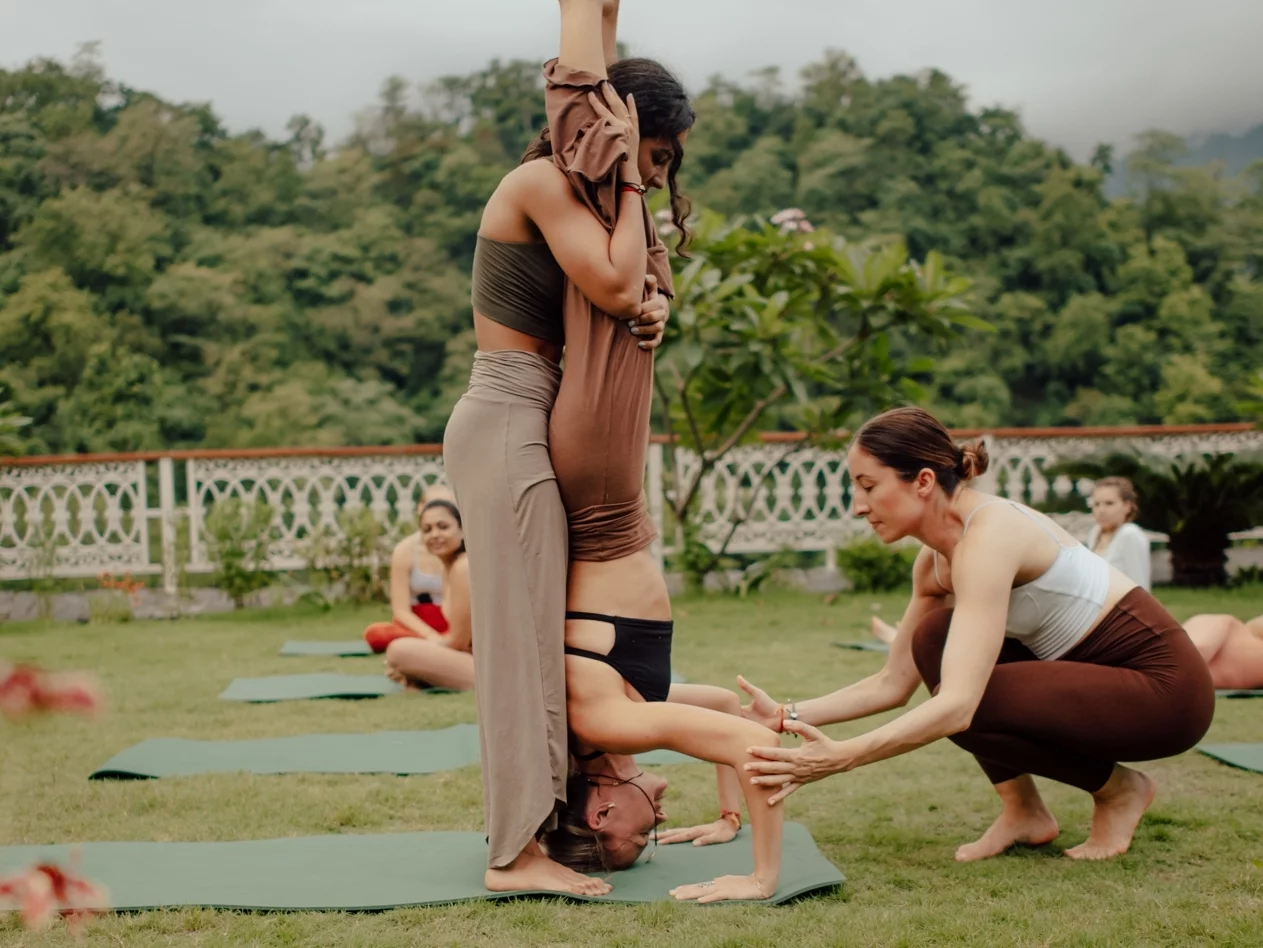 YOGA SCHOOL IN INDIA ACCREDITED BY YOGA ALLIANCE
Authentic 300 YTT in Rishikesh the world capital of Yoga
A Registered Yoga Teacher (RYT) credential is earned by yoga teachers whose training and teaching experience meet Yoga Alliance standards.
300 Hour Yoga Teacher Training in Rishikesh India
Rishikesh Yogpeeth offers a fully residential 300 hour yoga teacher training in Rishikesh India with an ashram stay. Those who have completed their Yoga Teacher Training (RYT 200-Hour) from a Yoga Alliance registered school are eligible for this intensive intermediate to the advanced level course.
The advanced 300 hour yoga training builds upon the fundamental concepts taught in the 200 hour TTC and deepens your understanding and practice. We prepare you to teach fundamental concepts, principles and techniques of yoga that are more advanced than those taught in the 200 hour TTC.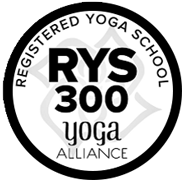 Rishikesh Yogpeeth's advanced teacher training program is designed for those students who have completed an approved 200 Hour Teacher Training as designated by the Yoga Alliance.
After completing the 300 hour teacher training course you can register with Yoga Alliance as RYT 500.
Rishikesh Yogpeeth is a yoga teacher training center nestled in the lap of the Himalayas. Our vision is to spread the power of Yoga beyond all geographical borders. A globally reputed Yoga training and teaching academy, proudly holding over 17 years of experience in YTT courses and have witnessed more than 12,000 students take part in our certified training courses from across 120 countries around the world.
The world capital of Yoga, Rishikesh is a spiritual birthplace of Yoga. People from all over the world come to the region to deepen their Yoga practice and learn more about the ancient yogic discipline and yogic way of living life.
Course Overview
Course Name
300 Hour Yoga Teacher Training
Level
Intermediate to Advance
Yoga Style
Hatha Yoga
Duration
4 Weeks
Module
Residential with Meals
Language of Instruction
English
Certification
RYT 300 - Yoga Alliance
Venue
Abhayaranya Yoga Ashram
Location
Rishikesh
Course Fee
Twin Shared Room - $ 2300 USD
Private Room - $ 2950 USD
Key Takeaways
You will reinforce and advance your yoga knowledge and practice.
Become familiar with teaching methodologies for Asana (physical postures), Pranayama (breath control), and Dhyana (meditation).
Understanding the Yoga Sutras of Patanjali, discussion about Samkhya darshan, the oldest school of Indian Philosophy and knocking about Advaita Vedanta will provide a deeper understanding of the Yoga philosophy and practice of yoga.
Gain a deeper understanding of the physiology and anatomy of the human body in relation to yogic practices.
Schedule & Fee: 300 Hours Yoga Teacher Training in Rishikesh
Batch Date
26 Jan - 24 Feb 2024
02 Apr - 06 May 2024
07 Jun - 06 Jul 2024
12 Aug - 10 Sep 2024
17 Oct - 16 Nov 2024
23 Dec - 22 Jan 2025
Two Single Beds
Shower / AC / Hot Water / Wi-Fi
Breakfast, Lunch, Dinner
300 RYT Training And All Community Events
Yoga Equipment And Learning Materials


Double Bed
Shower / AC / Hot Water / Wi-Fi
Breakfast, Lunch, Dinner
300 RYT Training And All Community Events
Yoga Equipment And Learning Materials


Course Fee Details
For international students, the fee is in US dollars
Accommodation single or twin-shared
Three vegetarian meals a day
Course material, basic stationery, yoga mat, blocks, straps, etc
One full-body Ayurvedic massage
Excursions on days off like trekking, river rafting, local sightseeing etc, subject to availability and weather conditions can be booked for the students at their expense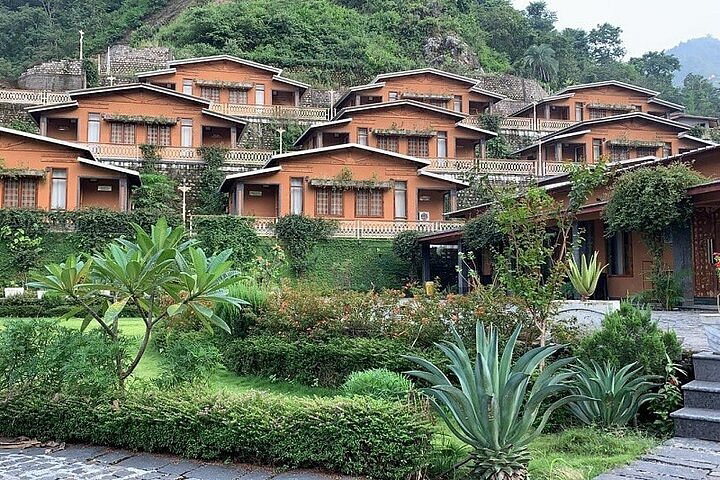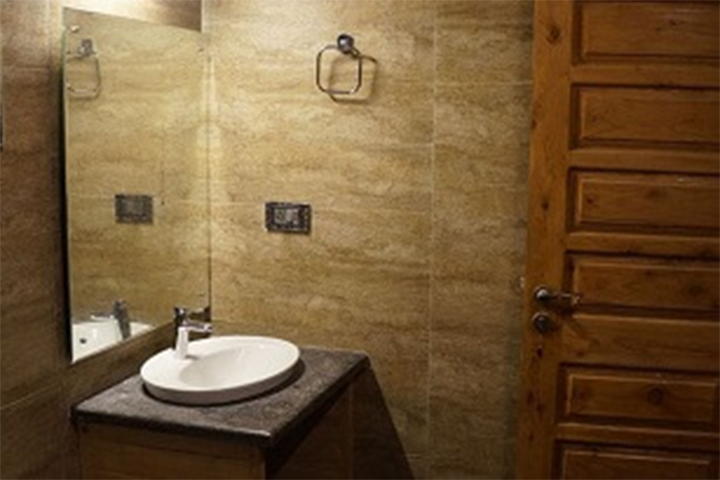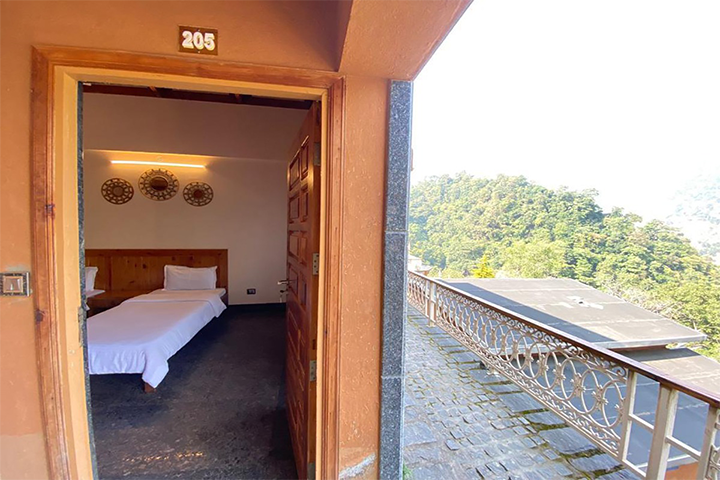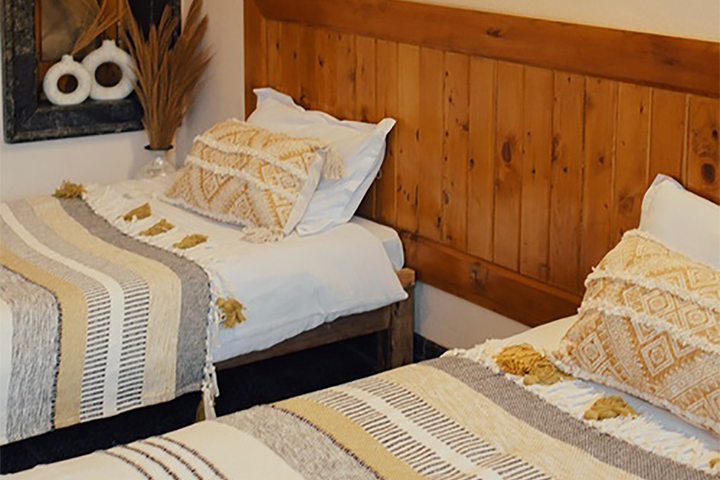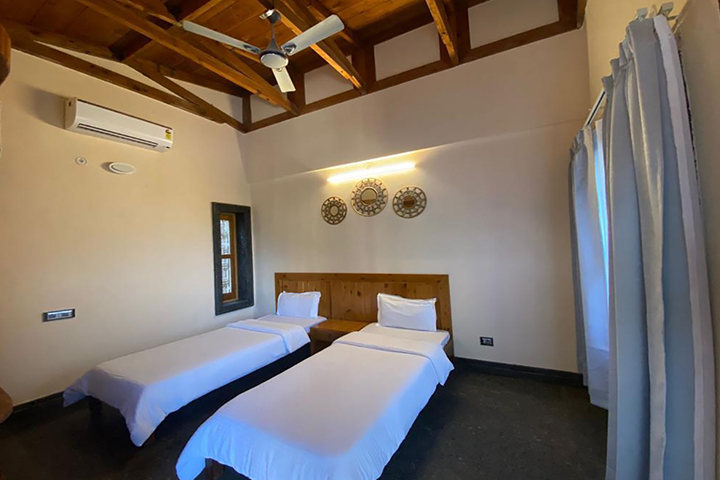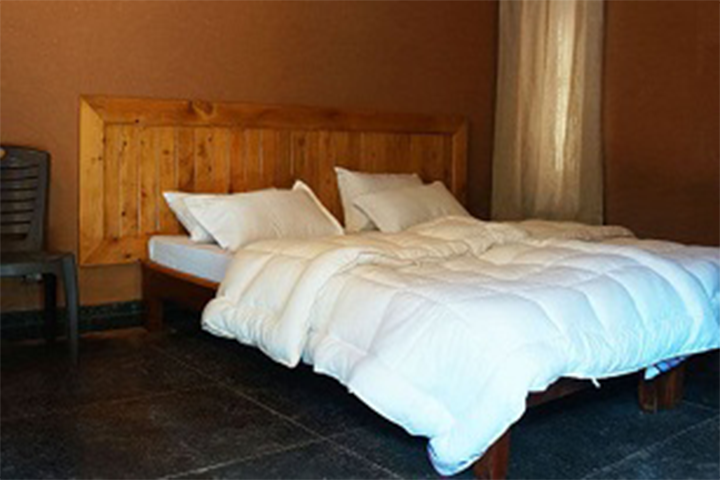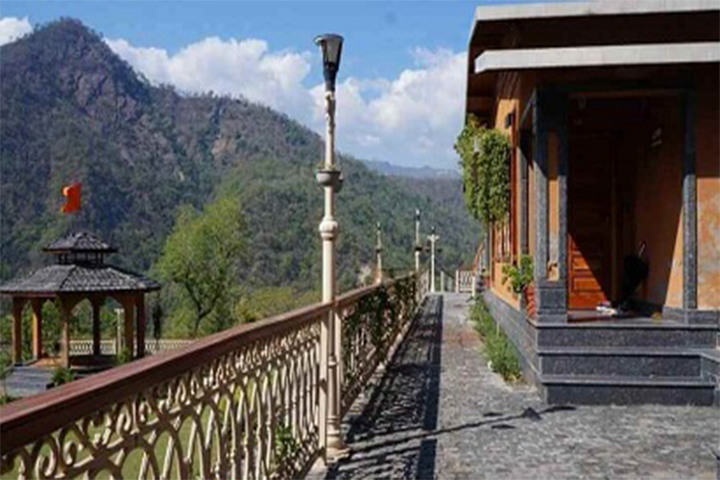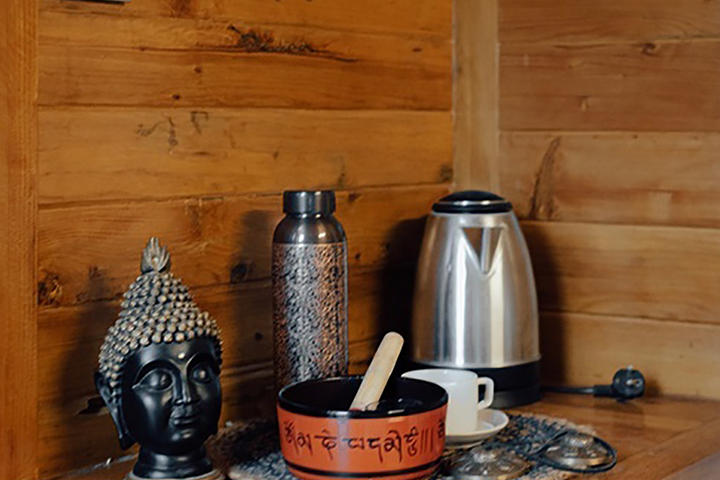 Fee and Refund Policy - Terms and Conditions
An initial deposit of US $555 is payable at the time of booking. This is a non-refundable amount. The validity of the deposit can be extended in any special circumstances and on a case-by-case basis.
The balance fee is payable prior to the commencement of the course.
https://www.rishikeshyogpeeth.com/terms-of-service.html
Eligibility Criteria
The 300 hour yoga teacher training course requires 200 hours of yoga teacher training knowledge & experience.
Students must be proficient in English, both written & verbal.
The age of students shouldn't be below 18. There is no upper age limit for students as long as he/she is physically fit and mentally healthy.
Rishikesh Yogpeeth reserves the right to cancel a student's course if he/she is found unfit. There may be cases where Rishikesh Yogpeeth allows participants to complete the course without additional fees in the near future.
Yoga Certification
Rishikesh Yogpeeth, a registered yoga school (RYS) offers two certificates of yoga training courses.
RYT 300 Yoga Alliance Certification:
Students who complete 300 hour of yoga training are eligible to register with Yoga Alliance as RYT 300, an internationally recognized yoga certification & designation.
Yoga Certification recognized by the Government of India:
After completing the course our students can also get a certificate issued by an Indian university (HNBGU) which is recognized by the government of India.
Rishikesh Yogpeeth offers hatha yoga teacher training in India that include:
300 Hour Yoga Teacher Training in Rishikesh
We at Rishikesh Yogpeeth aim at providing you with a professional yoga education that will allow you to teach yoga professionally. Once you complete your course, you will be eligible to register with Yoga Alliance as RYT 200 or RY 500 as per your qualification.
Evaluation
Assessments will be based on written as well as practical evaluations.
Student's conduct will be a part of the assessment criterion.
90% attendance is compulsory for course evaluation.
Syllabus Overview
Yoga Alliance standards for "RYT 300" are followed by Rishikesh Yogpeeth, along with university requirements for a one-month "Certificate Course in Yoga" recognized by the government of India.
The course syllabus is thoughtfully drafted to aid learners/ yoga enthusiasts to become trainers, thought-leaders, and active contributors to the Yoga community. Our detailed and time-honed syllabus assures quality results for you and your students.
170 Hours
Techniques, Training and Practice
Asana | Assignment | Pranayama | Meditation
30 Hours
Anatomy & Physiology
Anatomy | Physiology
40 Hours
Yoga Humanities
History | Philosophy | Ethics
75Hours
Professional Essentials
Teaching Methodology | Professional Development | Practicum
Yoga Asana
Yoga asanas can help with the recovery and management of many common diseases and disorders. This class will provide students with an introduction to the anatomy and pathology of common health issues that can be dealt with through diet, asana, and pranayama practice.
In recent times, a large majority of people are seen switching to organic and holistic options for their physical, mental and spiritual well-being. Individuals are mostly making lifestyle alterations that can have a positive influence on their lives.
Yoga asanas are a key element of adopting a 'Sattvic' lifestyle and have several underlying benefits to it. Some of the commonly known physical benefits of asanas include improving flexibility, strength and balance. Its mental benefits include easing anxiety and stress.
It has several other benefits such as improving conditions for Asthmatics and helping manage a slew of chronic diseases like Diabetes, Heart disease, Bronchitis and more. Regular Yoga practices increase the mindfulness of the body and help have better control over the breathing cycle.
Asana Practice
One of the key aspects of the 300 hour yoga teacher training syllabus is asana practice. Yogic postures comprise three hours of the daily schedule. Some of the other important benefits of asana practice are:
Improved muscle strength and tone
A balanced metabolism
Better cardio and circulatory health
Improved athletic performance
At the Yoga teacher training course in Rishikesh, you get to master the form of each of your Asanas and you'll also receive detailed instructions on the benefits of practicing each Asana. Complications and Contraindications for these positions as well as alternate Asanas will also be taught to help you attain mastery of your Yogic posturing.
Yoga Anatomy
Students will learn anatomy and physiology relevant to yoga in order to strengthen their classroom explanations, cues, and corrections of asana. If you aim at becoming a yoga practitioner, it is vital to understand the functioning of the human body.
As mentioned earlier, asanas have several underlying benefits to the body, and understanding the body helps you understand which Asanas to practice to strengthen each part of the body. Yoga involves stretching which lightens and re-aligns the muscle fibers, a strong understanding of the anatomy will help you be more attuned to your body and the changes happening in it.
Philosophy
Yoga philosophy will cover the history and science behind the study of Yoga such as the understanding of the five elementary principles of Yogic practice; breathing, proper exercise, relaxation, diet and meditation. As part of the 300 Hour Teacher training, the Yoga philosophy class aims at equipping you with in-depth knowledge and understanding of Yoga not just in terms of postures, but the 'why' behind them. This class will prepare students to study and understand Patanjali's Yoga Sutras.
Once a week, students will lead a discussion reflecting on the week's readings. Before class, students should write down one question on a notecard directly related to the day's reading and give this to the teacher at the start of class. This is aimed at improving classroom engagement and retention of the day's teachings.
Pranayama, Yogic Breathing, Yoga Nidra & Chanting
Students will learn techniques to open vital energy centers in the body with the goal of becoming proficient enough to teach these skills to their students. Practical teaching experience will begin in the second week.
Daily Schedule
The 300 hour yoga training program is designed as per the requirements set by the Yoga Alliance. The intensive yoga teacher training implies that students have to follow a tight schedule, where 6-7 training hours of the day are assigned to some aspects of yoga.
| | |
| --- | --- |
| Time | Activity |
| 05:30 am | Wake Up |
| 06:00 am | Herbal Tea |
| 06:15 am | Nasal Cleansing |
| 06:30 am | Mantra Chanting & Pranayama |
| 07:30 am | Yoga Asana |
| 09:00 am | Breakfast |
| 11:00 am | Yoga Philosophy |
| 12:00 pm | Yoga Anatomy |
| 01:30 pm | Lunch |
| 02:30 pm | Self study / Assignment |
| 03:30 pm | Alignment and Adjustment |
| 05:00 pm | Yoga Asana |
| 06:30 pm | Meditation |
| 07:30 pm | Dinner |
| 10:45 pm | Lights Out |
Please note: Daily schedule is subject to change on teacher's discretion
Yoga Faculty - Our Team of Yoga Teachers in India
We have some of the best yoga teachers in India as our faculty. They receive additional in-house training along with their existing qualifications in yoga. Rishikesh Yogpeeth has high standards of yoga education, which are in line with the Yoga Alliance syllabus. All of our teachers are required to meet these high standards.
In an effort to provide our students a comprehensive and integrated learning experience, 3 to 4 experienced yoga instructors are assigned to each Yoga Teacher Training batch to specialize in different aspects of yoga, including asana as well as the other seven limbs of the Patanjali Yogsutra.
Our team of yoga teachers includes a lead trainer with an E-RYT designation and a few thousand hours of experience teaching.
For more info, visit - Best Yoga Teachers in India
Why choose Rishikesh Yogpeeth for 300 hour teacher training in India?
Established in 2005, Rishikesh Yogpeeth is one of the pioneers of the yoga teacher training centers in Rishikesh.
Nestled on the top of mountains, it is a perfect place to experience the genuine Himalayan yogi lifestyle.
Our experienced yoga teachers have trained 10000+ students from 110+ countries.
Abhayaranya Yoga Ashram is situated far away from the hustle and bustle of Rishikesh city, which makes it an ideal place for yoga training and yoga retreats.
Famous Patna Waterfall is situated on the way to Rishikesh Yogpeeth.
The quality of the atmosphere, food, yoga teachers, location, and green natural surroundings are the things that separate us from the rest.
Frequently Asked Questions
Is 300 hour yoga teacher training worth it?
Yes, it is. If you want to dive deep into the ocean of yoga and turn yourself into a yoga guru or Registered Yoga Teacher (RYT 500) then you must complete 500 hour YTTC.
How much does it cost to learn yoga in Rishikesh?
Rishikesh Yogpeeth offers 200, 300, 500 hour Yoga teacher training courses and the fees range from 1600-4050 USD. If you are considering a cheaper alternative, and don't want to compromise on the quality of training then you can visit Rishikesh YogPeeth.
Which yoga teacher training is best in India?
Rishikesh Yogpeeth does not compromise with the quality of teacher training, accommodation and food. The aim is to provide the best-in-class services to our students.
How long is a 300 hour course?
At Rishikesh Yogpeeth the duration of 300 hour yoga teacher training course is five weeks. Students are required to reach the center one day before the course begins.
What does RYT 300 mean?
RYT 300 means Registered Yoga Teacher. After completing the 300 hour teacher training from an RYS then one can register with the Yoga Alliance as RYT 500.