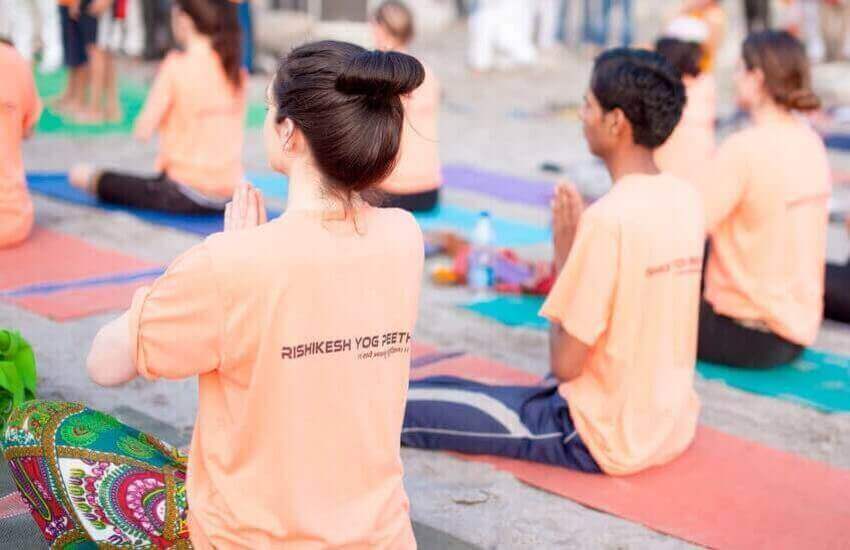 Yoga Teacher Training in India with RYT 200/500 Certification
Have you considered a career teaching yoga?
Becoming a yoga teacher is a wonderful and rewarding journey. Teaching what you love and getting paid for it is an experience many can only dream about. You will teach in incredible natural settings and travel the world if you're lucky.
Course Overview
| | |
| --- | --- |
| Course Name | Yoga Teacher Training |
| Level | Beginner to Advance |
| Yoga Style | Hatha Yoga |
| Duration | 3 Weeks to 7 Weeks |
| Module | Residential with Meals |
| Language of Instruction | English |
| Certification | RYT 200, RYT 300, RYT 500 - Yoga Alliance |
| Venue | Abhayaranya Yoga Ashram |
| Location | Rishikesh |
Key Takeaways
During the course, you will learn more about yoga and improve your practice.
Learn the techniques of teaching methodologies for Asana (physical postures), Pranayama (breath control), and Dhyana (meditation).
Understanding the Yoga Sutras of Patanjali, discussion about Samkhya darshan, the oldest school of Indian Philosophy and knocking about Advaita Vedanta will provide a deeper understanding of the Yoga philosophy and practice of yoga.
Learn more about the physiology and anatomy of the human body in through yogic practices.
200 Hours Yoga Teacher Training India: Dates & Fee
Abhayaranya Yoga Ashram:
The complete course schedule for the 200 hour yoga teacher training course in Rishikesh in 2022 at Abhayaranya Yoga Ashram: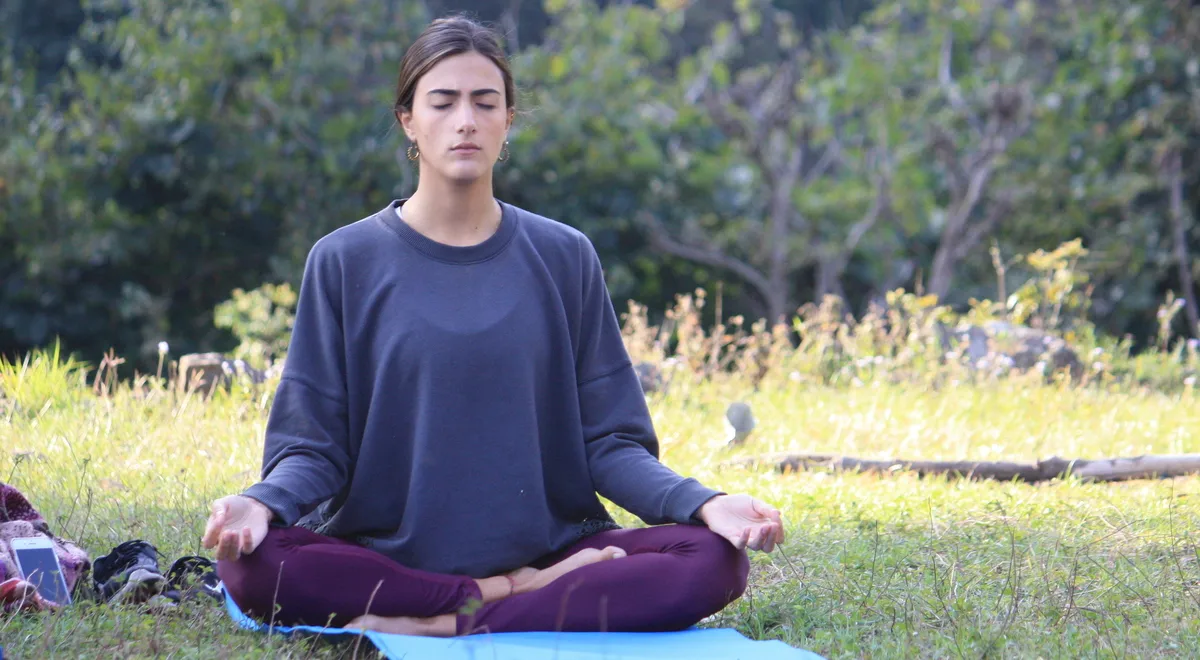 Batch Date
26 Sept - 16 Oct 2023
04 Oct - 24 Oct 2023
27 Oct - 17 Nov 2023
19 Nov - 09 Dec 2023
12 Dec - 02 Jan 2024
04 Jan - 24 Jan 2024
26 Jan - 15 Feb 2024
17 Feb - 08 Mar 2024
10 Mar - 31 Mar 2024
02 Apr - 22 Apr 2024
24 Apr - 14 May 2024
16 May - 05 Jun 2024
07 Jun - 27 Jun 2024
29 Jun - 19 Jul 2024
21 Jul - 10 Aug 2024
12 Aug - 01 Sep 2024
03 Sep - 23 Sep 2024
25 Sep - 15 Oct 2024
17 Oct - 07 Nov 2024
09 Nov - 29 Nov 2024
01 Dec - 21 Dec 2024
23 Dec - 13 Jan 2025
If you are short of time and cannot take 3 weeks out of your busy life, we have just the right duration TTC for you. Abhayaranya Yoga Ashram offers a budget, 3 weeks Yoga Alliance complied Yoga Teacher Training at an affordable prices.
300 Hours Yoga Teacher Training India: Dates & Fee
Abhayaranya Yoga Ashram: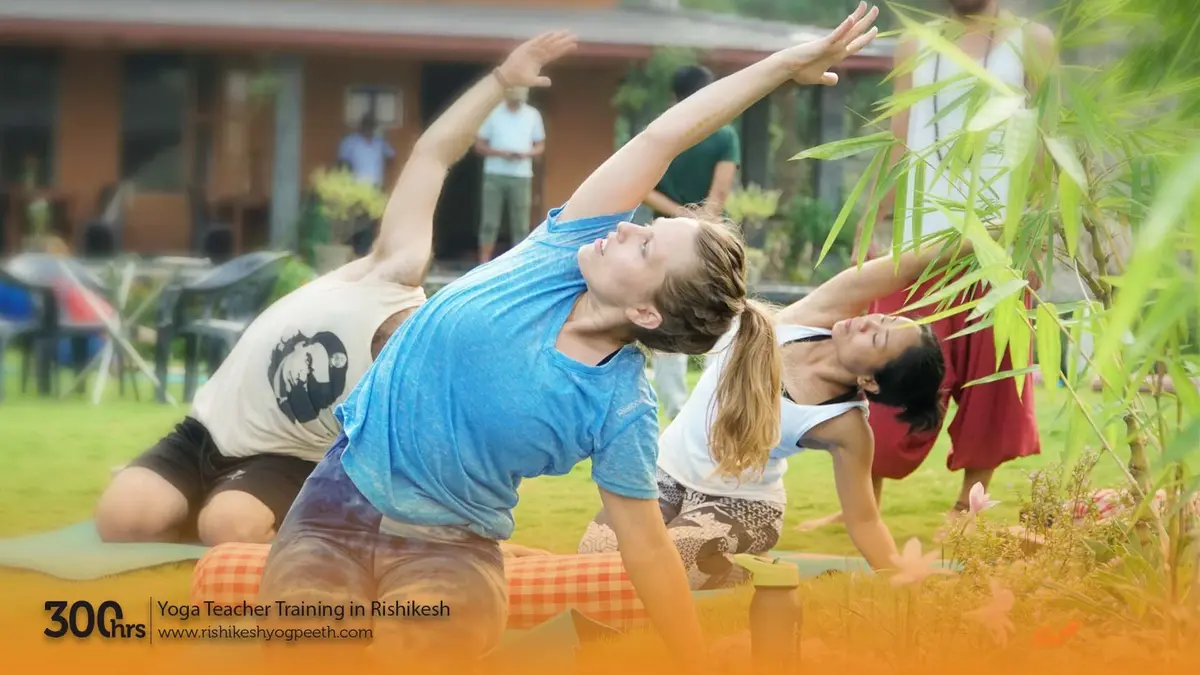 Batch Date
26 Jan - 24 Feb 2024
02 Apr - 06 May 2024
07 Jun - 06 Jul 2024
12 Aug - 10 Sep 2024
17 Oct - 16 Nov 2024
23 Dec - 22 Jan 2025
500 Hours Yoga Teacher Training India: Dates & Fee
Abhayaranya Yoga Ashram: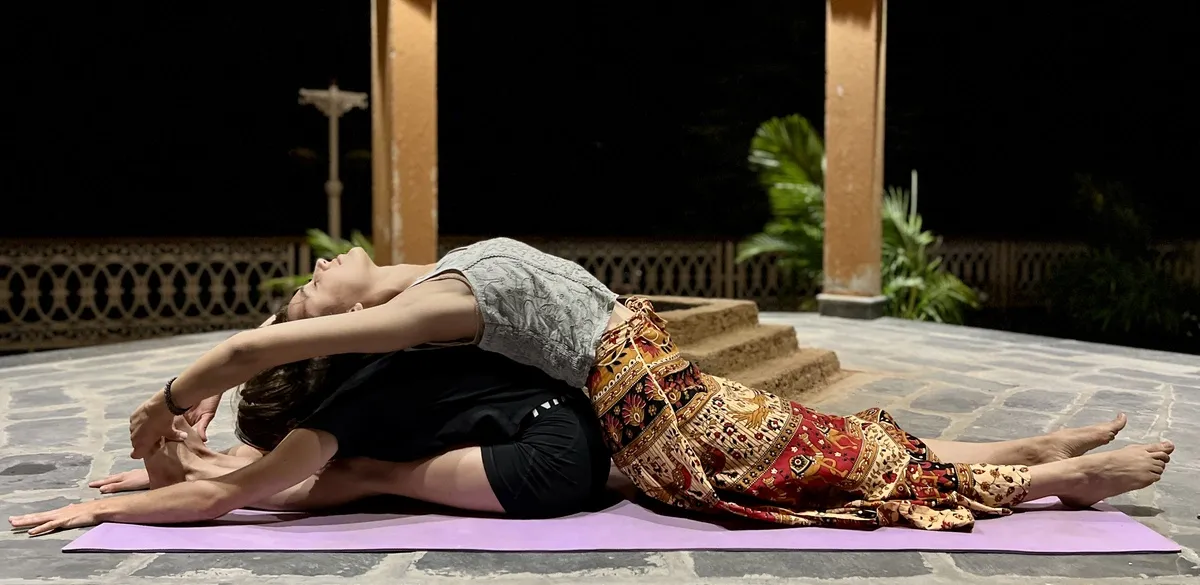 Batch Date
4 Jan - 24 Feb 2024
10 Mar - 01 May 2024
16 May - 06 Jul 2024
21 Jul - 10 Sep 2024
25 Sep - 15 Nov 2024
01 Dec - 22 Jan 2024
Course Fee Inclusion
Tuition Fee
Private or shared accommodation based on your preference
Three vegetarian meals a day
Course material, stationary with a tote bag, jalneti pot (for yogic clensing), yoga mat, blocks, straps, library facilities
One full-body Ayurvedic massage
Excursions on days off such as trekking, river rafting, local sightseeing etc, subject to availability and weather conditions
Fee and Refund Policy - Terms and Conditions:
An initial deposit of US $300 to 500 is payable at the time of booking. This is a non-refundable amount and valid for a period of 1 year from the date of the course commencement. The validity of the deposit can be extended in any special circumstances and on a case-by-case basis.
The balance fee is payable prior to the commencement of the course, upon your arrival at the ashram. For full terms and conditions, please refer to the link shown below:
https://www.rishikeshyogpeeth.com/terms-of-service.html
Eligibility Criteria
The yoga teacher training course does not requires any prior knowledge of yoga. However for 300 hour teacher training you are required 200 hours of yoga teacher training knowledge & experience.
Students should be proficient in English language, both written & verbal.
Age of participant should be 18 or above as long as he/she is physically fit and mentally healthy.
If a participant is found physically unfit, Rishikesh Yogpeeth reserves the right to stop his/her course.
Rishikesh Yogpeeth may allow participants to continue the couse in near future in somecase without any additional charges.
Yoga Alliance Certification
The Registered Yoga Teacher (RYT) certification is an approved yoga instructors program structured by the Yoga Alliance. At Rishikesh Yogpeeth, we offer a variety of programs that prepare aspiring yoga teachers to function the best they can.
Our three most popular courses are based on the hours of practice – 200 hours, 300 hours, and 500 hours.
Daily Schedule
Rishikesh Yogpeeth follows the standards set by Yoga Alliance for yoga teacher training courses. The intensive yoga training involves a tight schedule, where students are required to devote 6-7 hours each day to training.
| | |
| --- | --- |
| Time | Activity |
| 05:30 am | Wake Up |
| 06:00 am | Herbal Tea |
| 06:15 am | Nasal Cleansing |
| 06:30 am | Mantra Chanting & Pranayama |
| 07:30 am | Yoga Asana |
| 09:00 am | Breakfast |
| 11:00 am | Yoga Philosophy |
| 12:00 pm | Yoga Anatomy |
| 01:30 pm | Lunch |
| 02:30 pm | Self study / Assignment |
| 03:30 pm | Alignment and Adjustment |
| 05:00 pm | Yoga Asana |
| 06:30 pm | Meditation |
| 07:30 pm | Dinner |
| 10:45 pm | Lights Out |
Please note: Daily schedule is subject to change at teacher's discretion.
Why Become a Yoga Teacher
Yoga teaching has many benefits, some you may not have considered. Here are seven reasons why you should become a yoga teacher:
Rewarding
Accelerate transformation in your life
Work-life balance
Learn to teach
Explore yoga philosophy
Get in shape and feel great
Cultivate lasting and meaningful relationships
Yoga teacher training is a substantial commitment, and it isn't an easy decision. If you have the passion and drive, a lifelong career in the teachings of yoga has the power to change your life.
Become a Registered Yoga Teacher
When taking the path to becoming a registered yoga teacher, it can be met with confusion. Many journeys are different and reflect the uniqueness of mind, body, and soul. While this may be the case, there are six simple steps that you can follow for optimum career results.
1. Do Your Research
Today, there are many different styles of yoga. When it comes to teaching yoga, it's important to decide which discipline to choose:
Vinyasa
Hatha
Yin
AcroYoga
Bikram Yoga (Hot Yoga)
It is recommended that you try each style before deciding to learn its art form.
2. Consider Your Budget
While owning a private yoga studio is the ultimate goal for many, being self-employed can be scary, especially in these challenging times.
First, you must decide whether you are financially stable to cover any slow starts as you build your business and brand. If not, you may decide to work with an established yoga studio and garner the necessary experience before branching out.
Once you have decided to take the leap, you need to consider the costs of this. Rent, overheads, insurance, and marketing are crucial to the success of any private yoga studio.
3. Understand the Yoga Alliance
Yoga Alliance is the largest nonprofit association that fosters and supports high-quality, safe, and accessible yoga teaching.
Having a certification through the Yoga Alliance signals to potential students and employers that you uphold a high set of standards.
To become Yoga Alliance certified, you must complete a 200-hour yoga certification at a Yoga Alliance registered training school. Yoga Alliance recognized institutions such as Rishikesh Yogpeeth offers several courses ranging from beginner to more advanced.
4. Choose a Training Program
This step requires you to do some research. There are many options for training, and it's important to invest your time and money into one that is right for you.
Here are some key tips to keep in mind:
Make sure your training is Yoga Alliance-Certified
Choose hours that work for your life
Look into how they teach anatomy
Study the program's history
Research the instructors
The location also plays a significant part in which training program you choose. Rishikesh Yogpeeth is situated in the Yoga Capital of the World and is one of the most prestigious schools associated with Yoga Alliance.
5. Get Some Practice Teaching Yoga
After you have completed your program, you need to practice teaching. Often people assume that after 200-hours, they are ready to start their studio. However, it can take years to build up the confidence to have a strong presence in your teaching.
Once you have as much experience as possible, it's time to start making money through your instructor classes. There are many ways to do this. You may lead retreats, teach yoga online, or host yoga events at home.
Yoga School in India
Rishikesh has a rich and beautiful yoga and spiritual heritage. As the Yoga Capital of the World, Rishikesh is home to some of the world's most reputable yoga schools and ashrams.
One of the best yoga schools in India is Rishikesh Yogpeeth. At Rishikesh Yogpeeth, we aim to:
Share the eternal wisdom and holistic living principles of yoga
Become the center for modern scientific research in yoga and healing
Promote sustainable lifestyles and community development
Our teaching style is straightforward, with a mix of traditional knowledge and modern methodologies. Yoga mastery doesn't happen overnight, but we can guide you on your path by giving you the tools to set yourself up for a career of fulfillment and success.
Yoga School Rishikesh Yogpeeth Reviews
Join Our Internationally Certified Yoga Teacher Training in India
Internationally certified yoga teacher training in India will give you the tools for self-practice, empowerment, and humility.
For affordable yoga teacher training, choose Rishikesh Yogpeeth. At Rishikesh Yogpeeth, we are dedicated to spreading the eternal traditional message of yoga in a contemporary and accessible way.
Get in touch to learn more about our yoga courses, training programs, and retreats.
Frequently Asked Questions
How much does it take to complete yoga teacher training?
The cost and duration of the Yoga Teacher Training in India depends on what course you have opted for. Rishikesh Yogpeeth offers 200 hours, 300 hours and 500 hours Yoga Teacher Training in India. The cost of the training varies from USD $1100 to $3300 and duration of the course from 4 weeks to7 Weeks.
Can a beginner do yoga teacher training?
Yes, 200 hours Yoga Teacher Training is suitable for beginners or for those who have never tried Yoga before.
Can I teach yoga with 200 hour certification?
Yes, you can teach yoga with 200 hours certification. However if you wish to pursue Yoga teaching as a long term career, it is advisable to do 300 hours Yoga teacher Training as well to strengthen your knowledge on the subject.
What is 300 hour yoga teacher training?
300 hours Yoga teacher training is a level 2 training in order to become a certified Yoga teacher. To enroll for 300 hours you must complete 200 hours yoga teacher training beforehand as the two training sessions are in progressive order.
What is 500 hour yoga teacher training?
500 hours Yoga Teacher Training is meant for those who wish to pursue Yoga teaching as a profession. It is a combination of 200 hours and 300 hours Yoga teacher training to be completed in the same order. Rishikesh Yogpeeth offers 500 hours Yoga Teacher Training course in India at two locations. Both are residential courses and have one location in the mountains and another next to the forest, within close proximity to river Ganga.
How much does yoga teacher training cost?
A Yoga Teacher training in India at Rishikesh Yogpeeth costs between USD $1100 to USD $3500. This encompasses 200 hours, 300 hours and 500 hours training.
What is the difference between E-RYT and RYT?
After completing 200 hours and/or 300 hours Yoga Teacher Training from a Registered Yoga School (RYS) you can register your name with Yoga Alliance as Registered Yoga Teacher (RYT).
When you start teaching yoga, the number of hours contributing to your experience as a Yoga Teacher will allow you to register yourself as an Experienced Registered Yoga Teacher (ERYT).
How to Become an E-RYT 200 or E-RYT 500?
To become an E-RYT 200, after completing 200 hours Yoga Teacher Training with a RYS 200, you need:
1000 hours of yoga teaching experience
Has taught yoga for atleast 2 years
To become an E-RYT 500, after completing 200 hours plus 300 hours Yoga Teacher Training with a RYS 500, you need:
2000 hours of yoga teaching experience
Has taught yoga for atleast 4 years