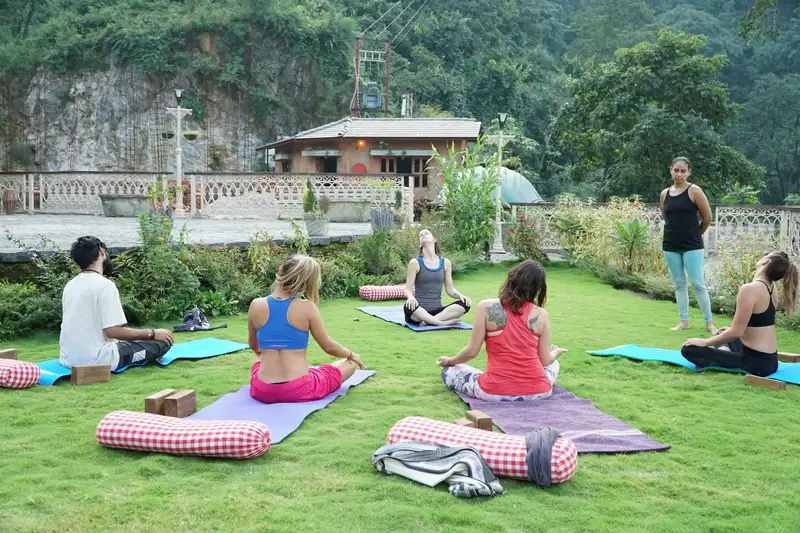 500 Hour Yoga Teacher Training in India - RYT 500 Yoga Alliance Certification
Yoga school Rishikesh Yogpeeth offers residential 500 hour yoga teacher training in Rishikesh India. This intensive and alignment-based yoga course is suitable for both beginners and advanced students. Private room accommodations and meals are included in the course fee.
Upon completion of the 500 hour yoga certification course, students are eligible to register with Yoga Alliance as a RYT 500.
Rishikesh Yogpeeth is one of the best institutes for a 500 hour yoga teacher training course that focuses on holistic Yoga teaching. The practitioners at Rishikesh Yogpeeth combine the ancient philosophy of Yoga with modern methods to promote this legendary tradition. We embrace and attract a multidisciplinary approach to Yoga and hold over 17 years of experience in Yoga Training.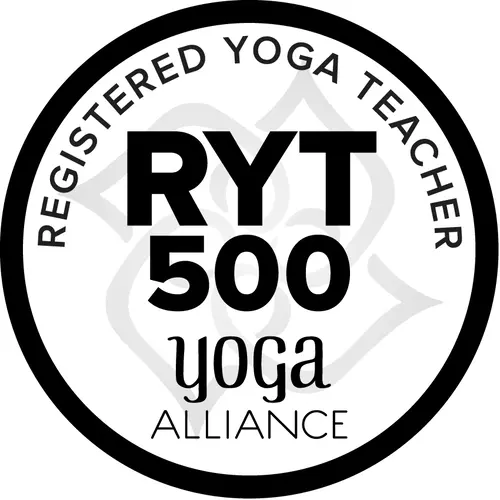 The 500 hour yoga teacher course allows you to cover the full spectrum of Yoga Alliance certified training in one go.
The training will grant you RYT 500 designation with Yoga Alliance.
This is an intensive yoga course that will give you knowledge and understanding of asana, teaching methodology, anatomy and physiology, the philosophy of yoga, and sufficient practice to be able to start teaching with confidence.
You'll find Yoga centers and teacher training schools across the world but what better than getting trained in the spiritual birthplace of yoga 'Rishikesh'. Yoga enthusiasts from across the world come to Rishikesh to hone their practice of the ancient discipline of Yoga.
Course Overview
Course Name
500 Hour Yoga Teacher Training
Level
Intermediate to Advance
Yoga Style
Hatha Yoga
Duration
7 Weeks
Module
Residential with Meals
Language of Instruction
English
Certification
RYT 500 - Yoga Alliance
Venue
Abhayaranya Yoga Ashram
Location
Rishikesh
Course Fee
Twin Shared Room - $ 3825 USD
Private Room - $ 5130 USD
Key Takeaways
Advance and reinforce your learning & practice of yoga.
Learn teaching methodology for Asana (physical postures), Pranayama (breath control), and Dhyana (meditation).
An in-depth study of the Yog Sutras of Patañjali and Vedanta will bring an understanding of the philosophy and practice of yoga.
Enhance your knowledge of human anatomy and physiology and its correlation to yogic practices.
Schedule & Fee: 500 Hour Yoga Teacher Training in Rishikesh
Batch Date
4 Jan - 24 Feb 2024
10 Mar - 01 May 2024
16 May - 06 Jul 2024
21 Jul - 10 Sep 2024
25 Sep - 15 Nov 2024
01 Dec - 22 Jan 2025
Two Single Beds
Shower / AC / Hot Water / Wi-Fi
Breakfast, Lunch, Dinner
500 RYT Training And All Community Events
Yoga Equipment And Learning Materials


Double Bed
Shower / AC / Hot Water / Wi-Fi
Breakfast, Lunch, Dinner
500 RYT Training And All Community Events
Yoga Equipment And Learning Materials


Course Fee Details
For international students, the fee is in US dollars
Accommodation single or twin-shared
Three vegetarian meals a day
Course material, basic stationery, yoga mat, blocks, straps, etc
One full-body Ayurvedic massage
Excursions on days off like trekking, river rafting, local sightseeing etc, subject to availability and weather conditionn, can be arranged on student's behalf at their expnse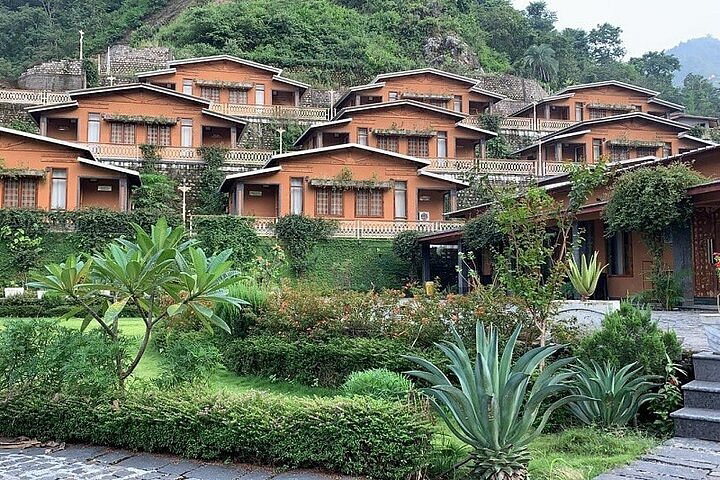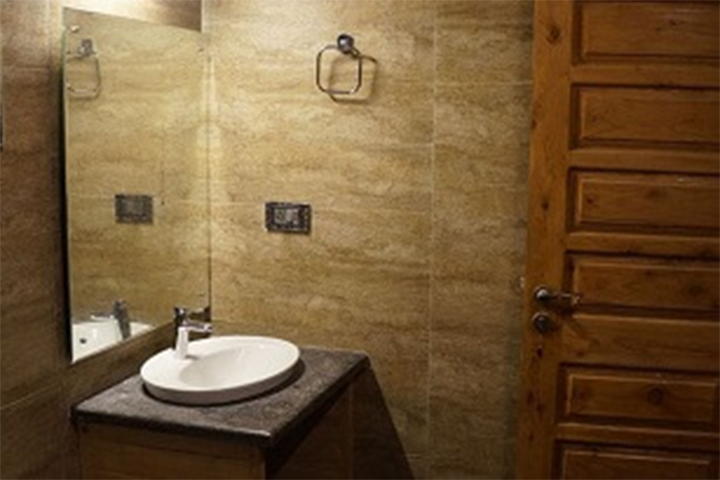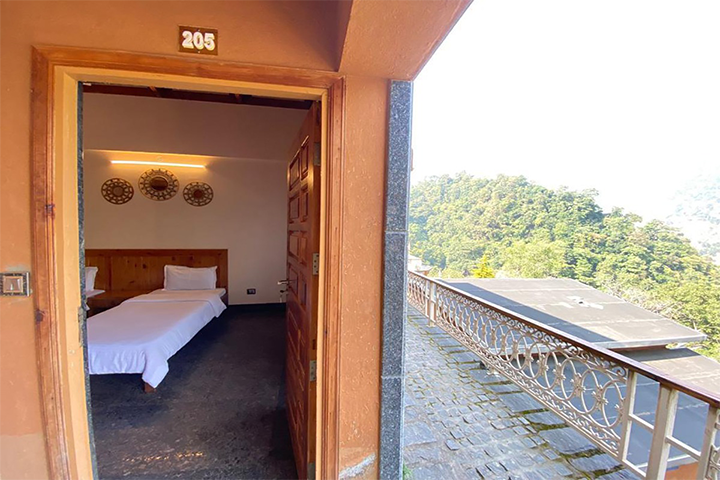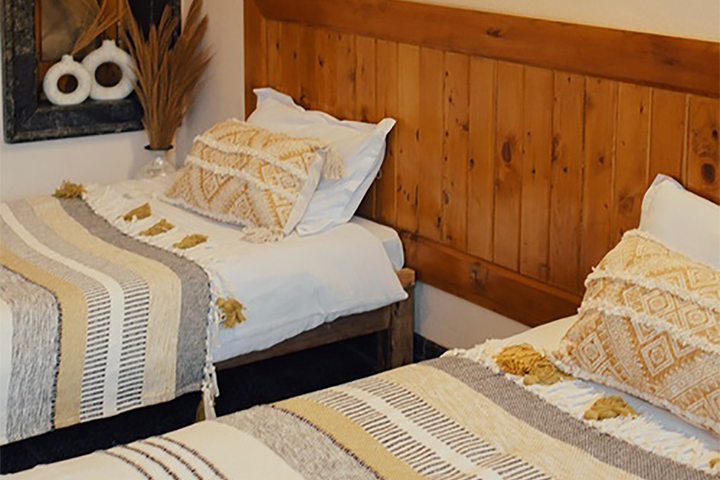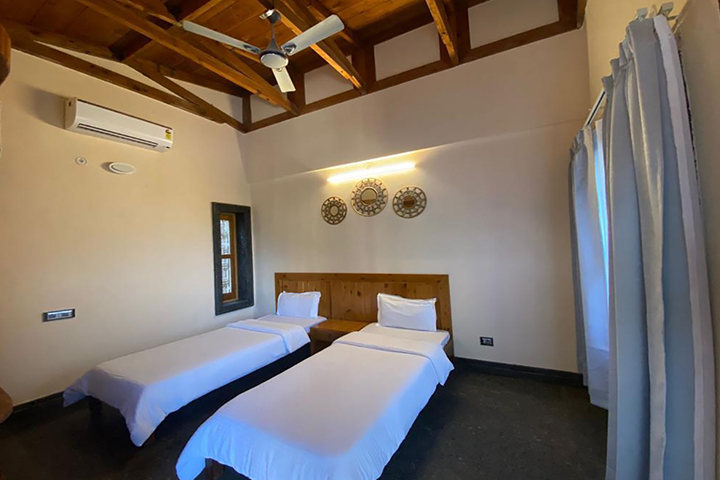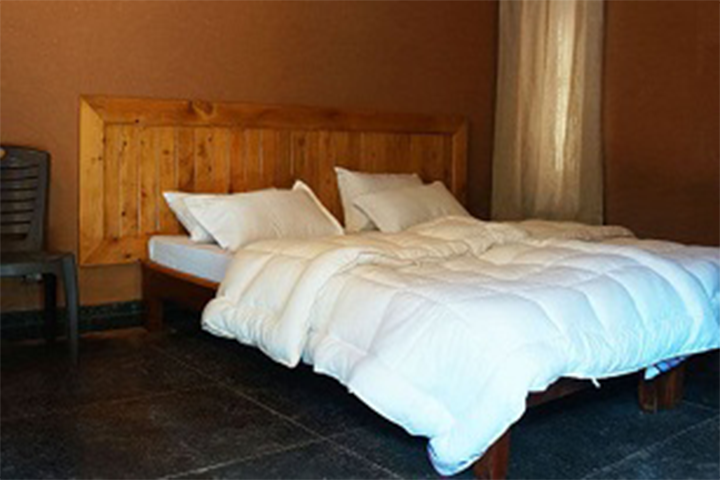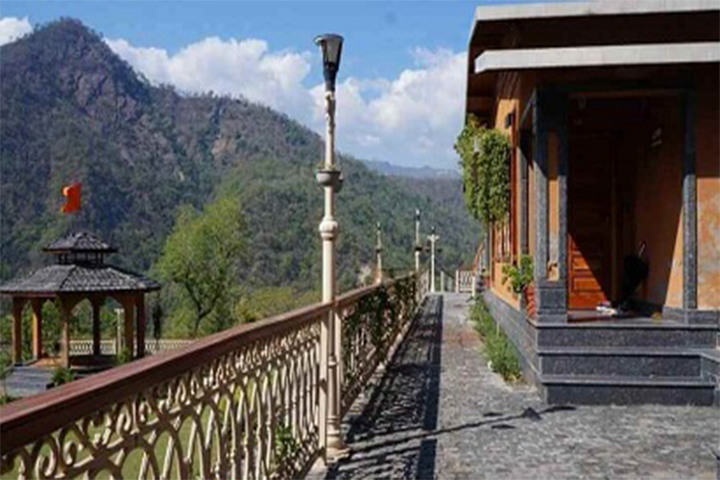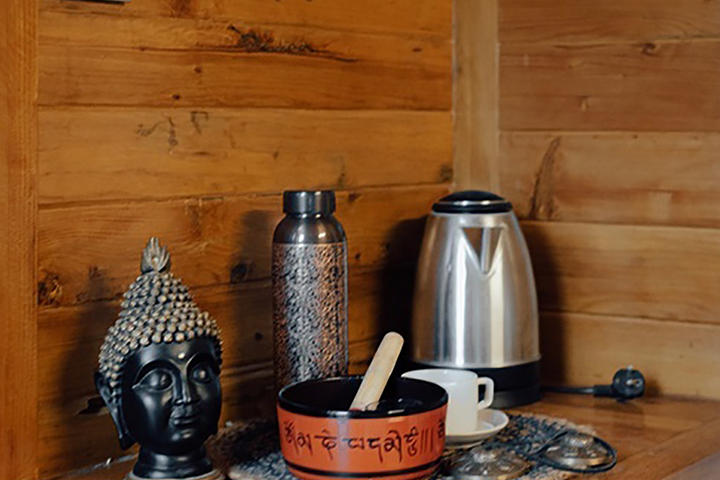 Fee and Refund Policy - Terms and Conditions
An initial deposit of US $500 is payable at the time of booking. This is a non-refundable amount. The validity of the deposit can be extended in any special circumstances and on a case-by-case basis.
The balance fee is payable prior to the commencement of the course, upon your arrival at the ashram. For full terms and conditions, please refer to the link shown below:
https://www.rishikeshyogpeeth.com/terms-of-service.html
Eligibility Criteria
There are no prerequisites for 500 hour yoga teacher training courses; however understanding the basics of yoga is an advantage
Reasonable proficiency in the English language, both written and verbal
Age - 18 years or more. There is no upper age limit for students who are physically fit and mentally healthy.
In case a student is found unfit, Rishikesh Yogpeeth reserves the right to terminate his/her course without any refund.
In some situations, Rishikesh Yogpeeth may allow participants to complete the course in the near future with the same fee and no additional charges.
Yoga Certification in India - RYT 500 (Yoga Alliance)
Rishikesh Yogpeeth, a registered yoga teacher training school in India, offers dual certificates of Yoga training to its students.
Yoga Alliance Certification - RYT 500:
All participants completing a 500 hour yoga training course are eligible to register with Yoga Alliance as RYT 500, a yoga certification and designation recognized internationally.
Certification in Yoga recognized by the Government of India:
Our students can also obtain a certificate issued by a university in India (HNBGU). This is a certificate in yoga recognized by the government of India and awarded by the university.
Yoga Alliance has developed guidelines that yoga schools must meet in order to be a Yoga Alliance approved teacher training school. The criteria are different for 200 hour, 300 hour and 500 hour yoga teacher training.
The internationally recognized hatha yoga teacher training courses in India offered by Rishikesh Yogpeeth include:
500 Hour Yoga Teacher Training in Rishikesh, India
We at Rishikesh Yogpeeth will help you develop your knowledge of yoga to an extent that you will be able to teach yoga professionally. After completing the course, you can register yourself with Yoga Alliance as an RYT 200 or RYT 500 depending on your qualification.
Evaluation
Assessments will be based on written as well as practical evaluations.
Student conduct will be a part of the assessment criterion.
The evaluation will be carried out only for those students who have a minimum of 90% attendance.
500 Hour Yoga Teacher Training Syllabus
We follow a 500 hour yoga training syllabus in compliance with Yoga Alliance standards for "RYT 500" certification, as well as university requirements for the two-month "Certificate Course in Yoga" recognized by the Govt. of India.
285 Hours
Techniques, Training and Practice
Asana | Assignment | Pranayama | Meditation
50 Hours
Anatomy & Physiology
Anatomy | Physiology
70 Hours
Yoga Humanities
History | Philosophy | Ethics
130 Hours
Professional Essentials
Teaching Methodology | Professional Development | Practicum
Yoga Asana
Yoga asanas can help with the recovery and management of many common diseases and disorders. This class will provide students with an introduction to the anatomy and pathology of common health issues that can be dealt with through diet, asana, and pranayama practice.
There are five key categories of asanas that will be covered in this course, they are standing poses, forward bends, backbends, twists, and inversions. The trainee will be encouraged to practice essential poses in each category. Along with practicing the poses, trainees are also educated about its benefits and functions.
Asana Practice
Yogic postures comprise three hours of the daily schedule of the 500 Hour YTT. Intending to create expert Yoga practitioners, Rishikesh Yogpeeth offers the guided practice of the methods and techniques. The 500 hour yoga teacher training course in Rishikesh is designed to help you gain mastery of each of the varied Asanas and their usage to treat various maladies of the human body.
You will be taught the rationale behind practicing each Asanas as well as which body part or muscle group is being targeted. You will also be taught a list of alternate Asanas that can help your conditioning to work up towards complex/ high-level Asanas.
Yoga Anatomy
Students will learn anatomy and physiology relevant to yoga in order to strengthen their classroom explanations, cues, and corrections of asana. Trainees at this 500 hour yoga teacher training in Rishikesh India are taught about how yoga poses can have a therapeutic effect on the body.
They are also taught on using Asanas for disease management, a deeper knowledge of the human body will make Yoga more impactful and also have a better influence on the practitioner.
Yoga Philosophy
This part of the curriculum will include studying the ancient Yogic philosophies and traditional texts. Insights on the yogic lifestyle and other concepts like dharma and karma are also explored in the 500 hour yoga teacher training at Rishikesh Yogpeeth.
Other facets of Yoga and its beliefs are also shared at the training; It is believed that being a Yoga practitioner is of great value and should be considered a form of service to the community.
This class will prepare students to study and understand Patanjali's Yoga Sutras. Once a week, students will lead a discussion reflecting on the week's readings.
Before class, students should write down one question on a notecard directly related to the day's reading and give this to the teacher at the start of class. This is aimed at improving classroom engagement and retention of the day's teachings.
Pranayama, Yogic Breathing, Yoga Nidra & Chanting
Students will learn techniques to open vital energy centers in the body with the goal of becoming proficient enough to teach these skills to their students. Practical teaching experience will begin in the second week.
Some of the key techniques promoted are meditation techniques, Yoga Nidra to manage stress and anxiety, and managing one's breathing pattern with effective Pranayama techniques.
Daily Schedule
The 500 hour yoga teacher training course at Rishikesh Yogpeeth adheres to a strict schedule to comply with the requirements of Yoga Alliance.
| | |
| --- | --- |
| Time | Activity |
| 05:30 am | Wake Up |
| 06:00 am | Herbal Tea |
| 06:15 am | Nasal Cleansing |
| 06:30 am | Mantra Chanting & Pranayama |
| 07:30 am | Yoga Asana |
| 09:00 am | Breakfast |
| 11:00 am | Yoga Philosophy |
| 12:00 pm | Yoga Anatomy |
| 01:30 pm | Lunch |
| 02:30 pm | Self study / Assignment |
| 03:30 pm | Alignment and Adjustment |
| 05:00 pm | Yoga Asana |
| 06:30 pm | Meditation |
| 07:30 pm | Dinner |
| 10:45 pm | Lights Out |
Please note: Daily schedule is subject to change on teacher's discretion
The Yoga Faculty - Our Team of Yoga Instructors in India
The faculty at Rishikesh Yogpeeth includes experienced and qualified yoga teachers, Ayurveda doctors, and therapists.
We have some of the best yoga teachers in India as members of our faculty. In addition to their existing yoga credentials, our teachers also undergo specialized training through us. Our teachers are required to meet the high standards of Yoga education at Rishikesh Yogpeeth and the Yoga Alliance syllabus before they can begin teaching.
Every Yoga Teacher Training batch includes three to four experienced instructors who specialize in different aspects of yoga, not just asana but the other seven limbs of Patanjali Yogasutra to provide a comprehensive and integrated platform for our students to not just learn, but to live, yoga.
Most of our yoga trainers are certified as an E-RYT and have a few thousand hours of teaching experience.
Please visit our - Yoga Teachers - page for more information.
Why Choose Rishikesh Yogpeeth for 500 Hour Yoga Teacher Training in India?
Rishikesh Yogpeeth is one of the most renowned yoga schools in Rishikesh. The 500 Hour Yoga Teacher Training in India is a program designed to help you become an internationally-recognized yoga teacher.
Our program is designed to train the students with deep yoga learning and practices. After successful completion of the course, you are eligible to become an RYT 500.
Join our program today and become a professional yoga teacher.
Frequently Asked Questions
Is 500 hour yoga teacher training worth it?
Yes. Following are the reasons to do 500 hour YTT with Rishikesh Yogpeeth:
You will have more advanced knowledge about yoga asanas, meditation, yoga philosophy, pranayama, yogic breathing, yoga nidra & chanting.
You will be an RYT 500 by Yoga Alliance, USA.
You can teach students pursuing 200 Hour YTT, 300 Hour YTT or 500 Hour YTT
What does RYT 500 mean?
RYT 500 means registered yoga teacher who has completed their 500 hours of yoga teacher training. After completing the 500 hour training, you can become an RYT 500 with Yoga Alliance and can teach yoga to the students.
What is the E-RYT 500?
Teachers can register as an E-RYT 500 after successfully completing the 500 Hour YTT from RYS and have taught a minimum of four years after completing training with a 200 Hour RYS.
What can I do with RYT 500?
With 500 hours of YTT, an RYT 500 has the skills and knowledge to teach yoga classes. You'll be certified to teach yoga asana, pranayama, philosophy, meditation, etc.
What is the highest level of yoga teacher training?
500 Hour YTT is the highest international standard for yoga teachers. After completing the 500 Hour YTT you are eligible to register as RYT 500 with the Yoga Alliance.
What is the difference between RYT 200 and RYT 500?
RYT stands for Registered Yoga Teacher. To become RYT 200 you must be certified at the 200 hour level by any registered yoga school (RYS). The RYT title signifies that the yoga teacher has completed their 200 hour yoga teacher training at a school that is registered with Yoga Alliance.
To become RYT 500, you must do 200 hours followed by 300 hours of training and obtain Yoga Alliance 200 hours and 300 hours certificates separately. Or Complete your 500 hours of training from an RYS 500 school in one go.
There is literally no difference between the two except for the fact that you have the liberty to complete 200 and 300 hours individually at your own pace and availability whereas if you wish to do 500 hours in one shot it demands straight 6-7 weeks dedicated effort.