Yoga Faculty - A Team of Best Yoga Gurus in India
At Rishikesh Yogpeeth we have a team of qualified teachers, Ayurveda doctors and therapists.
Our faculty consists of some of the best yoga teachers in India. We train our teachers in-house in addition to their existing yoga qualification. This is to make sure all our teachers meet the high standards of Rishikesh Yogpeeth's Yoga education system and Yoga Alliance Syllabus.
For each Yoga Teacher Training batch we assign 3 to 4 experienced yoga instructors specialising in different aspects of yoga, not just asana but the other seven limbs of Patanjali Yogsutra to provide a comprehensive and integrated platform for our students to not just learn but to live Yoga
The team of teachers includes a lead trainer with E-RYT designation with a few thousand hours of on the ground teaching experience.
Shahin Azha (Spiritual Mentor)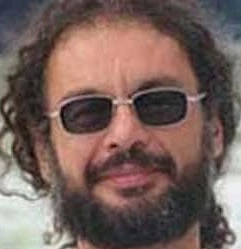 He is the spiritual mentor of Rishikesh Yogpeeth as a Yoga School. He is one of the guardians, who laid the foundation for us, so we can embark upon the path of Yoga.
Originally from Iran but a world traveler and a Yogi in real sense, who has lived his life exactly the way he expresses in his words. Rishikesh Yogpeeth will always be grateful for all his love and support.
Roshan Singh (E- RYT 500)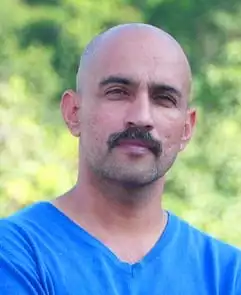 Roshan Singh is the founder Member and President of Rishikesh Yogpeeth, highly regarded as one of the visionary to manifest this dream into reality. According to him, life itself is the Yoga School and the events in it, are the process required for the evolution of human awareness.
Started Teaching in the year 2005, during the course of time he taught Yoga Philosophy, Yogic Anatomy and Physiology, Asana, Pranayama and Meditation, with all of this vast experience he also holds E-RYT 500 under Yoga Alliance registration.
Prahlad Singh (E-RYT 500)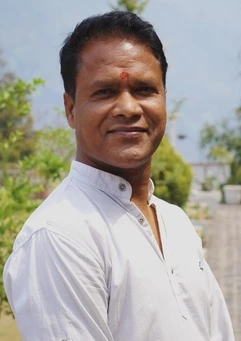 Prahlad Singh is a seasoned yoga teacher and a known name in the yoga fraternity. For Prahlad yoga is not a profession but a way of living life.
Although being born and brought up in the world's yoga capital Rishikesh, Yoga was not on his mind. It all started with personal practice to keep himself fit and before he knew he was already deep into his practice.
And it was a remarkably life changing experience. That's when he decided to share his experience and knowledge with the world. In his words "It was the best decision of my life". The journey that started in 2007 as a yoga teacher is continually going and growing stronger.
He follows the practices taught by his Guru Rudra Godha ji during his intense 3 years training. He had taught in many yoga schools in various parts of India. His strengths are asanas alignment and variations based on various body types and body limitations due to chronic illness and/or injuries.
Dr. Amaravathi Eraballi ( E-RYT-500 | YACEP®)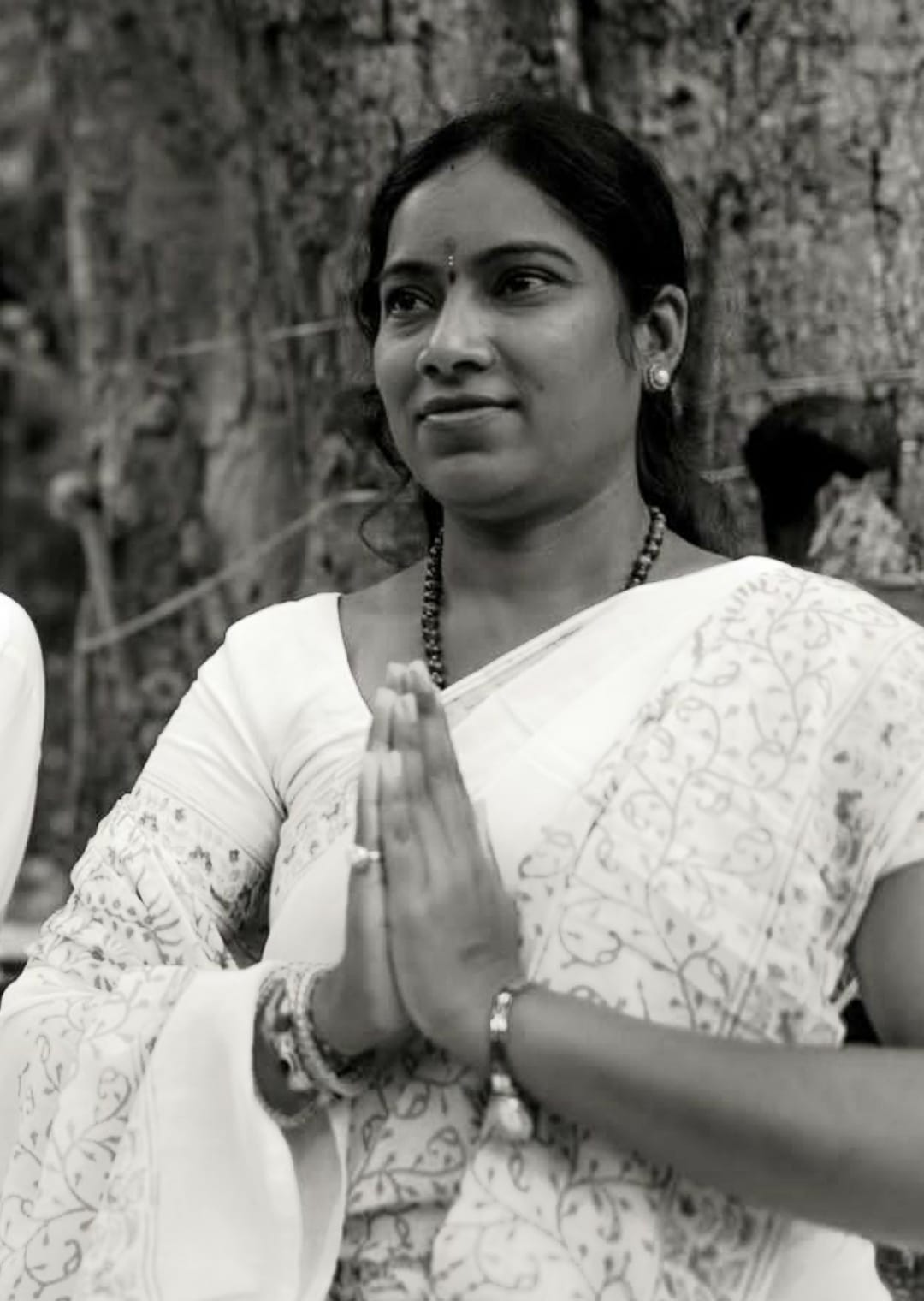 As part of the lifestyle learned from grandmother at preschool, Dr. Amaravathi Eraballi got a small gap with modern education that is bachelor and masters in Physiotherapy (Cardio-respiratory condition), Tirupati (temple city), South India. She stepped into Yoga after completing Master of Physiotherapy for Cardio-Thoracic Conditions, from reputed University, Sri Venkateshwara Institute of Medical Sciences (SVIMS), Tirupati. With Diploma in yoga Therapy from Sanskrit University, Tirupati in 2006. She started integrating the physiotherapy techniques and yoga techniques for respiratory and cardiac conditions starting from Operation theatre to outpatient rehabilitation status from 2004. At every level of consultation and training, she got successful within less time and no complications.
After completing PhD in Yoga and Life Sciences from Swami Vivekananda Yoga Anusandhana Samsthana (SVAYSA), Bengaluru, she started academic and clinical practice at Rishikesh. Having students from both India and abroad, she got a chance to experiment and develop small classroom research in yoga studio at Rishikesh Yog Sansthan, Rishikesh, Uttarakhand. She is guiding the MSc yoga research and PhD thesis at central government of India from 2020 as a guest faculty.
Aman Tiwari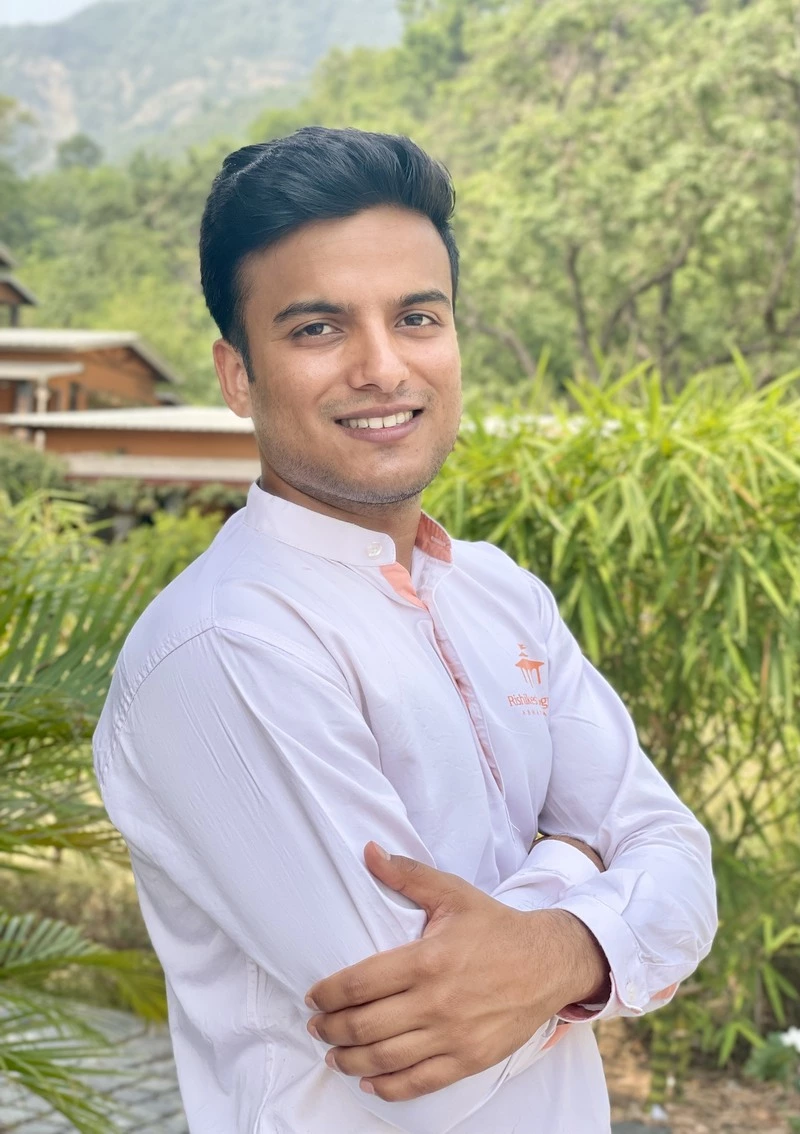 Aman Tiwari is a young kid on the block, highly passionate and motivated towards what he does. At a very early age Aman had decided to take forward his family's rich lineage of Sanskrit and spirituality,
He completed his Bachelor's in Sanskrit followed by Master's in Yoga. Having an absolute sense of clarity, he didn't waste any time and completed his 500 hours Yoga Teacher Training at Rishikesh Yogpeeth.
Knowing his aspirations, Rishikesh Yogpeeth started grooming their youngest family member to become one of the finest Yoga teachers hence rigorous asana training, regular discussions on Yoga Philosophy, gathering deep knowledge about human anatomy is part of Aman's regular routine in addition to the classes he conducts for the retreats.
Aman's aim is to bring a unique sense of empowerment to each of his classes. Through intentions, meditation, pranayama and asanas his goal is to have his student leave each class feeling refreshed and renewed. Expect to move, sweat and breathe in his class.
Nitish Lakhera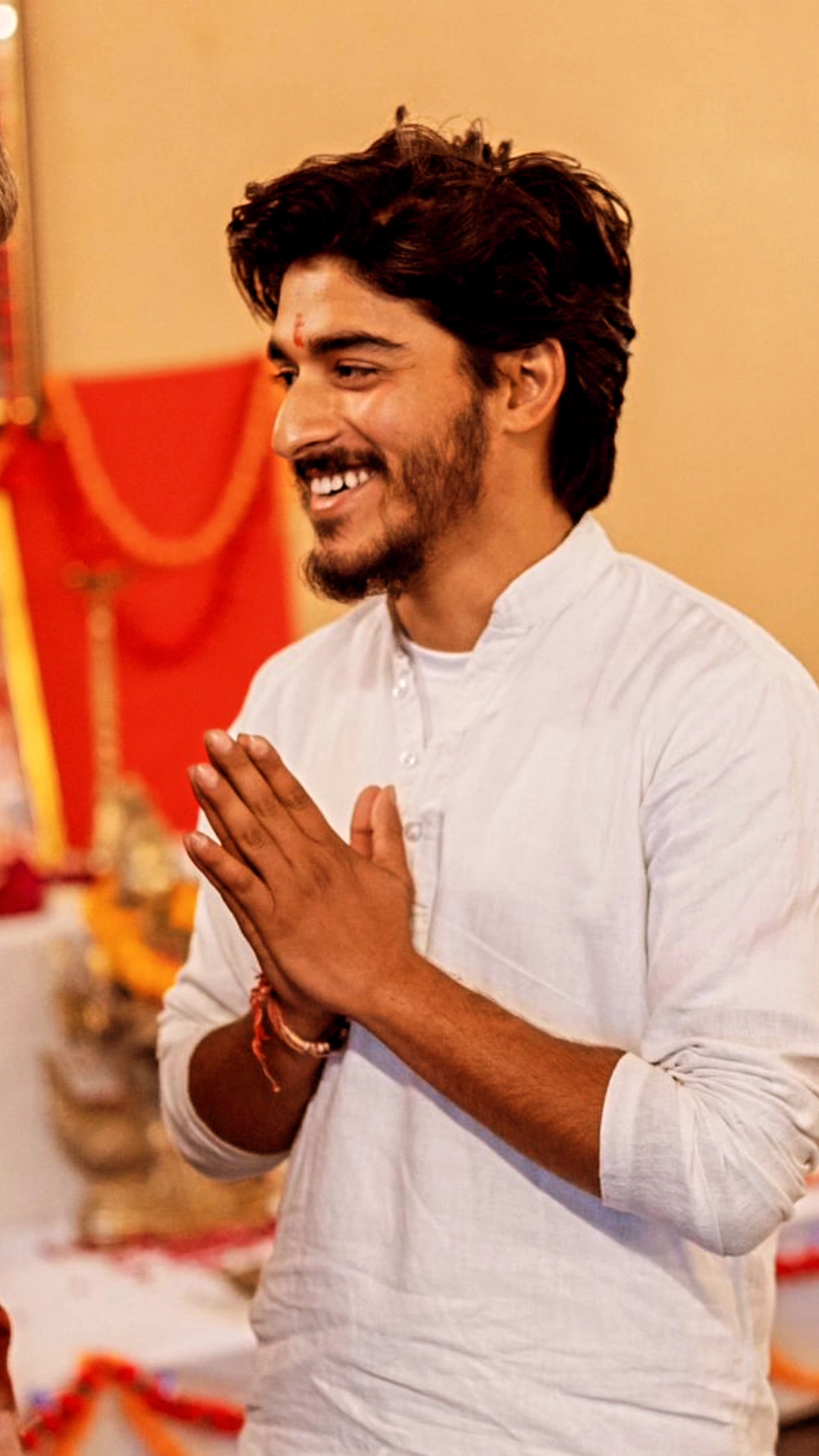 Immersed in yogic practices from an early age, Nitish has been on the path of Yoga and spirituality since childhood. Being born and raised in a traditional Brahmin family in a small town at himalayan foothills, growing up surrounded with a spiritual setting that naturally led him to a yogic lifestyle .Nitish has been practicing yoga at professional level for more than 6 years, which has earned him incredible experience and reputation as a strong Yoga Teacher in Rishikesh. With years of unwavering practice, Nitish has assimilated functional understanding of Hatha, Ashtanga, Vinyasa, Sukshma Vyayama, Pranayama and Meditation. With a deep understanding of the different yoga asanas and their benefits, Nitish guides his students in performing the poses safely and effectively. The technically correct and precise alignment of asanas, adjustment based on physical limitations of the students and variation of asanas are Nitish's forte.
Dr. Piyush Dobhal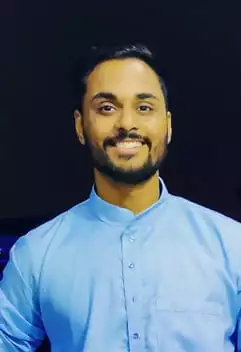 Piyush is a qualified Ayurveda doctor and proudly holds BAMS degree. He has been associated with Rishikesh Yogpeeth since 2020. His primary focus at RYP is to conduct lectures on Ayurveda to impart knowledge and spread awareness as well as manage end to end treatment plans for the guests who come for specific retreats. He works with guests to understand their body type (prakriti), prepare their diet plan accordingly and work with them to bring necessary lifestyle changes to achieve their health goals. While working on Kaya Chikitsa (Medicine) and Shalya Chikitsa (Surgery) in his regular practice, he is also working towards specialising in Panchakarma (body cleansing through five procedures).
According to him, Ayurveda is not just a system of treating illness, but a science of life. It offers a body of wisdom designed to help people stay vital and realising their full human potential. He works closely with our ashram guests providing them with procedures on daily and seasonal routines, diet, behaviour and use of senses. In his own words 'Ayurveda emphasises the health is the balanced and dynamic amalgamation between our environment, body, mind, and spirit'.
Amit Saklani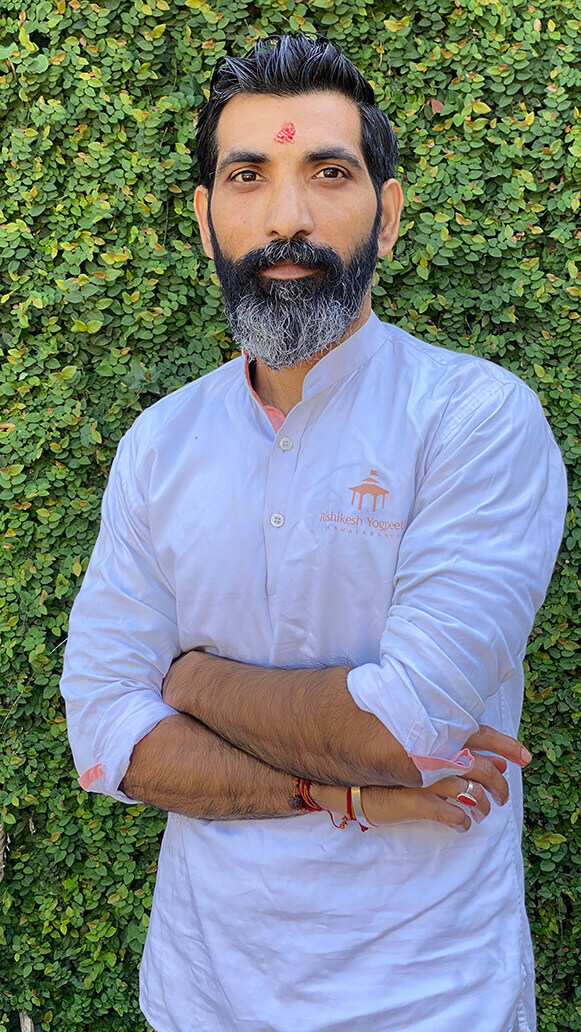 Amit is a dedicated and passionate yoga instructor with over 5 years of experience in guiding students through the transformative practice of yoga. Certified yoga science practitioner from Uttarakhand Sanskrit University specialised in alignment, adjustment and therapeutic approach in yoga asanas.
Amit believes in a holistic approach to yoga, blending traditional and contemporary techniques to create a harmonious balance between strength, flexibility, and inner peace. Their classes are designed to cater to varying skill levels, offering modifications and adjustments to ensure that each student feels comfortable and supported.
Whether a beginner seeking an introduction to yoga or an experienced practitioner looking to refine practice, Amit Ji classes are combined with deep knowledge of asanas, creating an environment where students can flourish and grow.
Shailesh Chamoli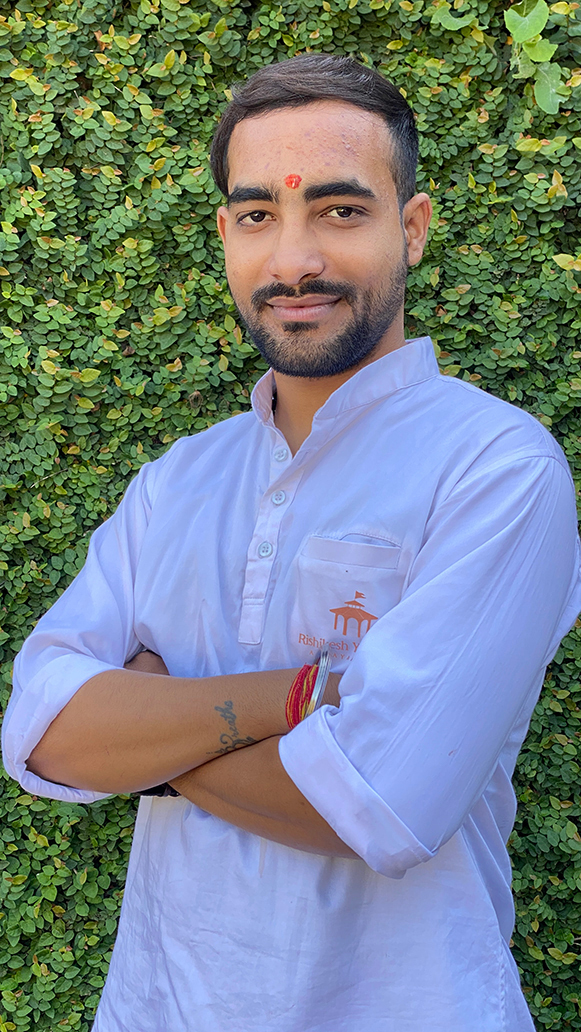 Shailesh is a young gun of Rishikesh Yogpeeth. At a very early age Shailesh had an absolute clarity about what he was going to do. After completing Bachelor in Yoga Sciences from Swami Rama Himalayan University, Shailesh started his training at Rishikesh Yogpeeth as an assistant teacher. His dedication towards yoga is unparalleled hence Rishikesh Yogpeeth decided to send him to one of the most prestigious yoga schools, Kaivalyadhama Yoga Institute, Lonavala to further pursue his academic aspirations and deepen his learning.
One of the turning points in Shailesh's life was the 6 months internship in Yoga therapy in a hospital where he has worked with patients suffering from the aftermath of cancer treatment. He worked with other departments as well like psychiatry, neurology and orthopaedics where he was engaged with patients on physical level with shatkarma, asana, joints movements as well as mental and spiritual level with pranayama, mantra chanting, relaxation and meditation practices. Seeing the impact of these practices it further implanted his faith and confidence in Yogic practices. Thus he dedicated his life towards yogic practices for the betterment of the society by practicing and sharing what he learned, and the learning is still on….