Yoga Faculty - A Team of Best Yoga Gurus in India
At Rishikesh Yogpeeth we have a team of qualified teachers, Ayurveda doctors and therapists.
Our faculty consists of some of the best yoga teachers in India. We train our teachers in-house in addition to their existing yoga qualification. This is to make sure all our teachers meet the high standards of Rishikesh Yogpeeth's Yoga education system and Yoga Alliance Syllabus.
For each Yoga Teacher Training batch we assign 3 to 4 experienced yoga instructors specialising in different aspects of yoga, not just asana but the other seven limbs of Patanjali Yogsutra to provide a comprehensive and integrated platform for our students to not just learn but to live Yoga
The team of teachers includes a lead trainer with E-RYT designation with a few thousand hours of on the ground teaching experience.
Shahin Azha (Spiritual Mentor)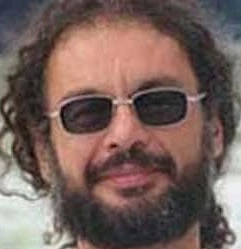 He is the spiritual mentor of Rishikesh Yogpeeth as a Yoga School. He is one of the guardians, who laid the foundation for us, so we can embark upon the path of Yoga.
Originally from Iran but a world traveler and a Yogi in real sense, who has lived his life exactly the way he expresses in his words. Rishikesh Yogpeeth will always be grateful for all his love and support.
Roshan Singh (E- RYT 500)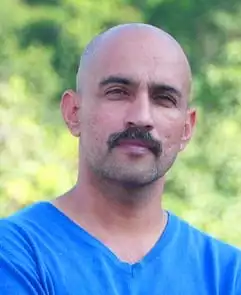 Roshan Singh is the founder Member and President of Rishikesh Yogpeeth, highly regarded as one of the visionary to manifest this dream into reality. According to him, life itself is the Yoga School and the events in it, are the process required for the evolution of human awareness.
Started Teaching in the year 2005, during the course of time he taught Yoga Philosophy, Yogic Anatomy and Physiology, Asana, Pranayama and Meditation, with all of this vast experience he also holds E-RYT 500 under Yoga Alliance registration.
Prahlad Singh (E-RYT 500)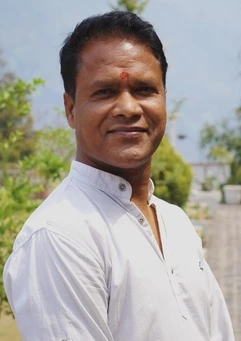 Prahlad Singh is a seasoned yoga teacher and a known name in the yoga fraternity. For Prahlad yoga is not a profession but a way of living life.
Although being born and brought up in the world's yoga capital Rishikesh, Yoga was not on his mind. It all started with personal practice to keep himself fit and before he knew he was already deep into his practice.
And it was a remarkably life changing experience. That's when he decided to share his experience and knowledge with the world. In his words "It was the best decision of my life". The journey that started in 2007 as a yoga teacher is continually going and growing stronger.
He follows the practices taught by his Guru Rudra Godha ji during his intense 3 years training. He had taught in many yoga schools in various parts of India. His strengths are asanas alignment and variations based on various body types and body limitations due to chronic illness and/or injuries.
Sachin Dhoundiyal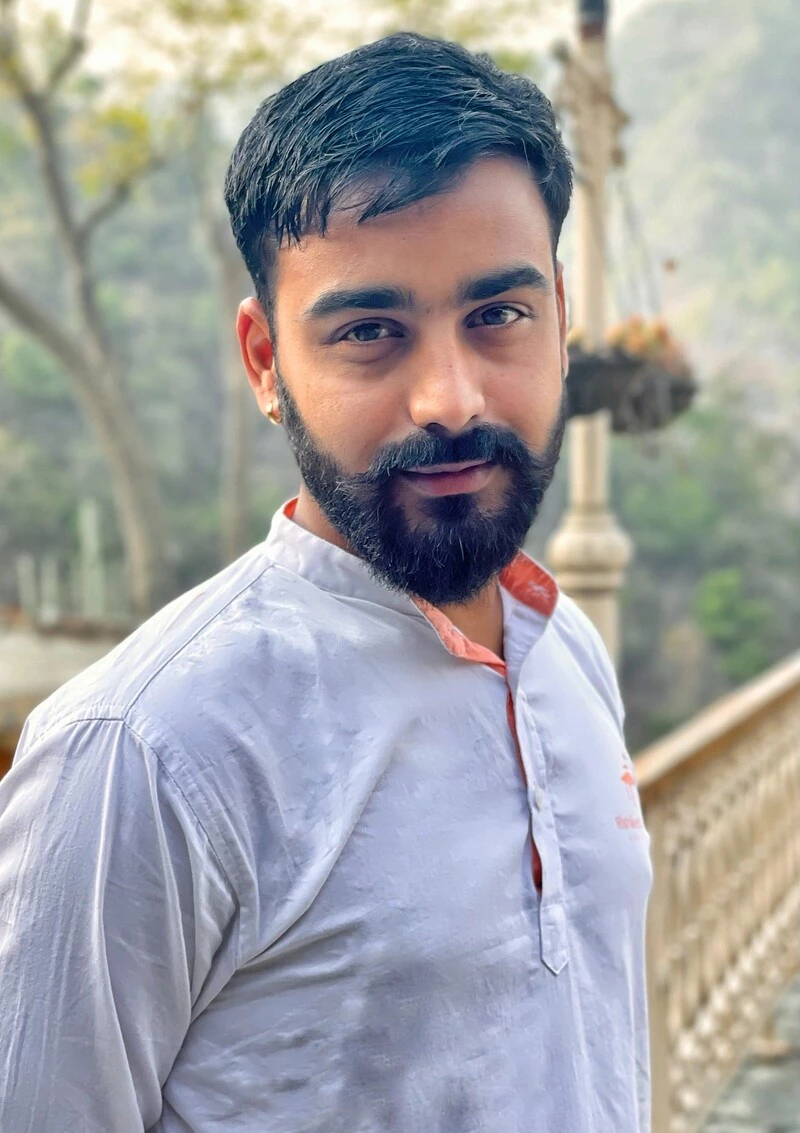 Immersed in yogic practices from an early age of 15, Sachin has been on the path of Yoga and spirituality since childhood. Being born and raised in a traditional Brahmin family in Northern India, grown up in an ashram gave him the surroundings that naturally led him to a yogic lifestyle .
Sachin completed his 6 month certificate course in Yoga which intrigued him even more about exploring Yoga in a more methodical and structured way. Hence he completed his Bachelor's degree in Yoga and is now pursuing Master's degree in yogic science to deepen his understanding of Yoga and create a stable background of yogic studies .
With years of unwavering practice, Sachin has assimilated functional understanding of Hatha, Ashtanga, Vinyasa, Sukshma Vyayama, Pranayama, and Meditation. His compassion towards all living beings and non-fading cheerfulness combined with routine yoga practice make him one of a kind, true yoga practitioner.
Aman Tiwari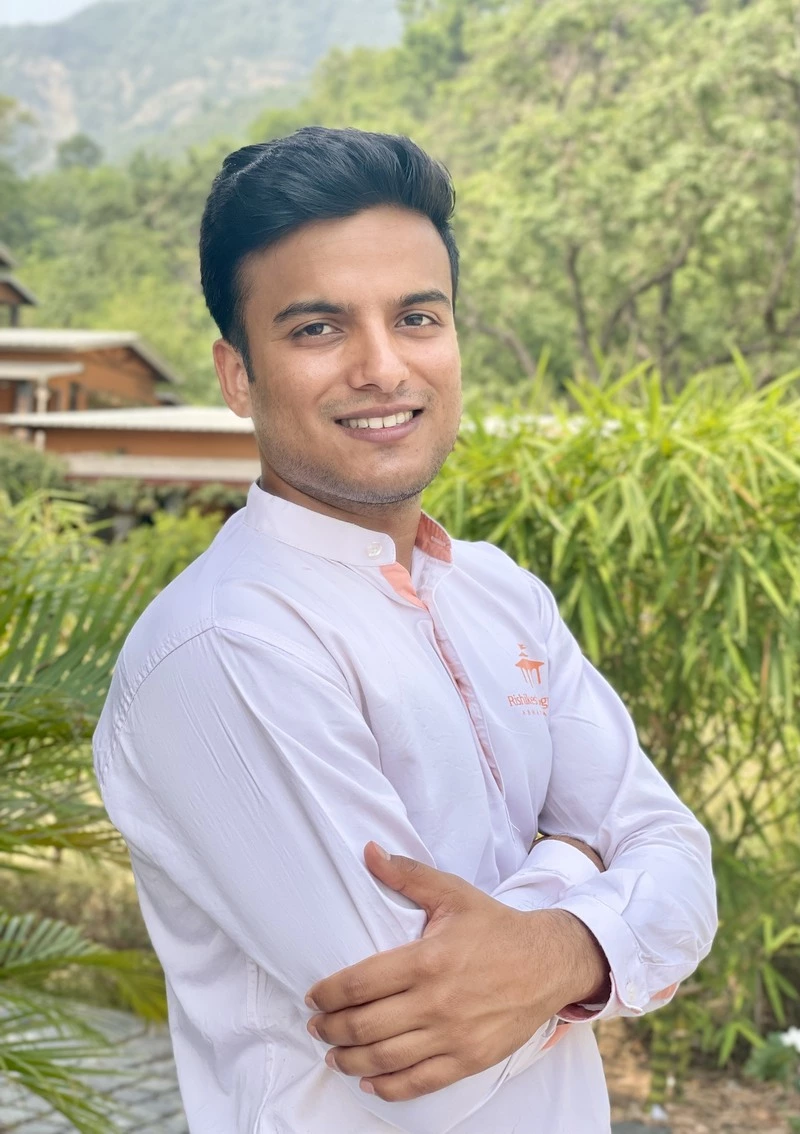 Aman Tiwari is a young kid on the block, highly passionate and motivated towards what he does. At a very early age Aman had decided to take forward his family's rich lineage of Sanskrit and spirituality,
He completed his Bachelor's in Sanskrit followed by Master's in Yoga. Having an absolute sense of clarity, he didn't waste any time and completed his 500 hours Yoga Teacher Training at Rishikesh Yogpeeth.
Knowing his aspirations, Rishikesh Yogpeeth started grooming their youngest family member to become one of the finest Yoga teachers hence rigorous asana training, regular discussions on Yoga Philosophy, gathering deep knowledge about human anatomy is part of Aman's regular routine in addition to the classes he conducts for the retreats.
Aman's aim is to bring a unique sense of empowerment to each of his classes. Through intentions, meditation, pranayama and asanas his goal is to have his student leave each class feeling refreshed and renewed. Expect to move, sweat and breathe in his class.
Deepti Kulshrestha (E - RYT 500)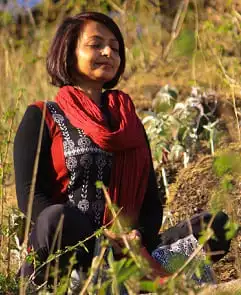 Deepti Kulshrestha is an E-RYT 500 yoga teacher and holds a M.A. degree in Yoga and Naturopathy. She started teaching in 2008 and discovered quickly that this was her calling in life. After completing her training from Rishikesh Yog Peeth, she has been teaching YTT courses in Rishikesh Yog Peeth since 2010 as a lead instructor.
Deepti teaches Anatomy of Yoga, Asanas, Pranayama and Mantras, specializing in traditional Indian Hatha Yoga. She is interested in deepening her knowledge of asanas by learning from various masters, traditional texts and relating this to a scientific understanding of the human anatomy and physiology.
Nikhil Kulshrestha (E- RYT 500)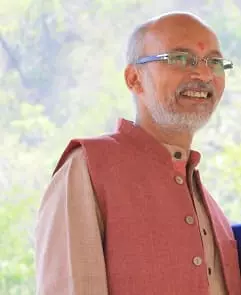 Nikhil Kulshrestha teaches Yoga philosophy in 200 and 300-hour TTC. A self-taught philosopher, he is interested in the philosophical aspects of yoga which he has been studying sinceyears.
He loves to discover parallel connections between ancient teachings and what science has discovered and is still trying to understand. Nikhil holds a Masters in Electronics Engineering and has worked for three decades in the tech industry before quitting and taking up teaching Yoga philosophy full time in 2015.
'
Dr. Piyush Dobhal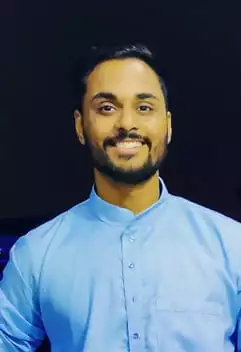 Piyush is a qualified Ayurveda doctor and proudly holds BAMS degree. He has been associated with Rishikesh Yogpeeth since 2020. His primary focus at RYP is to conduct lectures on Ayurveda to impart knowledge and spread awareness as well as manage end to end treatment plans for the guests who come for specific retreats. He works with guests to understand their body type (prakriti), prepare their diet plan accordingly and work with them to bring necessary lifestyle changes to achieve their health goals. While working on Kaya Chikitsa (Medicine) and Shalya Chikitsa (Surgery) in his regular practice, he is also working towards specialising in Panchakarma (body cleansing through five procedures).
According to him, Ayurveda is not just a system of treating illness, but a science of life. It offers a body of wisdom designed to help people stay vital and realising their full human potential. He works closely with our ashram guests providing them with procedures on daily and seasonal routines, diet, behaviour and use of senses. In his own words 'Ayurveda emphasises the health is the balanced and dynamic amalgamation between our environment, body, mind, and spirit'.