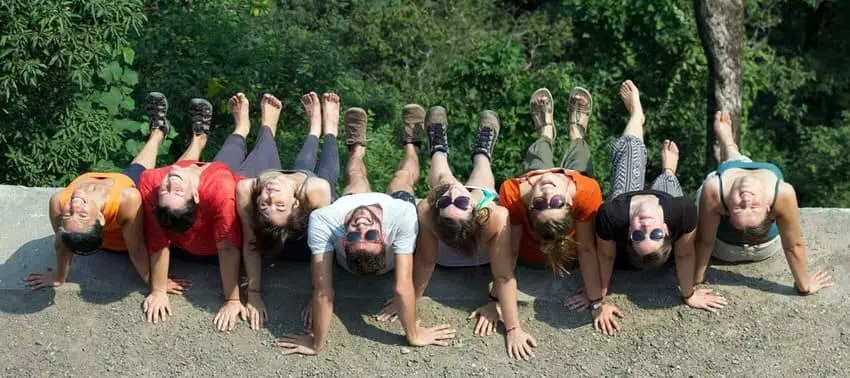 Yoga Teacher Training India - Outdoor Activities & Excursions
After the completion of intense sessions throughout the weekdays, Rishikesh Yogpeeth arranges certain outdoor activities as refresher for the participants of Yoga Teacher Training and Retreat program on weekends. This includes visit to the nearby Ashrams, Temples, Hiking, River Rafting etc.
Ganga Aarti at Parmarth Niketan Ashram
Ganga Aarti is a way of appreciation and worshipping the river Ganga as the lifeline of northern and eastern India. Hundreds of people from different places & origin come every evening and gather on the bank of river Ganga to celebrate this daily ritual. This celebration includes musical chanting of Vedic Mantras, Bhajans, Prayers and Fire Ceremony. This is a must visit activity if you are travelling to north Indian small city Rishikesh.
Visit to the Devi Temple
Rishikesh is a place with so many Temples, so many pilgrims come here to perform many religious ceremonies. During the Yoga Teacher Training courses and Retreats participants get a chance to visit one of the Devi Temple situated at the nearby hilltop with 360 Degree panoramic view.
White-water River-rafting
Apart from Yogic activities, Rishikesh is also a popular destination among local and foreign tourists for White-water River-rafting on Ganga. If you haven't done river-rafting before, this can be, once in a lifetime experience.