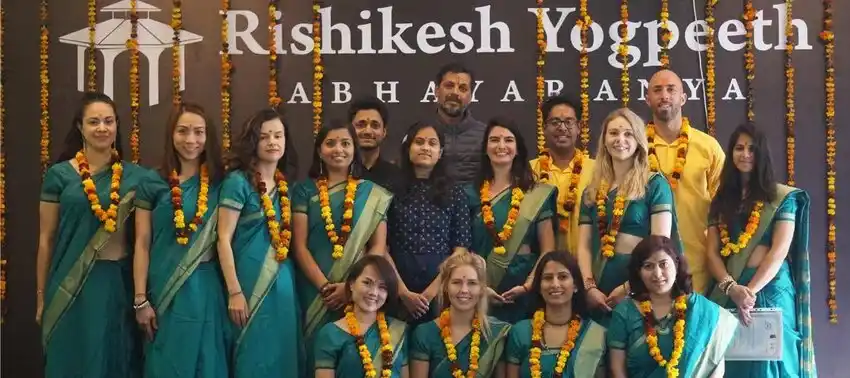 How to Become A Registered Yoga Teacher with Yoga Alliance
Have you ever thought about becoming a yoga teacher at some point in your life? Rishikesh Yogpeeth offers yoga courses in India that can take you to become a Registered Yoga Teacher with Yoga Alliance.
There are many ways to practice yoga, but the Yoga Alliance certification is one of the most recognized worldwide certifications that will give you more credibility as a yoga instructor.
Read further to find out where to go to learn how to do it.
About the Registered Yoga Teacher (RYT) Yoga Alliance Certification
For any individual that has crossed the realm of just practicing Yoga and has moved on to a larger cause of wanting to teach the art, he or she will have to go through a yoga instructor certification. Yoga Alliance, USA, has an umbrella of certified schools (Registered Yoga Schools or RYS) – the likes of Rishikesh Yogpeeth – that offer three varieties of courses which aide prospective yoga teachers.
The Registered Yoga Teacher (RYT) certification is a universally accepted course and addresses all the aspects required to become a yoga instructor. Schools that are registered with Yoga Alliance have three different courses categorized by the number of hours of training the prospective yoga teacher has to go through before receiving the stipulated certification
The RYT 200 is the preliminary yoga instructor certification, which involves 200 hours of training, while Yoga Alliance also has the RYT 300 and RYT 500, 300 and 500 hours of training respectively.
Receiving an RYT certification is of paramount importance for many yoga studios and gyms across the world but if the practitioner opts to teach out of the confines of their home, RYT is not necessary.
But it is always an added benefit to having the RYT certification if the prospective yoga teacher decides to eventually register with the Yoga Alliance to impart invaluable knowledge on a wider scale.
Choosing the right training program is crucial for the yoga teacher in the larger scheme of things as it not only sculpts their careers but is also important for future students, keeping an eye on what will benefit each individual.
Considering the intricate and deep nature of the art, prospective yoga teachers also have a duty to document or ponder upon their long-term goals. Clarity is 'everything' when imparting a skill such as this and the well-being of the instructor and student, alike, will be well-rounded.
Starting a studio or teaching as part of a program is what the future will hold for most prospective yoga instructors that delve into yoga. In both cases, the RYT certification will come with handy benefits and prepare individuals in a more comprehensive manner.
Benefits of being a Yoga Teacher:
World-renowned yoga guru BKS Iyengar opined, "Yoga does not change the way we see things; it transforms the person who sees."
Through the years, yoga has been recognized as an art form/science that is known to enrich the mind, body, and soul. Practicing yoga regularly has changed many lives but with its growing popularity, imparting knowledge on the ancient subject and teaching it has proven to be a fulfilling and even profitable vocation.
Multiple courses and yoga teacher training programs have gained popularity among the young and old alike with plenty of individuals reaping the perks of making the switch to teaching and educating the masses about yoga.
When asked about the benefits and other rewarding factors that come with teaching yoga, Nidha Dilip, a 24-year-old level two yoga instructor practicing for over two-and-a-half years, revealed what piqued her interest and then eventually pushed her in that direction.
"I feel like teaching yoga has helped me grow and evolve as a person. It pushed me to strengthen the roots of my knowledge by seeking answers, so I can truly share the essence of yoga. Yoga is beautiful, and modernization has certainly brought a lot of changes to it. Somehow, the true meaning of yoga is lost amongst material desires. Practicing yoga and understanding the essence behind it, has changed my life and I found something I'm in love with because it helped me better understand myself and I want to share that with as many as I can. I believe that being a yoga instructor helps me achieve that."
Being a yoga teacher in today's day and age is a huge responsibility. You are given the power to positively influence the people around you by spreading knowledge and cultural heritage that was lost somewhere along the lines.
It gives us the opportunity to shine a light on the knowledge and values left to us by our ancestors, and live our lives to our fullest potential. Understanding yoga under the guidance of a guru is thus a vital aspect in the spreading of the right knowledge of yoga. Qualified professionals who understand this responsibility and its value are a requirement today.
Pursuing a career in yoga is not only physically rewarding but also offers mental, emotional and spiritual rewards. It leads you on the path of a holistic lifestyle which for all intents and purposes is nothing far from the best kind of life you can lead.
I have found and in my personal experience there is no bigger reward than the wealth of physical, mental, social and spiritual health," she shared.
Young individuals explicitly reveal how teaching yoga is continuously gaining popularity among the youth, who have started viewing this as a more fulfilling profession against the hustle and bustle of the corporate world.
Five steps to becoming a certified Yoga Teacher
When taking the path to become a yoga instructor, many face the conundrum of how to go about it, what works, what doesn't, how will they know?
Yoga is about the mind, body, and soul with every individual having to understand the uniqueness of their body and proceeding accordingly. A few simple processes can be followed to ensure optimum results.
Follow the 5 steps in order to become a certified yoga teacher
1. Style and accreditation research
Over the last decade-and-a-half, yoga has evolved by leaps and bounds and with it came a clutch of varieties of the ancient form. Today's world offers either restorative forms of yoga, largely based on the teachings of BKS Iyengar or a more rigorous variant that entails a heated workout and makes the practitioners sweat profusely (Hot Yoga).
It is advisable that individuals try their hand at both and see which one suits them before actually proceeding with learning the art form. Another crucial prerequisite will be finding the right yoga teacher to train under. Many yoga teachers have expressed that one of the key facets they work on is communication.
Communication not only through the verbal medium but also with a keen eye on how to set the tone in terms of the flow of the session. The teacher or guru also plays a role as the moral backbone encouraging the pupil to find answers from the inside and be the best versions of themselves.
Many individuals will have certain limitations, to begin with, and the dynamics of the group could be different, hence a teacher that addresses these issues seamlessly is probably the more competent one. Being patient, experimenting, and finding the ideal teacher is half the battle won.
Accreditation poses the next challenge but with Yoga Alliance making their presence felt around the globe, accreditation has now become a mere formality. Yoga Alliance recognized institutions like Rishikesh Yogpeeth, set in the picturesque foothills of the Himalayas, offer a variety of courses ranging from the beginner level to more advanced renditions.
Most of these courses vary from 100 hours to 500 hours. Apart from Yoga Alliance's international accreditation partners, The British Wheel of Yoga and Independent Yoga Network are other key yoga teacher associations one can choose from.
Once the style and accreditation process has been identified, logistics is what must also make logical sense. Considering India is the hotbed for yoga, plenty of individuals harbor a desire to travel to the sub-continent, however, it may not be viable for many.
Extensive travel and exponential finances may not be favorable. Hence understanding the aforementioned in addition to personal well-being may uncover the most suitable option.
2. Consider your budget
In a challenging world where the competition gets fiercer every passing minute, being self-employed could be a scary proposition. It may be a dream for most yoga teachers to eventually set up their private studios but viability and finances have to be keenly considered before any move is made.
Firstly, individuals must understand their current scenario and examine whether self-employment is an option. After conceding that things may be slower at the start, another question they should ask themselves is whether swapping their regular employment for this can produce the desired results.
To start with, the yoga teacher may start to work with a yoga studio, and garner the necessary experience before branching out independently. A yoga studio would present the yoga teacher with a diverse group to work with thereby enhancing the experience.
Finally, when an individual takes the big step of starting their own studio, there will be multiple costs, including rent, overheads, insurance, marketing, etc. which will have to be looked into with certain scrutiny, to ensure smooth operations.
3. Selecting a training program/school
Yoga Alliance has over 90,400 Registered Yoga Teachers and more than 6,200 Registered Yoga Schools across the globe making it absolutely convenient for yoga enthusiasts to further their prowess.
With location playing an important aspect when finding the right institution, Rishikesh Yogpeeth is one of the innumerable prestigious schools associated with Yoga Alliance where one can pursue yoga and have a great experience doing so.
Registering on the Yoga Alliance website is a great way to get started and research various components before zeroing in on a specific yoga teacher or institution. As mentioned earlier in this article using the various options also helps find the right teacher-student comfort level or the right school, whose locales will make it a wholesome exposure.
4. Finding your niche
Throughout the duration of the yoga certification program, the student is heavily dependent on the teacher's methods, processes, and guidance. But it all culminates in a process that teaches and draws out the ingenuity of the individuals.
Every teacher brings to the table a variety of creative aspects and enrolling in the yoga teacher certification course not only helps a student grow but also finds the spark or x-factor within themselves that will set them apart and have them bring a unique trait to the forefront.
It is through this trait that future students can find personal growth, flourish, and be encouraged to express their own individuality. A unique trait that can be transferred and a wholehearted approach pertaining to the subject matter is what prospective teachers should strive towards.
5. Create, Motivate, and Grow
Finding the right reasons to do what we do without any skepticism or fear is a tough nut to crack for even the best individuals on the planet. More often than not, we tend to take make-or-break decisions and sit tight hoping for the optimum outcome.
With enough self-belief and confidence in what lies ahead, there can be a situation where even feeble situations turn into something fabulous. This is exactly what is expected of an individual before stepping into the world of yoga.
Identifying the path of a yoga teacher is the first step but one should also be wary of the journey that lies ahead, answering crucial questions before taking the first step forward. Reflecting on why 'this journey' is vital even in the larger scheme of things when the instructor is expected to share insights with his/her students in the future. Clarity on the same will bear rich dividends.
Through the duration of the course, prospective yoga trainers may clash with various fears and apprehensions but overcoming them will definitely add to holistic growth. Yoga is a process of diving deep into the subconscious and charting a route for discovering oneself.
It will also take individuals on a journey through internal reflection and spiritual growth thereby cleansing the individual as a whole.
Courses Required to Become a Certified Yoga Teacher
The Registered Yoga Teacher (RYT) certification is an approved yoga instructor certification program structured by the Yoga Alliance. A host of institutions like Rishikesh Yogpeeth offer a training program that aims at preparing prospective yoga teachers to function the best they can and further help students achieve the optimum holistically.
There are three popular variants, based on the hours of practice, of the yoga teacher training program – 200 hours, 300 hours, and 500 hours. More often than not, the Ashtanga Vinyasa style of yoga forms the spine of this demanding certification, which also mixes Hatha yoga and multi-style practices.
200 Hour Yoga Teacher Training Course in India
The most basic course or what is also referred to as Level One of the yoga teacher certification is a 200-hour program. This course requires individuals to undergo intensive training for 200 hours over three or four weeks at centers, like Rishikesh Yogpeeth, authorized to provide the service.
It is worth noting that not all the 200-hour courses will offer the same results or prepare individuals in the same manner. Each institution offers a different curriculum and making the right choice will be the first challenge for individuals. A variety of factors like intensity and duration will play a role in picking the right curriculum.
A comprehensive 200 hour yoga teacher training course in Rishikesh will deal with the anatomy, physiology, and philosophy of the yogic sciences in an in-depth fashion. The course will guide an individual through a thorough understanding of the fundamental asanas.
While it is not mandatory to have an official 200-hour RYT certification from Yoga Alliance, it, more often than not, enhances vocational prospects in many countries.
*Students that have been practicing yoga for at least six months with a basic understanding of asanas will find the course a lot easier than beginners.
300 Hour Yoga Teacher Training Course in India
For those who have graduated from the 200-hour course (first level) of yoga teacher training, the second level or next automatic step will be the 300-hour training program. The 300-hour course cannot be taken without the completion of the 200-hour program.
Also given the moniker 'Advanced Yoga Teacher Training' the 300-hour course builds on what yoga teachers have already learned by way of the first level and helps advance their skills from a personal aspect and through teaching.
While yoga teachers come into this course with an understanding of the basic asanas, being a more advanced program, this will deal with cementing the foundation better and also dive into aspects of more complex asanas.
In addition, a greater and more profound understanding of anatomy, philosophy and physiology of the art form will form the crux of the course. The 300 hour yoga teacher training course in India usually pans out over a four-week period.
500 Hour Yoga Teacher Training Course in India
500 hour yoga teacher training in India is the most advanced form of yoga teacher training and is internationally recognized as the highest standard of yoga teaching. Once certified by this course, yoga teachers can register with Yoga Alliance as an RYT 500 or as Advanced Yoga Teachers.
The curriculum itself will deal with a deeper understanding of the history of yoga and various asanas with a specific emphasis on the philosophy behind yoga. It will also hand teachers a better understanding of anatomy and physiology wherein they will be best equipped to render their services to students of all ages, backgrounds, and experience levels.
Apart from imparting expertise to the students, this course also helps instructors improve their own practice through various meditation and concentration exercises that will become a part of their daily routines.
In most institutions like the Rishikesh Yogpeeth, the course lasts a duration of nine weeks and could be a combination of the 200-hour and 300-hour Yoga Teacher Training Course.
*It is recommended that individuals take two or three months between courses, though practicing continuously, as the body takes that long to assume the shape required before an advanced class.