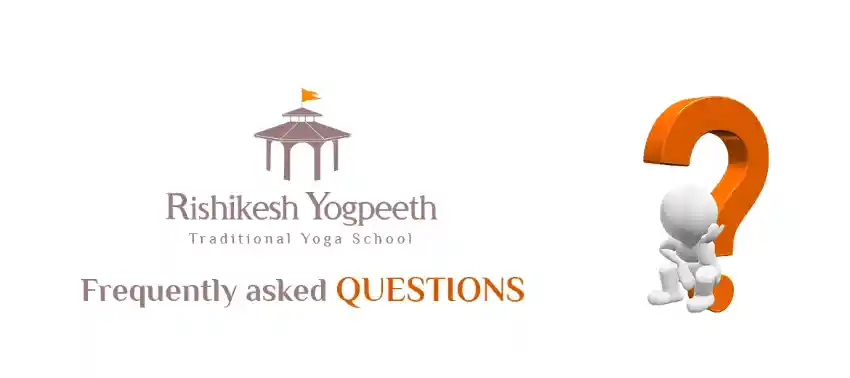 Yoga FAQs - Yoga Teacher Training In Rishikesh, India
Welcome to all of the participants interested in studying yoga at Rishikesh Yogpeeth (RYS 200, RYS 500) - a registered yoga school with Yoga Alliance® situated on the foothills of Himalaya at Rishikesh a small town in North India. We have an extensive experience of 18 years in conducting internationally recognized 200, 300 & 500 hour residential yoga teacher training certification courses registered with Yoga Alliance®. We put a lot of emphasis on traditional style of hatha yoga and Ashtanga Yoga. These Courses aims at the functional and fundamental understanding of yoga - meditational practices to enhance the experiential exposure of the participants.
Course fee includes
Private & Shared accommodation with attached bathroom
We serve three vegetarian Satvik meals, which include dairy products; we do not provide Egg & Meat.
If someone has dietary restrictions due to some allergic reaction can get in touch with the person in charge of the kitchen for the alternatives.
Course material - Yoga Mat, Neti Pot, Stationery & Library facility
Few excursions - in and around Rishikesh on days off.
Course fee does not include
Airfares and Airport transfers but we do provide Airport transfers on additional cost.
Any kind of personal expenses.
Anything not specifically mentioned under the inclusion list.
Cancellation Policy
In case of booking cancellation, the advance fee is non-refundable and non-transferable.
Due to some reason if a participant is unable to attend the booked dates, can change it to other dates on prior notice with the same booking amount.
Visa Suggestions - Yoga Teacher Training in India
We request our participants to apply for a Tourist visa only!
Under the immigration laws of India, You cannot get a study visa by registering for these short-term courses.
Visa duration will start from the date of issue! For most of the countries a basic Tourist Visa is valid for 6 months but do check with the Local Indian embassy, it may differ.
Before you book your flights!
All our courses start on Monday and we expect our participants to be at the Center a Day before on Sunday.
Participants must book their flights accordingly to be on time at the center for the Orientation Ceremony of the Course, which is on the evening of Sunday.
The course finishes on the Day of Certification, which is Saturday. Participants can plan their departure from Sunday onwards.
If a participant wants to extend the duration of Stay, Sunday night would be complementary to Monday nights it would cost 50 USD per night including meals.
Travel to Rishikesh
Rishikesh is very well connected to the rest of the world with all the major modes of transportation available; please find the details below;
All the International Travelers to Rishikesh need to arrive at the closest International Airport IGI- New Delhi - (approx. 250 km from our Centre).
Participants must be aware that foreign Exchange Money and public phones are inside the Airport building and once you have exited, can not get back inside.
Closest Domestic Airport is DED-Dehradun - (approx. 25 km from centre) Participants has the option to arrange a domestic flight from Delhi to DED-Dehradun airport.
Flight Duration From Delhi To Dehradun Is Approx 30 - 45 Minutes.
We provide Taxi Pickup and Drop services to our participants from both the Airports on additional cost.
From Delhi airport taxi pickup to the Centre @ 70 USD | 6-7 hours taxi ride,
From DED - Dehradun airport taxi pickup to the Centre @ 20 USD | 30 - 45 Minute taxi ride
For Bus & Train Services, participants can log on to www.makemytrip.com
General Weather Condition at Rishikesh, India
December, January
These two are the coldest months of the Year with minimum temperature of 5 Degree centigrade and 15-20 Degree centigrade. Nights are cold but Days are pleasant under Sun. Warm clothes are recommended to the Participants for this period.
February, March, and April
These are the best months neither very cold or Hot, perfect weather conditions with a lot of Sunshine, for the month of February participants can still keep some warm clothes but for March and April light clothing is fine.
May, June
These are the Summer month, Temperature rises to level of 35-38 degree centigrade in the day time and comes down to 30-32 in the night, Morning & evening is better, participants can expect a lot of sweating, light clothing is recommended.
July - August
This is the time for the monsoon to intervene Summer, which brings the temperature down a bit, thanks to the Rain. Its not regular Rain comes and goes. Light clothing with a rain gear is recommended.
September, October, and November
Slowly and gradually Monsoon slows down Temperature stays moderately higher with maximum 32-35 degree centigrade but night becomes pleasant in September. In the months of October and November weather stays perfect, neither hot nor cold. Light clothing for September and October but Moderately warm clothing for the month of November is recommended.
Clothing
Winter December, January
Bring different layers of clothing from simple t-shirt/ tank top to heavy woolen jumper. Temperatures during the season may not seem low but keep in mind that you are in a place without the central heating or feather duvets. Clothing to stay warm is very much needed not just outdoors but indoors as well, one can also think of yoga socks for the practice.
Spring February, March, and April
The principle of layers still applicable with a hoodie and long trousers will be fine enough in the coolness of spring. As we move towards the March and April especially in the evening it start to get warmer, in this case light yoga gear will be needed.
Summer May, June
This is the time for cotton or something that allows air transfers. Due to cultural restrictions as we can't just strip off but within the centre spaghetti tops/ tank tops and ¾ length leg wears will work fine.
Monsoon July – August
These are the wet and humid months so you need to have footwear for rain with flip-flops. When it comes to Clothing, it is same as for summer but a raincoat or small umbrella will be fantastic.
Autumn September, October, and November
Rain gets over slowly but temperature is still there so light clothing like spring will be fine, as we come closer to November some additional layers would be required.
Some additional things you may think
Shoes for outdoors activities and flip-flops for indoors, moisturizers, body oil and conditioner as per the individual requirements, you can get most of these things here, incase if you are fond of a particular brand bring it with, bug spray, hygiene articles, hand sanitizer, a mobile phone – you can have an Indian Number while staying for the course or traveling in India, hot water bottle will be helpful from the month of November to February. In case of small cuts or bruises you may wish to bring an antiseptic spray or cream, things like some essential oils may be useful too, alarm clock (unless you use your mobile), adaptor plug, anti diarrhea medication as a precaution, a torch will be useful (power cuts in India are the part of life and the streets are also not well enough lit at night as in west.