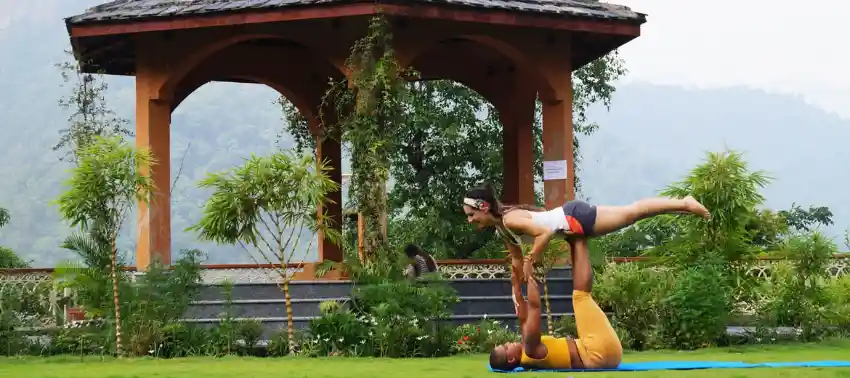 How to choose a Yoga Retreat in India?
As the origin of yoga, India is the best place to learn yoga. Choosing a yoga retreat in India can be a time-consuming process as there are thousands of retreat centers. This blog will guide you in finding the right yoga retreat center according to your requirements.
What is a Yoga Retreat?
The fast-paced nature of today's world renders many physically, emotionally, and mentally drained. As the world keeps changing at a rapid pace, people are expected to keep pace or be left behind, an expectation that conjures immense pressure. With more and more research being done over the last couple of decades, yoga has been proven to be a great exercise for cognitive and physical well-being with the discipline blending various physical and mental practices to heal the human body.
With a keen eye on helping individuals relax and get away from their ever-busy daily routines, the yoga retreat was conceptualized. Various yoga retreat centers across the globe, like the Rishikesh Yogpeeth, offer amateurs and experts alike, a chance to visit a serene location without the hustle and bustle of daily life. During their stay, individuals will get to explore the world of yoga and get a taste of the ancient art.
For first-timers, there could be a lot of apprehensions about whether the yoga retreat will help them, what changes they will experience, or if at all they will experience any changes, how comfortable they will be dealing with a group of strangers, and how they will be able to adapt to the alien surroundings. But most experienced yogis will recommend that individuals step into the unknown with an open mind and imbibe as much as they can whilst at the yoga retreat centre.
Apart from just keeping an open mind, there are also a few other factors that need consideration before one embarks on this adventure.
Finding the right teacher will exponentially enhance the experience as it is necessary to complement the teacher's style with an individual's own. Personality traits must be in sync for the optimum experience. Every yoga retreat centre will have a host of teachers from which individuals can pick and choose. While finding the right teacher, individuals must also ensure the style of yoga that suits them. Vinyasa is a more relaxed yoga variant whereas hot yoga will be physically more exerting. These form the two most popular yoga forms apart from which people can choose from nude or even prenatal yoga. Since most people go on the retreat for a relatively short duration, the ideal scenario would be to find a healthy mix between the restorative (Vinyasa) and energetic (Hot Yoga) styles.
The next couple of decisions will be about how to go about figuring a budget and whether or not to go in a group. Most experienced yoga practitioners vouch for taking time, saving enough, and splurging a bit to ensure the best experience that will come with full value. It must be an experience that offers a variety of subjects in-depth, making sure the individual has a unique time. It is also best to travel solo, a decision that will remove an individual from their comfort zone and gives them ample space for self-reflection and healing. Being part of a group with unfamiliar counterparts comes with the added benefit of imbibing various cultures and ideologies, not to forget making friends.
A key aspect while on the retreat is to ensure that there is plenty of time for rest and introspection. Experts suggest that for beginners, two classes a day will be more than sufficient. Being at a yoga retreat doesn't necessarily entail an overdose of the practice. Considering the fabulous setting that most yoga retreat centres, including the Rishikesh Yogpeeth, offer, individuals would be best encouraged to just soak in the serene environment or go on walks when they aren't actively part of a class.
While at the yoga retreat it will also bid well to stay as disconnected from the rest of the world as possible. Updating Facebook and Instagram posts about the latest happenings at the retreat or documenting the same on a daily basis on social media may not yield the best results. It is always best to unplug from the digital world and recharge completely.
*Rishikesh Yogpeeth offers 3 days, 7 days, 14 days and 21 days yoga retreat at Abhayaranya Yoga Ashram which is among the top yoga retreats in India.
How Yoga Can Improve Your Lifestyle?
Chronic diseases like heart ailments, diabetes, and cancer have become more widespread in the last few years. The fact that these diseases are affecting younger people has raised alarm bells and research showed that the most common reasons for the onset of the disease have been lifestyle choices.
Prescription drugs may be a viable cure but long-term solutions lie in practices like yoga and meditation. Like the saying goes, 'Healthy mind, healthy body.' Yoga has been proven to be an exercise that not only works on the physiological aspects of human beings but also addresses issues through psychological and spiritual techniques.
Practicing yoga is proven to reduce stress and this works wonders especially among middle-aged individuals who are prone to stress for a variety of personal and professional reasons. Relieving stress and being more in-tune with the present can be achieved through a yoga practice that helps focus attention on one's breathing and take away unnecessary distractions.
Yoga not only focuses on the mental aspects but also doubles up as a great workout for the entire body. Improved flexibility is one of the most defined changes that individuals can notice once they become regular yoga practitioners. The stretches and asanas in yoga help loosen the body to a large extent and in turn strengthen it, also improving general posture a great deal.
Verified international associations vouch for yoga as a great exercise to reduce blood sugar, increase cardiovascular functioning, and also help individuals improve their respiration. There have also been cases where yoga has been an effective way of lowering blood sugar.
Stress is a massive issue in today's world, contributing to various mental and physical ailments among individuals from eclectic age groups. What starts as a mental issue can easily manifest itself as bodily aches and pains, not to forget a blatant lack of focus. A combination of breathing and meditation exercises in yoga help individuals de-stress and recentre their focus allowing a greater awareness of the surroundings.
Keeping in mind the benefits mentioned above, it comes as no surprise that yoga is constantly gaining popularity and helping millions ease into better lifestyles.
Benefits of a Yoga Retreat
One of the greatest contributions of India to the world has been yoga. A grossly misunderstood art-form has finally been getting its due as individuals eventually understand its multiple benefits. With this rise came the yoga retreat – a course where individuals could envelop themselves in a calm environment and learn the practice of yoga. Schools like Rishikesh Yogpeeth have been priding themselves in organizing these retreats and further the cause of yoga.
The popular misconception is that yoga retreats are for advanced practitioners. But that isn't true. It could also serve as a fabulous base for the beginner to begin his yogic journey. So what are the benefits of a yoga retreat?
Being one with nature:
Most yoga retreats are organized in serene surroundings where the hustle and bustle of the city pose no threat. Amidst a mountain range (like the Rishikesh Yogpeeth) or by the seaside, yoga retreat centres are always tucked away giving individuals a great opportunity to feel nature and connect with it on a deeper level. This will be a refreshing change as the opportunity to bond with nature and its beauty hardly presents itself frequently enough.
Say no to technology:
The advent of the mobile phone and super speed internet has corrupted many in the sense that face-to-face interactions now take a backseat. For a lot of people, their business or professions depend on continuous interactions regardless of the time or location. But at most of the top yoga retreat centres, it is advised that individuals cut the technological chord for the duration of the course, in what is called a 'digital detox'.
Evaluate circumstance:
Circumstances can stress individuals or have them unsure about a certain situation that needs decision making. Embarking on a yoga retreat could be the ideal solution that distances individuals from the current scenario. It will help take a step back, observe from a distance, and eventually evaluate with a calm and clear mind.
Interact with instructors:
One of the key rules to follow while choosing a yoga retreat is identifying a good instructor that suits the individual's mindset and frequency. Since that is done with great care, it only makes sense that students engage in lengthy and fulfilling conversations with the teacher. Healthy conversations will only ensure a more fulfilling retreat and bring about a greater understanding of the subject matter.
Stop overthinking:
The mind is always used to playing mischief with us. There is hardly a moment when it doesn't function – sometimes bearing the right thoughts and at other times bearing unnecessary ones. Yoga retreat courses include meditation, which is a great way for an individual to learn to harness the negative or unnecessary thoughts and conjure them into positive ones. At yoga retreats, individuals can use various techniques to prevent themselves from overthinking and drowning their own unwanted noise.
A healing process:
Since yoga works on both the mind and the body, many people use the yoga retreat to heal any and all issues they may have – mentally or physically. The meditation and breathing exercises are great cures for issues pertaining to the mind, while the asanas are a great way to heal any sort of physical ailments. Considering the yoga retreat is more or less like a vacation, individuals are relaxed and usually radiate positive energy. This positive energy is all-important when it comes to the healing process. Since there are many such individuals at the retreat, the aura of positive energy will be massive.
Enhance yoga skills:
Busy lives and hardly any spare time is the case with most city-folk. Thereby, that becomes a constraint with practicing yoga regularly. A retreat is a space where yoga will be the fulcrum of everything and individuals can practice it, learn it, develop skills without having to worry about any sort of distractions. There are benefits even for experienced practitioners as it provides them an opportunity to enhance their knowledge but discussing it with others and practicing enough to be able to take the next step.
Different perspectives:
People from different parts of the world, people from different cultures, people with different mindsets, all converge at yoga retreats. This is a great opportunity to explore the various aspects of different people and learn accordingly. Individuals could gain a certain perspective from a different culture and eventually improve the way they perceive their own lives. All in all, it is a melting pot of various cultures that can positively enhance thought processes and approaches.
Making time for yourself:
On an everyday basis, we, as human beings are only used to giving a lot and hardly sparing a moment for ourselves or finding some quality alone time. While the yoga retreat will be an opportunity to meet people from various spheres, it can also be a great chance for an individual to give himself/herself some invaluable time. One of the reasons it is recommended to go alone for a yoga retreat is so that a person can be one with their thoughts during which time introspection will help vastly. It is something that can rarely be done in the absence of peace and tranquility, something a yoga retreat centre will offer.
Purposeful Travel:
Travelling has become a commodity. For most people, it is a way of ticking things off a bucket list. Visiting countries and sight-seeing is nothing new. While it may add to the overall experience of an individual, how much of it builds personality? Visiting a yoga retreat checks every box in terms of having visited a new destination, gaining valuable experience, and more importantly, growing as a person based on the experience. An added benefit would be learning a new art-form, one that massively improves the quality of living.
Always a unique experience:
Every yoga retreat centre will have a unique benefit to offer. But even if one chooses to visit the same retreat again, the entire experience will be a different one. A different group of people will offer different perspectives that could be of great benefit to change the individual's own way of thinking. That, in turn, could lead to varied interpretations and more positive outlooks helping the individual grow internally. What to Expect from a Yoga Retreat It has been made rather clear that there are plenty of benefits of traveling to a yoga retreat. So what are the aspects people can expect from the retreat?
Healthy and balanced meals:
It is safe to say that in the last three decades, fast food has ruled the roost, entering the market as the most convenient meal and eventually moving to the status of one of the most dangerous meals. Frozen food, preservatives, and fatty sub-par substances have literally rendered tongues dead with genuine fresh produce taking a backseat. Rishikesh Yogpeeth and other yoga retreat centers are slowly changing the norm by serving healthy vegetarian food at the institutions. Contrary to popular belief, healthy diet-friendly food is not bland and tasteless. The food is prepared with a great focus on health as well as flavor. To put it simply, individuals can indulge in guilt-free gluttony.
Positivity and friendships:
Apart from reaping the benefits of positive physical changes, individuals can also look forward to personal growth through various interactions. Firstly, they will have experienced yoga teachers guiding them through every step of the journey and always willing to clarify internal or subject-related queries, should they arise. Secondly, there will be many other travelers from different societies, backgrounds et cetera, with whom conversations can be stimulating. Every individual, including the faculty, will have vibrant positives vibes around them and imbibing the same will be a fruitful exercise. Individuals can also educate themselves about different countries, cultures and ways of life.
Digital detox:
At times, the digital world cannot be avoided. Mobile phones and the internet connect the world and give people a reason to constantly be in demand, eliminating any sort of privacy or personal space. A yoga retreat will be the ideal way to get away from technology and social media and finally connect with the real world. For example, the lovely surrounding of Rishikesh Yogpeeth in the foothills of the snowcapped Himalayas will encourage individuals to focus more and admire the beauty of the planet rather than look into a screen. Yoga retreat centres also have a variety of activities that will be satisfying and reduce the temptation to get onto social media and post the same.
Complete rejuvenation:
Irrespective of the package one picks, yoga retreats have great success in rejuvenating the body, mind and soul. Some packages could include Ayurveda classes for those interested, while standard picks would have yoga and meditation. Either way, seeing as the goal is to lend to wellness to individuals, it is always a case of complete rejuvenation even with the simplest packages. The yogic food adds another attractive element, while individuals are given enough time to explore themselves and their surroundings.
Explore nature at its best:
As mentioned earlier, most yoga retreat centres focus a lot on precisely where they are located. A serene beach or lusty shadows of towering mountains provide the perfect backdrop for these institutions. With only the babbling of a nearby brook or the lashing sounds of waves on rocks, the process of yoga and meditation could not get any purer. It is nature that makes individuals feel one with themselves and such beautiful locations only amplify the entire experience. Being one with nature and feeling the serenity it brings, can only be described as surreal.
Master mindfulness:
Meditation is a vital part of what is taught at yoga retreat centres. Most people face issues with wavering minds and even though they may practice meditation, they are immediately shoved into their daily lives and will be distracted. At yoga retreat centres, meditation and mindset altering techniques do not precede distractions, paving the way for a refreshed feeling. Continuous practice of this without the unwanted distractions helps individuals train their minds better to keep out the negatives and remain porous with positive energies.