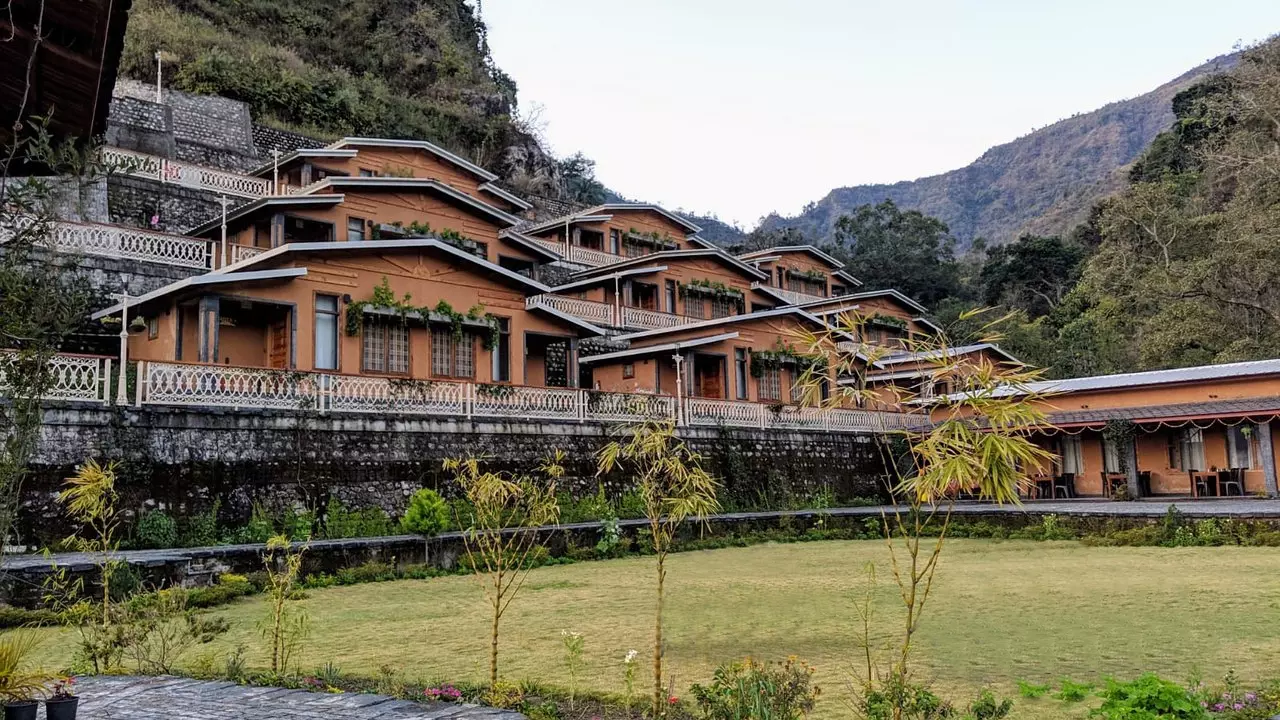 Yoga Ashrams in Rishikesh, India
Rishikesh Yogpeeth offers yoga teacher training & yoga retreats at Abhayaranya in India.
Rishikesh Yogpeeth has built Abhayaranya Yoga Ashram in the peaceful mountains of Rishikesh to facilitate yoga teacher training and retreats in India. The Ashram is built on modern lines, keeping international standards in mind yet attached to its cultural roots keeping the integrity of yogic lifestyle intact.
Besides imparting knowledge of yoga to teacher trainees, Abhayaranya Yoga Ashram in Rishikesh also provides health & wellness retreat facilities for those who wish to understand and experience yogic life and philosophies in a personal capacity and who would like to move towards a unique awakening of body, mind & spirit.
Our Yoga Ashrams
Abhayaranya Yoga Ashram
Abhayaranya Yoga Ashram is situated on the foothills of the Himalayas surrounded by the forest adjacent to a village called Patna and just above the famous Patna waterfall. The ashram seems to be built in a remote location but in reality, it is just 5 km away from the Laxman Jhula market of Rishikesh
It is approximately a kilometer from the main road, and it takes around 20 - 30 min to hike up the mountain to reach here. This hike is one of the unique features of this center, just like the path of Yoga, which tends to be difficult to start with but rewarding at the end.
The path is surrounded by dense greenery and many local and migratory birds in the vicinity to be heard and seen.
Yoga teacher training courses & yoga retreats offered by Rishikesh Yogpeeth at Abhayaranya Ashram:
Popular Ashram Stay Programs in Rishikesh
Staying at an Ashram is a refreshing and unique way to break out of the ordinary, form new relationships, and find new inspiration. There are several types of yoga ashram programs, each offering a unique experience.
Ashrams offer either a spiritual journey associated with yoga or simply physical and mental exercises to improve one's well-being. Your choice of program will depend on your specific needs and your objectives.
At Rishikesh Yogpeeth, we offer residential yoga teacher training courses and ayurvedic yoga retreat programs.
Yoga Teacher Training Courses
The 200, 300, and 500 hour yoga teacher training programs conducted by Rishikesh Yogpeeth at Abhayaranya Yoga Ashram India are internationally recognized. Rishikesh Yogpeeth is a Registered Yoga School (RYS) with Yoga Alliance as RYS 200 and RYS 300.
More than 10,000 students from over 130 countries have expressed complete satisfaction with our courses and the yoga school.
Rishikesh Yogpeeth prides itself in providing a holistic yoga experience that will accrue full benefits to the Yoga teacher trainees in their yoga practice.
The yoga students are taught by expert Yoga instructors and qualified yoga teachers in asana, meditation, chanting, pranayama, anatomy, physiology, philosophy and teaching methodology.
Yoga Retreats
Going on a yoga retreat is a great way to improve your health and wellness. Yoga retreats can help you relax, de-stress, and focus on your mind and body. They can also help you improve your posture, flexibility, and strength.
Rishikesh Yogpeeth offers 3, 7 & 14 days ayurvedic yoga retreats with ashram stay At Abhayaranya Yoga Ashram.
Ayurveda Retreat:
Are you feeling exhausted & stressed? Do you feel trouble sleeping & digesting your food? If so, an Ayurvedic retreat might be the perfect way to relax & rejuvenate. Ayurveda is a holistic system of medicine that is practiced in India for many years.
It helps in maintaining the balance of body & mind within each individual. With the changing lifestyle of individuals, the Ayurveda retreat is the best way to heal your body.
Detox & Weight Loss:
Do you want to reduce your body weight? A detox & weight loss yoga retreat helps in achieving your goal. This retreat helps you to detox your body & maintain a healthy diet.
Ashram Stay Cost
Though the Ashram stay cost in Rishikesh varies depending on the location and amenities offered.
Rishikesh Yogpeeth offers stay at the most scenic place in Rishikesh - Abhayaranya Yoga Ashram
Life at the Ashram:
The ashrams are a spiritual place where you can completely detach from the world and find some peace of mind. An ashram is also a place where one can learn to develop inner peace through yoga & meditation.
Benefits of Ashram Stay:
Ashrams are a place of spirituality and self-improvement. Besides the spiritual benefits, there are also many other benefits to ashram living. Here are a few reasons why you should consider an ashram stay in Rishikesh:
Ashram stays help you connect with yourself and with nature. Ashrams are usually located in a peaceful environment surrounded by nature. You'll also have the chance to meditate, take a stroll in nature, and participate in yoga. As a result, you will be able to reconnect with yourself as well as find your purpose on the earth.
Ashrams provide a sense of belonging and community. Ashrams provide a space where you can meet people with similar interests and values. You can create friendships and build support networks that will last a lifetime. For the first time in your life, you'll feel like you belong somewhere.
Ashrams offer a variety of programs and activities that can help you grow as a person. An ashram is an excellent choice if you're interested in meditation, spirituality, or self-development.
Nearby Attractions:
Haridwar
Ram Jhula
Patna Waterfall
Lakshman Jhula
River Rafting
Camping
Ganga Aarti
Frequently Asked Questions
Can I live in an ashram in Rishikesh?
Yes, you can. At Rishikesh Yogpeeth we have Abhayaranya Yoga Ashram. You can go to our website and contact us through email or phone and check the availability of the rooms. Our rooms are reserved for people who come for Yoga Teacher Training and Yoga - Ayurveda retreats.
Where should I live in Rishikesh?
There are multiple options in Rishikesh to stay based on your preference. You may find a number of Ashrams, Yoga Ashrams, hotels and homestays. You can stay at Rishikesh Yogpeeth, Abhayaranya Yoga Ashram if you are interested in Yoga courses or retreats.
Unlike hotels, our rooms are reserved for Yoga training students and retreat guests.
How much does it cost to stay at an ashram in India?
The price may vary from Rs. 500 per day to Rs 5000 per day depending on what kind of ashram you are looking for. You may also get some places that are purely volunteering-based.
What is a yoga ashram?
A Yoga ashram is a place devoted to yoga principles. People staying in an ashram follow yogic life, particularly about the disciplines stipulated by the ashram head.
Some of the ashrams such as Abhayaranya Yoga Ashram also conduct Yoga Teacher Training and various Yoga and Ayurveda retreats to provide a glimpse of yogic life and fulfilling lifestyle with the help of disciplined yogic routine and spiritual thinking.
How can I join an ashram?
On our website, you can choose a program, course or retreat you are interested to join. Once we receive your inquiry, we will coordinate with you on email and/or phone for the next steps.
How is life in an ashram?
Life in an ashram is simple, quiet and disciplined. If you are staying in a Yoga Ashram like ours - Abhayranaya or Rishikesh Yogpeeth you will be engaged in a lot of yoga, pranayama and meditation practices.
All the ashrams in India practice non-violence and hence serve pure vegetarian food. Some may also serve vegan food. At our ashram, we serve pure vegetarian food and vegan food at guest's request.
Who can live in an ashram?
Anyone who is keen to learn yoga, go more deeply into their Yoga practice or have a spiritual bend of mind.
How can I take admission in an ashram?
Visit our website and select your options in terms of which course or retreat you want to join. Based on that select the location of the ashram and send us the query through our website Book Now form.
Once we receive your query, we will get in touch with you over email and/or phone to discuss the next steps.