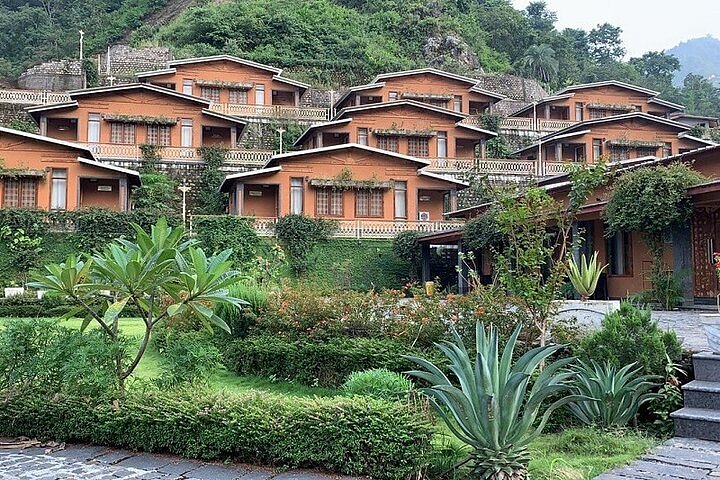 Abhayaranya Yoga Ashram India - A Yoga & Ayurveda Retreat Center
Rishikesh Yogpeeth has built Abhayaranya Ashram in the peaceful environs of Rishikesh to facilitate yoga teacher training and retreats in India. The Ashram is built on modern lines, keeping international standards in mind.
Besides imparting knowledge of yoga to teacher trainees, Abhayaranya Yoga Ashram also provides health & wellness retreat facilities for those who wish to understand yogic life and philosophies in a personal capacity and who would like to move towards a unique awakening of body, mind & spirit.
Yoga Teacher Training Courses at Abhayaranya Yoga Ashram
The 200, 300, and 500-hour yoga teacher training programs conducted by Rishikesh Yogpeeth at Abhayaranya Yoga Ashram is internationally recognized by virtue of its registration with Yoga Alliance as RYS 200 and RYS 300.
200hrs Abhayaranya - Rishikesh Yogpeeth
21 Jun - 18 Jul 2021
26 Jul - 22 Aug 2021
300hrs Abhayaranya - Rishikesh Yogpeeth
27 Sep 2021 - 06 Nov 2021
06 Dec 2021 - 15 Jan 2022
500hrs Abhayaranya - Rishikesh Yogpeeth
30 Aug 2021 - 06 Nov 2021
08 Nov 2021 - 15 Jan 2022
Students from more than 130 countries have expressed full satisfaction about our courses and the yoga school. Rishikesh Yog Peeth prides itself in providing a holistic yoga experience that will accrue full benefits to the teacher-trainees in their practice of yoga. The yoga students are instructed by expert instructors and qualified yoga teachers in asana, meditation, chanting, pranayama, anatomy, physiology and teaching methodology.
Health & Wellness Retreats in India at Abhayaranya Yoga Ashram
Abhayaranya Yoga Ashram is constructed in an area that is fully suitable for yoga sadhana or practice. The management of Rishikesh Yogpeeth envisions a yoga ashram where guidance in yoga will cover all aspects of the hatha yoga tradition, along with Ayurveda and Vedanta.
Introductory Yoga Retreat₹ 15,000
Yoga Retreats for Beginners₹ 30,000
Spiritual Living with Yoga and Meditation ₹ 55,000
Intensive Yoga Retreat₹ 85,000
Yoga Retreat for Ayurvedic Detox₹ 105,000
Yoga Retreat Ayurvedic Weight Loss₹ 105,000
At Abhayaranya Yoga Ashram, the learner will find an enriching and interesting journey that will take them to higher levels of consciousness without worrying about safety and daily living.
* Program fee includes private room accommodation at the ashram, one Ayurveda massage per week, and 3 vegetarian meals per day. For more information, please send a mail to - support@abhayaranya.com
Health & Wellness Programs