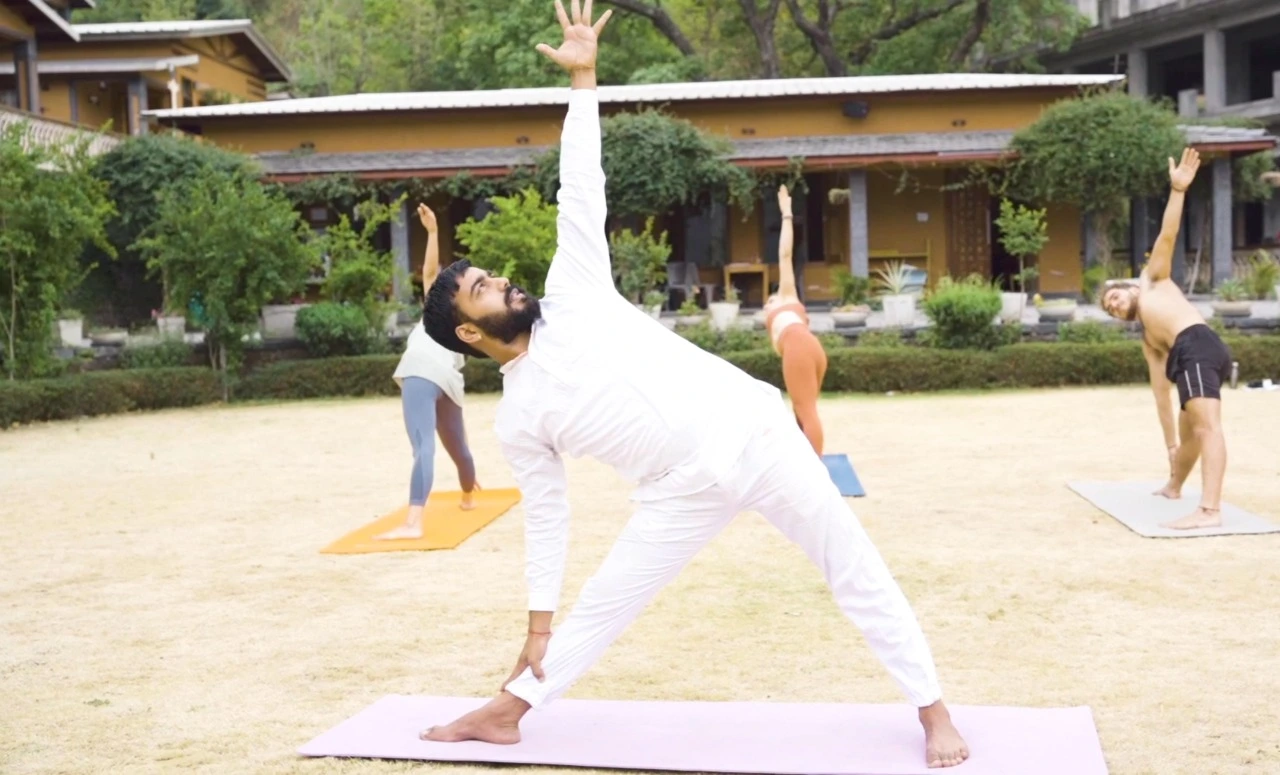 The Yoga School - Rishikesh Yogpeeth
Our Location - Rishikesh, India
We as an organization find ourselves fortunate to be existing in Rishikesh the world capital of Yoga, a small town in India's northern state of Uttarakhand. This is the place where the holy river Ganga comes down from the Himalayas. Rishikesh has been the major milestone in the journey of many seekers since the time immemorial and still the same. In the revival of Yoga Rishikesh is playing its vital role, where so many people come to participate in various courses and activities of this ancient art.
It is recorded in history and tradition that yogis and seekers of India sought the solitude of the Himalayas to deepen and perfect their practice. They believed about a special energy in these mountains that aids their efforts. According to the scriptures, a place which is calm & peaceful away from the hustle & bustle of the market is perfectly suited for the aspirants to gain insights and make progress on the path of Yoga. Keeping all of this in mind, Rishikesh Yogpeeth has chosen its locations to come as close as possible to the ideas of a Yoga Ashram. Rishikesh Yogpeeth functions at two different locations in Rishikesh, India. One of its locations is called Abhayaranya Yoga Ashram and the other one is known as Vithal Ashram. Both of the locations are unique in their own manner with plenty of open space and scenic greenery all around.
1. Abhayaranya Yoga Ashram
Neelkanth Temple Road Patna, Rishikesh, Uttarakhand 249302, India
Abhayaranya Yoga Ashram is situated on the foothills of Himalaya surrounded by the forest at a small village called Patna, just 5 km away from Laxman Jhula market of Rishikesh. It is approximately 1.5 km from the road head and it takes a steep hike of 25-30 min to reach the centre. This hike is one of the unique features of this centre, just like the path of Yoga, which tends to be difficult to start with but rewarding at the end.
Accommodation at Abhayaranya Yoga Ashram
Abhayaranya Yoga Ashram is equipped with 18 Cottages with two spacious and comfortable rooms in each with plenty of open space in surroundings. Every room has Twin Beds and attached bathrooms with running hot & cold showers. Each room can have either single or double occupancy, depending upon the choices made by the participants. There is also a large dining hall where more than a hundred people can have meals together.
For academic activities there are two spacious Yoga halls and a library where you can access many books on Yoga & Indian culture.
2. Jhanvi Yoga Ashram
Near Prem Vihar Chowk || Haripur Kalan, Haridwar, Uttarakhand - 249401 (India)
Jhanvi Yoga Ashram is situated in Haridwar near the bank of Holy river Ganga and adjacent to the forest. Ashram has both, a tradition part where sanyasis live in their simple cottages which they call home as well as modern building for guests to stay in a natural yet modern ambience. What strikes the visitors is the quietness cradled by the surrounding hills and vast amount of open space. This quietness is broken by the chirping of the birds and muted sound of the holy Ganga flowing less than a kilometre away, reminding you of her presence.
Jhanvi Yoga Ashram has 52 spacious & cozy rooms with attached bathrooms having hot and cold running showers. Each room can have single or double occupancy depending upon the request made by the participants. Ashram also has an inhouse dining room that can accommodate approximately 30-40 people.
Similar to Abhayaranya, in terms of academic activities Jhanvi Yoga Ashram also has spacious Yoga halls, fully equipped Ayurveda treatment rooms, lots of open space etc.
Getting There
By Air
---
For International travellers, New Delhi is the nearest port of entry. Jolly Grant airport at Dehradun is the nearest airport to Rishikesh which is approximately 35 kilometres away. Popular carriers like Air India, Spice Jet and Jet Airways often have daily flights from New Delhi. Once you reach Jolly Grant airport, we can arrange to have to picked up and brought to the nearest drop-off point where you hike up to Abhayaranya. We'll also help carry your luggage up the mountain trail. If you are going to the Vithal Ashram, the taxi will drop you inside the Ashram.
By Road
---
Taxi: We can arrange a taxi to pick you up from New Delhi airport (distance 260 Km, drive of 6-7 hours) and bring you to the ashram.
Bus: Being a popular tourist destination, Rishikesh has a good network of buses connecting it with important places such as Haridwar, Dehradun and New Delhi. Buses depart in the morning and late evening from the Kashmere Gate ISBT, New Delhi for Rishikesh every day. You can choose from a regular, deluxe or a luxury coach. You will still need to inform us to arrange to pick you up from Rishikesh (where the bus will drop you) to bring you to the Ashram.
By Train
---
The nearest railhead to Rishikesh is in Haridwar which is approximately 25 kilometres away. Haridwar, in turn, is linked to major Indian cities including New Delhi. Some of the popular trains are Shatabadi Express, Jan Shatabdi, AC Special Express and Mussoorie Express. We can arrange for a taxi pick-up from Haridwar railway station to bring you to the Ashram.
Please communicate with us about your arrival and pick-up well in advance. We can also help other students to share pick-up taxi with you to make it cheaper.
Health & Wellness Programs