Rishikesh Yogpeeth has established itself as one of the best yoga teacher training schools in India and trained more than 10,000 yoga students from over 120 countries in the past 15 years.
Yoga Teacher Training Syllabus
Rishikesh Yogpeeth
Yoga Philosophy Sessions
Philosophy is the core of any subject and yoga is no different, without philosophy yoga is similar to a body without consciousness.
Philosophy classes at Affiliate Yoga Schools - Rishikesh Yogpeeth are conducted in an interactive environment, where the process not only allows the participant to learn and navigate how to form questions but also helps them reach their own answers regarding mundane, emotional and spiritual life.
We have experienced that the quality of questions determines the quality of life and if one knows the techniques or the path to reach to the answers, life becomes the playground of possibilities.
One of the major outcomes of this is the development of interpersonal communicational skills, which refine the perception and responses towards the events of life for an enhanced experience of it.
The history and origin of Yoga
An introduction to Six Philosophies of the Indian context
An introduction to Yoga Sutra & Hatha Yog Pradipika
Yogic Ideas, concepts and hypothesis from ancient scriptures
Anatomy – Physiology & Psychology of Yoga practices
Modern understanding of the human organism has really helped this ancient wisdom of Yoga to get established in this era because many of the hypotheses of Yoga now we can observe and evaluate for their health benefits.
Anatomy classes allow the students to gain basic knowledge about the human body and its most important systems.
General understanding of the Human organism with its different systems
The emphasis on Nervous, Musculoskeletal and Respiratory system
Role of immunity and the practices to enhance its functioning
Benefits and contraindications of Yoga practices
Asana Sessions
The culture of Asana practice started as Hatha Yoga Tradition, since then it has crossed a long way to reach the modern versions of Shri B. K. S. Iyengar and Sri K Pattabhi Jois styles of Yoga.
These two are the pillars of the modern form of yoga, where one talks about the precise alignment and the other about the flow. According to the philosophy of Rishikesh Yogpeeth, we as the practitioners of Yoga require both, where alignment is the prerequisite to experience the ultimate stillness of Mind and body, at the same time flow is equally important and required in our life for its ultimate expressions and also for its ability to flow even in the odds of life.
These two streams of Yoga studies are the basis of Modern Yoga. Rishikesh Yogpeeth as a Yoga School pays a lot of emphasis on the Traditional practices of Hatha Yoga, which slowly and gradually prepares for Raja Yoga.
As we know Raja Yoga is the culmination of all the Yoga styles and practices. At the same time, we include the concepts of Alignment from Iyengar and flow from different Traditions. We believe that a comprehensive Yoga session supposes to be a good balance between the practice of Static postures and flow.
Hatha yoga postures with alignment, adjustments and modifications
Sanskrit Terms, Benefits and Contraindications of Asana
Use of the breath and specific bodily gestures
Study and practice different styles of Sun-salutations
Study and practice different flow sequences
Pranayama – Breath regulation for the regulation of being :
According to the hypothesis of Yogic scriptures, Prana is the fundamental force behind the manifested state of existence, it manifests as breath within the human organism.
Regular practice of breath regulation is just a medium to unfold the structural matrix of existence for the advanced practitioners of Pranayama but for most of us, only the physical and mental benefits related to these practices are sufficient enough to get attracted to them.
A Pranayama session at Rishikesh Yogpeeth systematically deals with the subject matter to develop a holistic and comprehensive awakening to this potential form of Consciousness. For a yoga practitioner, breath is a medium to reach the self and access realization.
Breath is also called is a psychophysiological mirror of being, which means just by regulation over breath we can regulate the overall complete being.
Breathing techniques to improve respiratory functioning
Which in turn improves the functioning of all the systems
Natural breath – slow, rhythmic and diaphragmatic
Breath regulation for stress-related problems
Importance of Kumbhak/breath retention and its applications
Mantra Sessions
The traditional hypothesis of Mantra is very close to the science of sound, rhythm and its relationship with silence & Consciousness, Mantras are of two types one without the meanings and the other with meanings, without the meaning called seed or Beej mantra, these are the most powerful sounds of manifestation.
Traditionally, mantras are used to concentrate and ultimately liberate the mind from its limitations. In mantra classes, participants will learn how to develop an inner space for a meditational journey by using these mantras.
In Mantra sessions teachers at Rishikesh Yogpeeth will guide the participants step by step to unveil their own source of potentialities and later on they can use these experiences in their own teachings.
Mantras with their respective voice modulations
To awaken hidden aspects of the human organism
And lately, this grows as the complete transformation or Self-realization.
Meditation Sessions
How to withdraw the senses to the internal world is the biggest question in front of many yoga practitioners all around the world. Meditation sessions at Affiliate Yoga Schools – Rishikesh Yogpeeth will provide an extensive range of practices and tools to understand the process and its application, so ultimately participants can discover their own practice of meditation and simultaneously lead meditation classes with impactful experience for their own students. Practices will include.
Self-observation on many levels either guided or by self
Learning the skill of how to guide students
The connection between breath and meditative state.
Yog Nidra from beginners to advance level
Teaching Methodology
This is the core of a teacher's training program, how to teach. This is all about creating an environment where learning takes place without any hindrance.
Teaching methodology sessions at Affiliate Yoga Schools - Rishikesh Yogpeeth fulfills the need of its participants to grow as Yoga Teachers step by step in a systematic manner by developing the sequential self-practice to ultimately guide others as efficient instructors or Yoga Teachers.
Practices involve in these sessions are
Ethical guidelines for a Yoga Teacher
Lesson plan and Sequencing of practices
Class management to the observation
Art of Demonstrations, Assistance and correction
Concept of Alignment, at all the possible levels
Yoga School in Rishikesh
Yoga Center in Rishikesh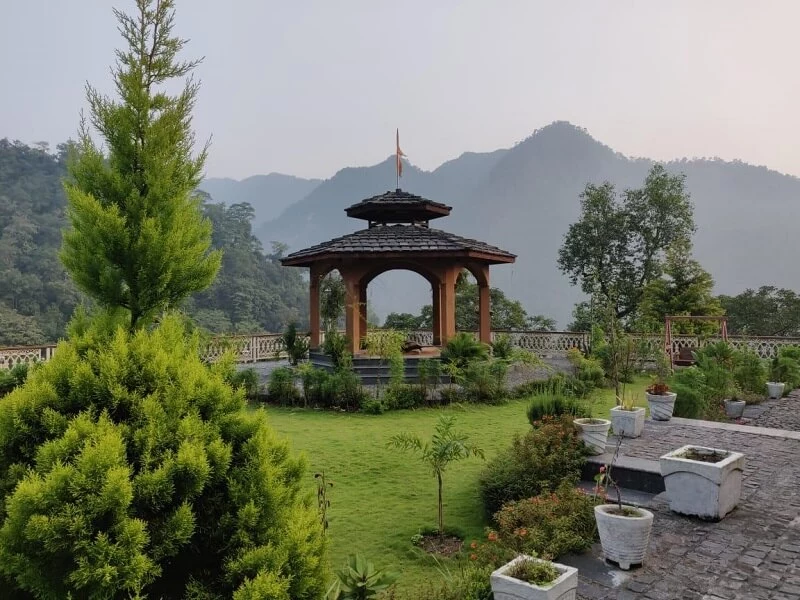 As a Yoga Teacher Training School in Rishikesh, we believe that India, as the birthplace of Yoga, has a special responsibility to continue to spread this message of Yoga to the world in its original essence. At Rishikesh Yogpeeth, our intention is to apply the science of yoga by adapting the traditional knowledge of Indian Masters to suit our times, while taking care to preserve the essence of their teachings.
Yoga is about discovering your true nature through your own personal experience. We want to provide a transforming experience and focus on the subtler aspects of Yoga, not only covering the asanas but going beyond to enhance your understanding of yoga.
The philosophical background of Rishikesh Yogpeeth and the practices taught in our courses are very much in line with the Yog Sutra compiled by Maharishi Patanjali. Our Yoga does not end at the yoga hall, it leads to personal revelations, changes and then transformation. We believe our YTT courses will help you initiate this chain of self-transformation.
Frequently Asked Questions
Rishikesh Yogpeeth
Can a beginner become a yoga teacher?
Yes, very much so. The first step in the direction of becoming a Yoga Teacher is to complete 200 hours of Yoga Teacher Training with a Registered Yoga School (RYS). For this, you don't need any prior yoga experience.
How can I become a yoga teacher in Rishikesh?
The very first training to become a yoga teacher is 200 hours of yoga teacher training. It does not require any previous knowledge of yoga however if you have some prior experience it always comes handy.
Is it worth registering with Yoga Alliance?
If you wish to teach Yoga in the US and Canada and some of the other countries, then yes you should register yourself with Yoga Alliance.
What is Yoga Alliance certification?
Yoga Alliance doesn't provide certificates. It is a directory for Yoga schools and certified Yoga teachers. The directory is maintained to provide exposure and visibility to the schools and teachers. A Yoga certificate is provided by the respective Yoga school.
What are the courses for a yoga teacher in Rishikesh?
At Rishikesh Yogpeeth and other schools in India, there are 200 hours and 300 hours yoga teacher training courses available to start with. There is no prior experience required for 200 hours of Yoga teacher training. However, for 300 hours, you must have completed 200 hours training prior from a registered Yoga school. Once you complete 300 hours yoga teacher training you become a certified 500 hours yoga teacher (RYT 500). You can also opt for 500 hours Yoga Teacher Training as the two courses of 200 hours and 300 hours are scheduled in sequence in most Yoga schools.
Is Hatha yoga hard?
The word hard is relative and hence cannot be answered. Yoga is an experiential journey and one must decide what's hard or easy for them. Hatha Yoga is the traditional Yoga practice which is supposedly considered as the fundamental of Yoga. All other practices like Ashtanga, Vinyasa, Flow yoga, etc are developed from the base of Hatha Yoga.
Where can I practice yoga in Rishikesh?
Rishikesh is known as the Yoga capital of the world hence you can practice Yoga at every nook and corner of the town. There are many Yoga schools, studios and ashrams for professional training as well as for ad hoc yoga practice. Rishikesh Yogpeeth is one of the best Yoga schools in Rishikesh that offers Yoga Teacher Training as well as multiple Yoga and Ayurveda retreat options where you can practice unlimited Yoga.
How much does it cost for yoga teacher training in Rishikesh?
The cost of any Yoga training depends on your need and expectation from the school. This may vary from USD 1000 to USD 3500. Your decision should factor in the reliability of the school, safety, experience of the teacher, duration of the course, etc. If it is residential, the quality of accommodation, food and cleanliness is important. Read the reviews of the school and if possible talk to them or send them an enquiry email. The way they respond tells a lot about their ethos.
Which is the best yoga teacher training course in Rishikesh?
You will find hundreds of options in Rishikesh to learn Yoga and Yoga teachers training. One of the best Yoga schools undoubtedly is Rishikesh Yogpeeth, running residential Yoga teacher training for more than a decade. It has two locations to conduct courses - Abhayaranya Yoga Ashram.